Watch: Mike Nichols Discusses 'Death of a Salesman', Improv and His Career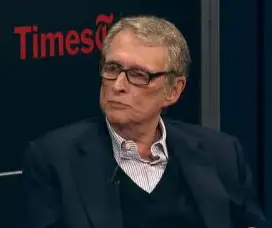 Here is something I just learned: Mike Nichols has an EGOT. He's got 4 Emmy's, a Grammy, an Oscar and 8 Tony's. I wonder if he has a big gold chain like Tracy Jordan has on 30 Rock? If he did, I don't think I could like another human more.
In this Times Talks video, brought to us by The New York Times, he talks about his current Broadway show Death of a Salesman, The Graduate, improvising, his film career and more. It's over an hour long but it's fantastic.
When talking about Salesman, he says that he always knew that he wanted to direct the show and knew he wanted to do it with star Philip Seymour Hoffman. But, it took a while for 'Phil' as he calls him, to face it because it's 'not fun to do [the role]. Hoffman talks about that in this post. 
He answers the question that I've heard people talk about: Is Hoffman too young for the role of Willy Loman? He says that there are two parts to the role; one is 43 years old and the other is 63, so "which one are you casting? Either way, you'd have to play the other part by acting." So, he goes on to say, "it's an imaginary problem."
Check it out below!  
http://www.dailyactor.com/wp-content/uploads/2016/04/jake-gyllenhaal-demolition.jpg
Jake Gyllenhaal on 'Demolition', Working with Chris Cooper and Directors Who Want Nothing to Do With Him
"I think storytelling is the most important part of movie-making over performance." - Jake Gyllenhaal
http://www.dailyactor.com/film/jake-gyllenhaal-demolition-chris-cooper/
http://www.dailyactor.com/wp-content/uploads/2016/04/don-cheadle-miles-davis.jpg
Don Cheadle: "Be scared. Be on the edge of your creativity"
"Be willing to fall flat on your face and be in an unknown place. If you're doing that, you're probably growing" - Don Cheadle
http://www.dailyactor.com/film/don-cheadle-scared-creativity/
http://www.dailyactor.com/wp-content/uploads/2016/04/jessie-eisenberg-louder-than-bombs.jpg
What is Jesse Eisenberg's "Most Fulfilling Acting Experience"?
"My absolute favorite thing to do is to write a play and then, after I finish, do the first reading of it with my friends around the table"- Jesse Eisenberg
http://www.dailyactor.com/actors-on-acting/jesse-eisenberg-most-fulfilling-acting-experience/
http://www.dailyactor.com/wp-content/uploads/2016/03/Lupita-Nyong'o-eclipsed.jpg
Lupita Nyong'o on Her Broadway Debut: "When we get up on that stage, you do not know what will happen"
"I think theater offers a chance to flex muscles that then only help to sustain cinematic work." - Lupita Nyong'o
http://www.dailyactor.com/broadway-theater/lupita-nyongo-eclipsed-broadway/
http://www.dailyactor.com/wp-content/uploads/2016/03/jake-gyllenhaal-demolition.jpg
Jake Gyllenhaal on Missed Superhero Opportunities and Portraying "Antisocial" Characters
"I've always wanted to have the opportunity to play a number of different roles, and I knew it wasn't necessarily the role, but how you played them" - Jake Gyllenhaal
http://www.dailyactor.com/film/jake-gyllenhaal-antisocial-characters/