Martha Plimpton on Her Early Acting Career And Why She Loves Theatre "Deeply"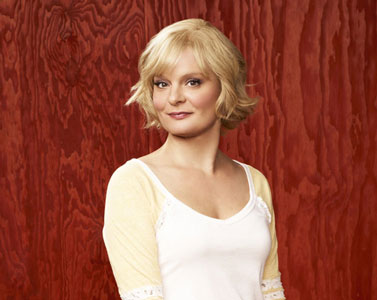 Martha Plimpton had an unusual child actor career. She didn't get über-famous and then crash and burn. The actress had a slow, steady rise and maintained a busy schedule. In a new interview with The Guardian, the 43-year-old star talks about her level of fame growing up in the entertainment industry.
She said, "Well, I didn't get famous. There is no bitterness in her words. I got wonderful jobs. But I never became Winona Ryder-famous or Molly Ringwald-famous. I can't imagine what it was like for those girls at 15 or 16 to be on the cover of every magazine, to not be able to go to the movies with your boyfriend."
Even though the acting work remained plentiful, did she get a bit jealous of her fellow teen stars?
"I probably did," Plimpton admitted. "You know, 'How come I don't get to play the pretty whatever?' But I had nothing to complain about. I got to do fun characters who were more than just ingenues."
As the daughter of two successful actors, Shelley Plimpton and Keith Carradine, the Raising Hope star was raised with some sound advice from her mother.
"She was very clear that you could go in one of two directions: try and become a movie star and probably fail and end up miserable. Or become dedicated to the skill of acting and do all kinds of work that will not make you famous but will give you a long and varied career," Plimpton shared.
That direction has kept the former Goonies cast member in the limelight with a career most actors would envy. She has hopped seamlessly from theatre to film to television throughout her career. However, she does prefer one medium — theatre.
She said, "I like the theatre day. Usually around 2pm, I'll start to get butterflies. I'll be thinking about whether I can get there in time for the evening show. I guess I'm just neurotic. But I love the theatre deeply. Stage acting is all about getting on that train and riding it to the end of the line, all the way, no stopping."
http://www.dailyactor.com/wp-content/uploads/2016/08/imperium_daniele_radcliffe.jpg
Daniel Radcliffe on Playing a Neo-Nazi in 'Imperium': "It's still just horrible to say some of this stuff"
Radcliffe reveals how he played such a layered character and what it felt like to say his character's hate-filled dialogue.
http://www.dailyactor.com/film/daniel-radcliffe-playing-a-neo-nazi-imperium/
http://www.dailyactor.com/wp-content/uploads/2016/08/John-Cho-Star-Trek-Beyond.jpg
How John Cho Took A Stand for Diversity Early in His Career
"When one does speak one's mind, one might be surprised at how receptive people are." - Actor John Cho
http://www.dailyactor.com/film/john-cho-took-a-stand-for-diversity/
http://www.dailyactor.com/wp-content/uploads/2016/08/simon-helberg-florence-foster-jenkins.jpg
Simon Helberg on His 'Florence Foster Jenkins' Role: "I'm an actor and I want to stretch different muscles"
Helberg spoke about portraying his character in the film and whether or not he feels typecast by his Big Bang Theory role.
http://www.dailyactor.com/film/simon-helberg-florence-foster-jenkins-role/
http://www.dailyactor.com/wp-content/uploads/2016/08/Will-Chase-Something-Rotten.jpg
The Role That Got Away: Will Chase on Returning to 'Something Rotten!'
"I know that I am a poor man's fill-in-the-blank. And I know that there are poor man's Will Chases out there. That's just the nature of the business" - Will Chase
http://www.dailyactor.com/broadway-theater/will-chase-something-rotten-role-that-got-away/
http://www.dailyactor.com/wp-content/uploads/2016/08/Julia-Stiles-Jason-Bourne.jpg
Julia Stiles on the Jason Bourne Series and Growing as an Actress: "There's always room for improvement"
"I like a director that encourages me to be playful. I don't really like being restricted or controlled by a director." - Julia Stiles
http://www.dailyactor.com/film/julia-stiles-growing-as-an-actress/