Listen to Lea Salonga Sing 'The Mountain's Heart', A New Song from The Old Globe's 'Allegiance'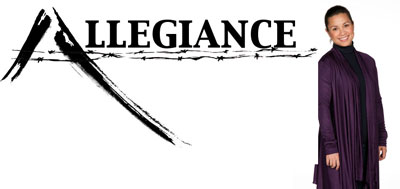 Allegiance is gearing up for its premiere at San Diego's The Old Globe and ahead of the opening, the production has released a song from the upcoming Broadway-bound musical.
Listen as Tony Award winner Lea Salonga (Miss Saigon) and Michael K. Lee sing, The Mountain's Heart.
The world premiere of Allegiance, also starring George Takei and Telly Leung (Godspell), runs at The Old Globe from Sept. 7 – Oct. 21, 2012.
Synopsis: Allegiance "is an epic story of family, love and patriotism set during the Japanese American internment of World War II. Sixty years after the attack on Pearl Harbor, a chance meeting forces WWII veteran Sam Kimura (Takei) to remember his family's relocation from their California farm to the Heart Mountain internment camp. As they struggle to adjust to their new home, Young Sam (Leung) and his sister Kei (Salonga) find themselves torn between loyalty to their family and allegiance to their country. With its moving score, Allegiance takes audiences on a journey into our nation's history through the eyes of one American family."
For tickets and information, visit www.TheOldGlobe.org  
http://www.dailyactor.com/wp-content/uploads/2015/09/Tom-Hardy-Legend.jpg
Tom Hardy on Playing Twins in 'Legend,' Being Seen as a Tough Guy, and Working with Philip Seymour Hoffman
Hardy speaks about why he challenged himself to play twins, what he thinks of his tough guy image, and working with the late Philip Seymour Hoffman, who directed him on stage.
http://www.dailyactor.com/actors-on-acting/tom-hardy-playing-twins-legend/
http://www.dailyactor.com/wp-content/uploads/2015/09/Emily-Blunt-Sicario.jpg
Emily Blunt on Action Movie Roles: "I think it's important to show different layers. Nobody is just tough, nobody is just vulnerable"
Emily Blunt touches upon why she has gotten into roles with an action bent and why she thinks there aren't more action movies with female leads
http://www.dailyactor.com/actors-on-acting/emily-blunt-sicario-acting-layers/
http://www.dailyactor.com/wp-content/uploads/2015/09/Jorja-Fox-CSI.jpg
Jorja Fox on Life After 'CSI': "I've always enjoyed not knowing exactly where the road leads"
"I think you kind of have to embrace the unknown if you're an actor." - Jorja Fox
http://www.dailyactor.com/actors-on-acting/jorja-fox-life-after-csi/
http://www.dailyactor.com/wp-content/uploads/2015/09/John-Turturro-Mia-Madre.jpg
John Turturro on the Life of an Actor: "It's a rough business. I wouldn't want my kids to do it"
"I am usually very well prepared. If you're a surgeon, you've got to know what you're going to take out today." - John Turturro
http://www.dailyactor.com/actors-on-acting/john-turturro-life-of-an-actor/
http://www.dailyactor.com/wp-content/uploads/2015/09/Matt-Damon-The-Martian.jpg
Matt Damon's Controversial Comments on Actors Keeping Their Real Lives a Mystery
"I think you're a better actor the less people know about you period. And sexuality is a huge part of that." - Matt Damon
http://www.dailyactor.com/actors-on-acting/matt-damon-actors-keeping-their-real-lives-a-mystery/