Lilla Crawford to Star as 'Annie' in New Broadway Production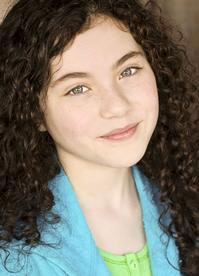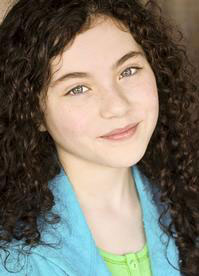 After a nine month, coast-to-coast search that had over 5,000 auditions, the new Broadway production of Annie has found it's Annie.
Eleven-year-old Lilla Crawford will play the title role in the musical that will open in fall 2012 at a Nederlander theatre to be announced.
"Oh, my gosh, it happened! My heart just stopped," said Crawford, when she heard the news. "I thought it would be so cool just to be a part of Annie, but to actually be playing Annie is a dream come true!"
Crawford made her Broadway debut in 2011, playing Debbie in the closing cast of Billy Elliot on Broadway. She was featured in a workshop production of Craig Wright's Melissa Arctic. She has also performed in 14 shows with YADA (Youth Academy of Dramatic Arts) in her native Los Angeles.
"We fell in love with Lilla from the moment we saw her," producer Arielle Tepper Madover said. "When she is in the room you can't take your eyes off her. She has a gorgeous voice, is a terrific actress, wonderful dancer and a sweet girl. She is everything that we could have ever hoped for in an Annie. We are so happy to have met her and think everyone will fall in love with her the way we did."
 The production will be directed by three-time Tony Award® winner James Lapine and choreographed by Tony Award winner Andy Blankenbuehler.
http://www.dailyactor.com/wp-content/uploads/2016/02/david-harewood-supergirl.jpg
David Harewood on 'Supergirl' and How He Was "Struggling to Get a Handle" on His Character
Harewood reveals how he relates to the character and how he eventually got comfortable playing him.
http://www.dailyactor.com/actors-on-acting/david-harewood-supergirlstruggling-to-get-a-handle-on-his-character/
http://www.dailyactor.com/wp-content/uploads/2016/01/Jeff-Daniels.jpg
Jeff Daniels Remembers a Terrible Audition for a Diane Keaton Movie
One actor that knows the ups and downs of the audition process is Jeff Daniels.
http://www.dailyactor.com/actors-on-acting/jeff-daniels-terrible-audition-diane-keaton-movie/
http://www.dailyactor.com/wp-content/uploads/2016/02/Jennifer-Jason-Leigh-The-Hateful-Eight.jpg
Jennifer Jason Leigh on Her First-Ever Oscar Nomination: "It's kind of phenomenal"
"He knew that I could, in his words, 'act the … out of it' and I'm not afraid to take a risk in terms of acting" Jennifer Jason Leigh on Quentin Tarantino
http://www.dailyactor.com/actors-on-acting/jennifer-jason-leigh-oscar-nomination/
http://www.dailyactor.com/wp-content/uploads/2016/02/Forest-Whitaker-Hughie-Broadway.jpg
Forest Whitaker on Making His Broadway Debut in 'Hughie': "His rhythms are starting to invade inside of me"
"I want to get better as an actor, to keep trying to work harder, trying to discover something different" - Forest Whitaker
http://www.dailyactor.com/actors-on-acting/forest-whitaker-broadway-debut-hughie/
http://www.dailyactor.com/wp-content/uploads/2016/02/alicia-Vikander-Ex-machina.jpg
Alicia Vikander on the Her First Trip to L.A. and the Acting Tip 'Ex-Machina' Director Alex Garland Gave Her
"You [get immersed in] a film and of course you think that that is it. And then you go away and you read a new script and you have a new crush" - Alicia Vikander
http://www.dailyactor.com/actors-on-acting/alicia-vikanderacting-tip-ex-machina-director-alex-garland-gave-her/