Lawsuit Filed Against 'Spider-Man: Turn Off the Dark' Producers From On-Stage August Injury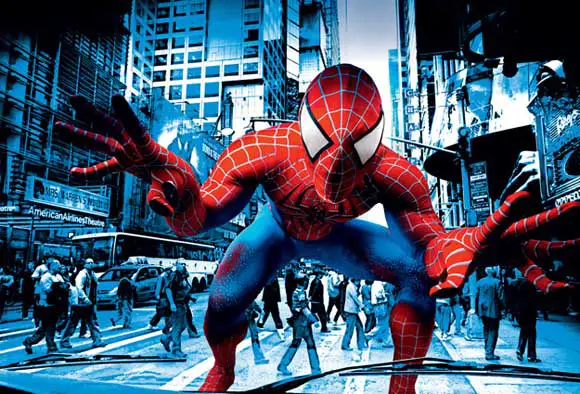 Spider-Man: Turn Off the Dark was a Broadway show that was plagued with cast injuries throughout its run. Now a lawsuit has been filed on behalf of Daniel Curry who was seriously injured onstage in August.
The filing accuses the producers, engineering consultants and others involved in the design and operation of a mechanical lift of negligence. According to the 27-page complaint, the actor is seeking unspecified monetary damages for the injuries caused to his foot on Aug. 15.
The New York Times reported that Curry's leg appeared to be pinned in a trap door. The audience could even hear the Broadway actor screaming when it happened. The producers have maintained that it was human error that caused the accident. However, the lawsuit indicates that there were no safeguards in place even though the Spider-Man cast was aware that it was a dangerous piece of equipment.
Curry stated in the lawsuit that he has "serious and protracted permanent injuries" and that he has undergone "surgeries and amputations." His lawyer, Elias N. Fillas, told the publication that his client was continuing with his medical care as an outpatient along with physical therapy. Curry's performing career is effectively over due to the injury as well.
The show, which recently closed in January, ran for three years and had the most expensive Broadway budget at a cost of $75 million. Several other injuries were logged during the show's run and there is a $6 million lawsuit that was filed against an equipment manager for a previous incident in the show.
http://www.dailyactor.com/wp-content/uploads/2015/10/Bridge-of-Spies-Tom-Hanks-Mark-Rylance.jpg
Tom Hanks on Working with Steven Spielberg and Mark Rylance in 'Bridge of Spies'
"Steven does this incredible thing when he casts you: He empowers you with the scene." - Tom Hanks on Steven Spielberg
http://www.dailyactor.com/actors-on-acting/tom-hanks-working-steven-spielberg-mark-rylance-bridge-of-spies/
http://www.dailyactor.com/wp-content/uploads/2015/09/Tom-Hardy-Legend.jpg
Tom Hardy on Playing Twins in 'Legend,' Being Seen as a Tough Guy, and Working with Philip Seymour Hoffman
Hardy speaks about why he challenged himself to play twins, what he thinks of his tough guy image, and working with the late Philip Seymour Hoffman, who directed him on stage.
http://www.dailyactor.com/actors-on-acting/tom-hardy-playing-twins-legend/
http://www.dailyactor.com/wp-content/uploads/2015/09/Emily-Blunt-Sicario.jpg
Emily Blunt on Action Movie Roles: "I think it's important to show different layers. Nobody is just tough, nobody is just vulnerable"
Emily Blunt touches upon why she has gotten into roles with an action bent and why she thinks there aren't more action movies with female leads
http://www.dailyactor.com/actors-on-acting/emily-blunt-sicario-acting-layers/
http://www.dailyactor.com/wp-content/uploads/2015/09/Jorja-Fox-CSI.jpg
Jorja Fox on Life After 'CSI': "I've always enjoyed not knowing exactly where the road leads"
"I think you kind of have to embrace the unknown if you're an actor." - Jorja Fox
http://www.dailyactor.com/actors-on-acting/jorja-fox-life-after-csi/
http://www.dailyactor.com/wp-content/uploads/2015/09/John-Turturro-Mia-Madre.jpg
John Turturro on the Life of an Actor: "It's a rough business. I wouldn't want my kids to do it"
"I am usually very well prepared. If you're a surgeon, you've got to know what you're going to take out today." - John Turturro
http://www.dailyactor.com/actors-on-acting/john-turturro-life-of-an-actor/