Kelli O'Hara on Co-Starring with Friend Steven Pasquale in 'The Bridges of Madison County' and Why She Stretches Before Singing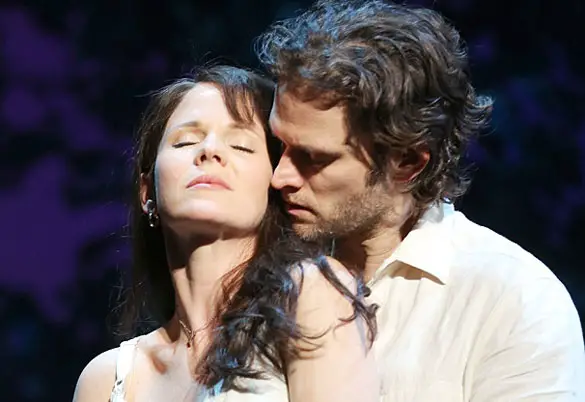 Despite the influx of Hollywood stars on Broadway stages in recent years, the theater community in New York City can often seem like a small world. It's not uncommon for actors to find themselves working with actors over again in different shows. Such is the case with Kelli O'Hara and Steven Pasquale, who stars as the leads in the new musical The Bridges of Madison County. O'Hara and Pasquale previously appeared together in the Seattle and Chicago tryouts of The Light in the Piazza, which was incidentally also directed by Bridges director Bartlett Sher.
However, Pasquale's role on TV's Rescue Me prevented him from playing that role on Broadway. But nearly ten years later the pair finally get to work together on Broadway. O'Hara spoke to The Wall Street Journal about working with Pasquale and why she thinks it's important to stretch before singing.
O'Hara points out that co-starring with longtime friend Pasquale is one of the things that makes this musical enjoyable. She explains, "Steve and I have known each other for so long. We met really early on, toward the beginning of both of our moves here. So that was easy." She later adds, "You get on stage and you can really lose yourself in something because of the trust you have in a person."
Yet although Pasquale is the male lead, make no mistake — O'Hara is the star, and she is on the stage the longest. "I've always been too confident because I'm pretty hardy, you know? I usually have been. But then you bring babies into the mix who bring colds from school, or you're not sleeping enough. So, this past week I kind of thought well, it's time to stop coffee. I drink so much water. I have a face steamer, I steam my voice. I stretch my body so my body's warm so I can actually support my voice. I think people think the voice is one thing but it's basically like being a runner. If you don't stretch, you could pull something."
http://www.dailyactor.com/wp-content/uploads/2016/04/Christine-Baranski-The-Good-Wife.jpg
Christine Baranski on the End of 'The Good Wife' and Going Back to Theatre
The final episode of The Good Wife airs on May 8, and it's been several weeks since series star Christine Baranski shot the final episode with her co-stars. She spoke to The Hollywood Reporter about the end of the series she has spent the last seven years working on and what she plans to do […]
http://www.dailyactor.com/tv/christine-baranski-the-good-wife-theatre/
http://www.dailyactor.com/wp-content/uploads/2016/04/jake-gyllenhaal-demolition.jpg
Jake Gyllenhaal on 'Demolition', Working with Chris Cooper and Directors Who Want Nothing to Do With Him
"I think storytelling is the most important part of movie-making over performance." - Jake Gyllenhaal
http://www.dailyactor.com/actors-on-acting/jake-gyllenhaal-demolition-chris-cooper/
http://www.dailyactor.com/wp-content/uploads/2016/04/don-cheadle-miles-davis.jpg
Don Cheadle: "Be scared. Be on the edge of your creativity"
"Be willing to fall flat on your face and be in an unknown place. If you're doing that, you're probably growing" - Don Cheadle
http://www.dailyactor.com/actors-on-acting/don-cheadle-scared-creativity/
http://www.dailyactor.com/wp-content/uploads/2016/04/jessie-eisenberg-louder-than-bombs.jpg
What is Jesse Eisenberg's "Most Fulfilling Acting Experience"?
"My absolute favorite thing to do is to write a play and then, after I finish, do the first reading of it with my friends around the table"- Jesse Eisenberg
http://www.dailyactor.com/actors-on-acting/jesse-eisenberg-most-fulfilling-acting-experience/
http://www.dailyactor.com/wp-content/uploads/2016/03/Lupita-Nyong'o-eclipsed.jpg
Lupita Nyong'o on Her Broadway Debut: "When we get up on that stage, you do not know what will happen"
"I think theater offers a chance to flex muscles that then only help to sustain cinematic work." - Lupita Nyong'o
http://www.dailyactor.com/actors-on-acting/lupita-nyongo-eclipsed-broadway/