Julie White on Taking Sigourney Weaver's Role for the Final Month of 'Vanya and Sonia…': "It's like jumping on a speeding train"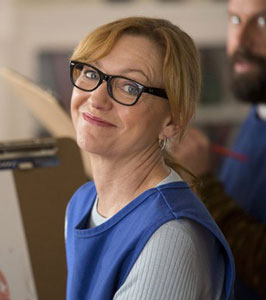 Broadway's Vanya and Sonia and Masha and Spike might have recently won this year's Best Play Tony Award and extended its engagement until August 30, but the producers had to find a replacement for one of its main cast members, Sigourney Weaver, who is departing to work on other projects.  Weaver had been a member of the cast since its October Off-Broadway premiere alongside David Hyde Pierce, Billy Magnussen, Kristine Nielsen, Genevieve Angelson and Shalita Grant, so the  actress in Weaver's role would very much be the new kid in town.  Fortunately, comedic actress Julie White agreed to take the role for the play's final four weeks, and she spoke to The New York Post about that experience.
White makes it clear that stepping into an acclaimed production isn't easy.  She says, "It's like jumping on a speeding train.  The fear, of course, is that you're going to take a bad step and be run over." 
Considering how different she is from Weaver, White made a decision not to try to replicate her as Masha, who is a movie star.  She explains, "Sigourney had the star bit in her hip pocket because, to an audience, she just is.  I had to go more on the text. [Masha] has starred in a franchise called Sexy Killer so I decided to make her a total fucking badass."
For White, who starred in the television series Go On and the Transformers movies since her last stint on Broadway in 2006's The Little Dog Laughed, returning to theater was challenging.  In particular, she confesses that learning the play was difficult.  She says, "You get used to doing film and television, where it's, 'Oh my God, we're shooting three pages today' — like that's a lot!  I heard that Nathan Lane completely memorizes a show before the first day of rehearsal, so I was like, 'I'm going to Nathan Lane it!' I spent three weeks by myself, learning the play and thinking about all that crappy actor crap like your motivation and your backstory."
On top of that, she doesn't feel her roles in movies like Transformers helped her prepare for the stage in any way.  She points out that in those movies, "I was freaking comic relief. My secret fantasy in a movie is to be the person wielding the gun. It looks so much fun to be Angelina Jolie. I'm doing a little bit of that in the play — an old, tired, used-up Angelina Jolie."
http://www.dailyactor.com/wp-content/uploads/2016/06/jeff-bridges-hell-or-high-water.jpg
Jeff Bridges on Creating a Character, 'Hell or High Water' and Playing The Dude
"I use elements of myself—I see my parallels with a character—and find similar things in my own personality." - Jeff Bridges on Creating a Character
http://www.dailyactor.com/actors-on-acting/jeff-bridges-creating-a-character/
http://www.dailyactor.com/wp-content/uploads/2016/07/benjamin-bratt-actor.jpg
Benjamin Bratt: "For as limiting as the opportunities are for actors and actresses of color I've been very blessed"
"...it's dangerous to keep going down the same artistic path." - Benjamin Bratt
http://www.dailyactor.com/actors-on-acting/benjamin-bratt-ive-been-very-blessed/
http://www.dailyactor.com/wp-content/uploads/2016/07/watch-keegan-michael-key-explain.jpg
Watch: Keegan-Michael Key Explains Why "Improv actors are at war together"
Check out Key's points on why it's so important for improv actors to have each others' backs in the clip above.
http://www.dailyactor.com/actors-on-acting/keegan-michael-key-improv-actors-at-war-together/
http://www.dailyactor.com/wp-content/uploads/2016/07/norman-reedus-actor.jpg
Norman Reedus on Acting: "If it's something you really want, you have to roll with the rejection"
Norman Reedus is a fan-favorite star on The Walking Dead and was in the cult favorite film The Boondock Saints. However, in the dozen years between those two gigs Reedus had experienced ups and downs in his career and in many cases he was cast in very small roles in big movies or lead roles […]
http://www.dailyactor.com/actors-on-acting/norman-reedus-acting-rejection/
http://www.dailyactor.com/wp-content/uploads/2016/07/frank-grillo.jpg
Frank Grillo on Being Typecast: "I welcome it"
"I hear actors pooh-pooh the idea... people might see them as a certain thing. I welcome it" - Frank Grillo on Typecasting
http://www.dailyactor.com/actors-on-acting/frank-grillo-on-typecasting/