Jude Law Says Theater "is what made me want to become an actor"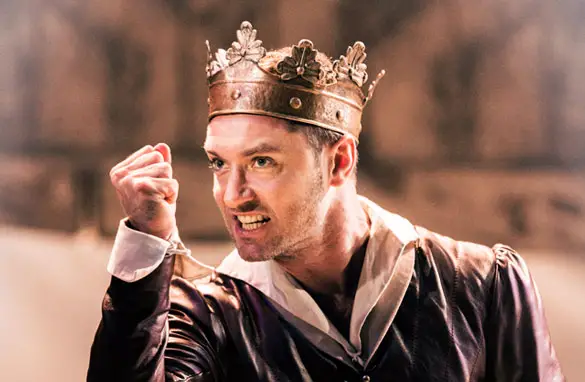 If you only look at his filmography, you might think Jude Law has been somewhat wanting for work in recent years because while he's appeared in a dozen films since 2009 they have mostly been supporting roles. However, when Law isn't on a movie screen he can often be found on a stage, as he is currently in a West End production of Henry V. In a conversation with USA Today, Law explains why he continues to go back to theater (and Shakespeare specifically) and what he finds different between his film roles and theater roles.
Law insists that theater "is what made me want to become an actor. The idea of not indulging myself in the thing I really love would seem insane to me." He later points out that his desire to do theater might are tied to his original aspirations to be an actor, since he did not believe he would have the opportunity to become a film actor. He explains, "I grew up in a time and a place in London where being in movies didn't seem feasible. But there was a local theater. I wanted a way in, even if it meant beating down the doors of those buildings. I didn't have to do that, luckily."
Though Law starred in a production of Hamlet in 2009 which played on both sides of the Atlantic, he admits that he was "very, very keen to do another Shakespeare part. When I first discussed doing Hamlet five or six years ago, Henry was also on the list of roles I wanted to get before I turned 40 or 41, which is the age that I'm at" (Law turned 41 on December 28).
Though Shakespeare is a common thread throughout his career, he has also made an effort to take on a variety of roles. He says, "I've always wanted to play different things with different people. Variety is the spice of the job." That point-of-view likely explains his frequent jumps between theater and film, which he sees as completely different challenges. He reveals, "Stage is just a different approach — like being on tour for a musician, as opposed to making an album. In the studio you have all these toys available to you, but when you're live, you have that adrenaline rush from knowing that at 7:30, you're on — and you're off."
Yet for someone who talks so much about variety and challenges, Law has no new projects lined up after Henry V ends February 15. He jokes, "I'll be unemployed as of then. It's not like I want to stop working — it's not like I can. You've got to pay the bills, like everyone else." However, he adds, "I'm not desperate.  There's a certain physical demand to doing eight shows a week, and I haven't had a break in 18 months. By February I'll be quite ready for a break, and I'm going to take one."
http://www.dailyactor.com/wp-content/uploads/2016/04/Christine-Baranski-The-Good-Wife.jpg
Christine Baranski on the End of 'The Good Wife' and Going Back to Theatre
The final episode of The Good Wife airs on May 8, and it's been several weeks since series star Christine Baranski shot the final episode with her co-stars. She spoke to The Hollywood Reporter about the end of the series she has spent the last seven years working on and what she plans to do […]
http://www.dailyactor.com/tv/christine-baranski-the-good-wife-theatre/
http://www.dailyactor.com/wp-content/uploads/2016/04/jake-gyllenhaal-demolition.jpg
Jake Gyllenhaal on 'Demolition', Working with Chris Cooper and Directors Who Want Nothing to Do With Him
"I think storytelling is the most important part of movie-making over performance." - Jake Gyllenhaal
http://www.dailyactor.com/actors-on-acting/jake-gyllenhaal-demolition-chris-cooper/
http://www.dailyactor.com/wp-content/uploads/2016/04/don-cheadle-miles-davis.jpg
Don Cheadle: "Be scared. Be on the edge of your creativity"
"Be willing to fall flat on your face and be in an unknown place. If you're doing that, you're probably growing" - Don Cheadle
http://www.dailyactor.com/actors-on-acting/don-cheadle-scared-creativity/
http://www.dailyactor.com/wp-content/uploads/2016/04/jessie-eisenberg-louder-than-bombs.jpg
What is Jesse Eisenberg's "Most Fulfilling Acting Experience"?
"My absolute favorite thing to do is to write a play and then, after I finish, do the first reading of it with my friends around the table"- Jesse Eisenberg
http://www.dailyactor.com/actors-on-acting/jesse-eisenberg-most-fulfilling-acting-experience/
http://www.dailyactor.com/wp-content/uploads/2016/03/Lupita-Nyong'o-eclipsed.jpg
Lupita Nyong'o on Her Broadway Debut: "When we get up on that stage, you do not know what will happen"
"I think theater offers a chance to flex muscles that then only help to sustain cinematic work." - Lupita Nyong'o
http://www.dailyactor.com/actors-on-acting/lupita-nyongo-eclipsed-broadway/