'Jekyll & Hyde' to Play its Last Performance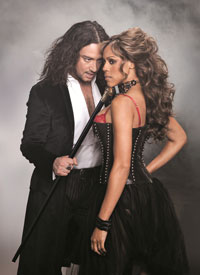 That was quick. It was announced today that the new Broadway production of Jekyll & Hyde – starring Constantine Maroulis and Deborah Cox – will play the final performance of its limited Broadway engagement on Sunday, May 12th, after 15 previews and 30 regular performances at the Marquis Theatre
After a 25-week national tour which launched in October 2012 in San Diego, the musical began previews on Broadway Friday, April 5th and opened on Thursday, April 18th.
I saw the show when it first started its tour and it was awful. I mean awful. I'd heard that it had gotten better by the time it hit Broadway… but I guess not.
In addition to Maroulis and Cox, the cast also features Teal Wicks (Wicked) as 'Emma Carew', Laird Mackintosh (Mary Poppins) as 'John Utterson', Richard White (The Most Happy Fella) as 'Sir Danvers Carew', David Benoit (Avenue Q) as 'Bishop/Spider', Stephen Mitchell Brown, Jerry Christakos, Dana Costello, Wendy Fox, Brian Gallagher, Sean Jenness, Mel Johnson Jr., James Judy, Ashley Loren, Courtney Markowitz, Aaron Ramey, Emmy Raver-Lampman, Rob Richardson, Blair Ross, Doug Storm, Haley Swindal and Jason Wooten.
 JEKYLL & HYDE features a book & lyrics by two-time Oscar winner, Emmy winner and four-time Tony Award nominee Leslie Bricusse, music by Frank Wildhorn, and direction & choreography by Tony Award nominee Jeff Calhoun.  
 JEKYLL & HYDE is based on the acclaimed novella The Strange Case of Dr. Jekyll and Mr. Hyde by Robert Louis Stevenson, about a London doctor who accidentally unleashes an evil alternate personality in his quest to cure his father's mental illness. The musical was first introduced as a concept album in 1990 featuring Colm Wilkinson and Linda Eder, and shortly thereafter had its world premiere at the Alley Theatre in Houston starring Chuck Wagner as 'Jekyll'/'Hyde' and Linda Eder as 'Lucy'. Following a 30-city National Tour, the original Broadway production opened at The Plymouth Theatre on April 28, 1997 and earned four Tony Award nominations. Directed by Robin Phillips and choreographed by Joey Pizzi, the production starred Robert Cuccioli in the title roles, Linda Eder as 'Lucy', and Christianne Noll as 'Emma Carew'. After 1,543 performances, and such replacements as Sebastian Bach and David Hasselhoff, the production played its final performance on January 7, 2001. The show's popularity catapulted well beyond the Great White Way and, within the subsequent decade of its world premiere, JEKYLL & HYDE became an international sensation with multiple tours in the UK and North America; 32 recordings in 28 different languages; and over 600 productions mounted worldwide, from Sweden, to Mexico, to South Korea, where it ranks as the longest-running American show in the country's history.
PLAYING SCHEDULE
The JEKYLL & HYDE regular performance schedule is as follows: Mondays at 8:00pm, Tuesdays at 7:00pm, Thursdays at 8:00pm, Fridays at 8:00pm, Saturdays at 2:00pm & 8:00pm and Sundays at 2:00pm & 7:00pm
TICKETS
Tickets can be purchased online at Ticketmaster.com, by phone at 1-800-745-3000, or at The Marquis Theatre Box Office, 1535 Broadway (entrance on 46th Street between Broadway and 8th Avenue).
http://www.dailyactor.com/wp-content/uploads/2016/06/jeff-bridges-hell-or-high-water.jpg
Jeff Bridges on Creating a Character, 'Hell or High Water' and Playing The Dude
"I use elements of myself—I see my parallels with a character—and find similar things in my own personality." - Jeff Bridges on Creating a Character
http://www.dailyactor.com/actors-on-acting/jeff-bridges-creating-a-character/
http://www.dailyactor.com/wp-content/uploads/2016/07/benjamin-bratt-actor.jpg
Benjamin Bratt: "For as limiting as the opportunities are for actors and actresses of color I've been very blessed"
"...it's dangerous to keep going down the same artistic path." - Benjamin Bratt
http://www.dailyactor.com/actors-on-acting/benjamin-bratt-ive-been-very-blessed/
http://www.dailyactor.com/wp-content/uploads/2016/07/watch-keegan-michael-key-explain.jpg
Watch: Keegan-Michael Key Explains Why "Improv actors are at war together"
Check out Key's points on why it's so important for improv actors to have each others' backs in the clip above.
http://www.dailyactor.com/actors-on-acting/keegan-michael-key-improv-actors-at-war-together/
http://www.dailyactor.com/wp-content/uploads/2016/07/norman-reedus-actor.jpg
Norman Reedus on Acting: "If it's something you really want, you have to roll with the rejection"
Norman Reedus is a fan-favorite star on The Walking Dead and was in the cult favorite film The Boondock Saints. However, in the dozen years between those two gigs Reedus had experienced ups and downs in his career and in many cases he was cast in very small roles in big movies or lead roles […]
http://www.dailyactor.com/actors-on-acting/norman-reedus-acting-rejection/
http://www.dailyactor.com/wp-content/uploads/2016/07/frank-grillo.jpg
Frank Grillo on Being Typecast: "I welcome it"
"I hear actors pooh-pooh the idea... people might see them as a certain thing. I welcome it" - Frank Grillo on Typecasting
http://www.dailyactor.com/actors-on-acting/frank-grillo-on-typecasting/