'Jekyll & Hyde' Gets An Opening Date on Broadway and Possible Future Film?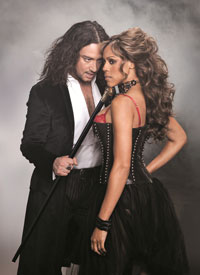 Jekyll & Hyde, the Frank Wildhorn musical that's now on tour across the country, has set it's first preview and opening night dates for its Broadway return.
Following the end of the tour, the show, starring Tony Award nominee Constantine Maroulis in the dual title role of 'Dr. Henry Jekyll' & 'Edward Hyde' and Grammy-nominated R&B superstar Deborah Cox as 'Lucy' and Teal Wicks as 'Emma Carew', will have a 13-week run at the Marquis Theatre.
Previews begin on Friday, April 5th and opening night will be on Thursday, April 18th.
And in other J&K news, the New York Times is reporting that producer Mike Medavoy is looking to get the film rights to the musical in hopes that it will be released in 2015. 
I saw the touring show in San Diego and while it wasn't awful, I walked away thinking, "What the hell was that?" Teal Wicks was great and Cox was fine but the whole show relies on the acting of Maroulis and it just wasn't there. Granted, I saw the show early on in its tour so maybe he's gotten better but from what I saw, his performance was just either high or low; screaming and laughing and walking like he had polio as Hyde and wimpy when he was the good Dr.
http://www.dailyactor.com/wp-content/uploads/2016/02/david-harewood-supergirl.jpg
David Harewood on 'Supergirl' and How He Was "Struggling to Get a Handle" on His Character
Harewood reveals how he relates to the character and how he eventually got comfortable playing him.
http://www.dailyactor.com/actors-on-acting/david-harewood-supergirlstruggling-to-get-a-handle-on-his-character/
http://www.dailyactor.com/wp-content/uploads/2016/01/Jeff-Daniels.jpg
Jeff Daniels Remembers a Terrible Audition for a Diane Keaton Movie
One actor that knows the ups and downs of the audition process is Jeff Daniels.
http://www.dailyactor.com/actors-on-acting/jeff-daniels-terrible-audition-diane-keaton-movie/
http://www.dailyactor.com/wp-content/uploads/2016/02/Jennifer-Jason-Leigh-The-Hateful-Eight.jpg
Jennifer Jason Leigh on Her First-Ever Oscar Nomination: "It's kind of phenomenal"
"He knew that I could, in his words, 'act the … out of it' and I'm not afraid to take a risk in terms of acting" Jennifer Jason Leigh on Quentin Tarantino
http://www.dailyactor.com/actors-on-acting/jennifer-jason-leigh-oscar-nomination/
http://www.dailyactor.com/wp-content/uploads/2016/02/Forest-Whitaker-Hughie-Broadway.jpg
Forest Whitaker on Making His Broadway Debut in 'Hughie': "His rhythms are starting to invade inside of me"
"I want to get better as an actor, to keep trying to work harder, trying to discover something different" - Forest Whitaker
http://www.dailyactor.com/actors-on-acting/forest-whitaker-broadway-debut-hughie/
http://www.dailyactor.com/wp-content/uploads/2016/02/alicia-Vikander-Ex-machina.jpg
Alicia Vikander on the Her First Trip to L.A. and the Acting Tip 'Ex-Machina' Director Alex Garland Gave Her
"You [get immersed in] a film and of course you think that that is it. And then you go away and you read a new script and you have a new crush" - Alicia Vikander
http://www.dailyactor.com/actors-on-acting/alicia-vikanderacting-tip-ex-machina-director-alex-garland-gave-her/