'Jekyll & Hyde' Gets An Opening Date on Broadway and Possible Future Film?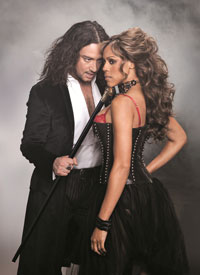 Jekyll & Hyde, the Frank Wildhorn musical that's now on tour across the country, has set it's first preview and opening night dates for its Broadway return.
Following the end of the tour, the show, starring Tony Award nominee Constantine Maroulis in the dual title role of 'Dr. Henry Jekyll' & 'Edward Hyde' and Grammy-nominated R&B superstar Deborah Cox as 'Lucy' and Teal Wicks as 'Emma Carew', will have a 13-week run at the Marquis Theatre.
Previews begin on Friday, April 5th and opening night will be on Thursday, April 18th.
And in other J&K news, the New York Times is reporting that producer Mike Medavoy is looking to get the film rights to the musical in hopes that it will be released in 2015. 
I saw the touring show in San Diego and while it wasn't awful, I walked away thinking, "What the hell was that?" Teal Wicks was great and Cox was fine but the whole show relies on the acting of Maroulis and it just wasn't there. Granted, I saw the show early on in its tour so maybe he's gotten better but from what I saw, his performance was just either high or low; screaming and laughing and walking like he had polio as Hyde and wimpy when he was the good Dr.
http://www.dailyactor.com/wp-content/uploads/2015/10/Bridge-of-Spies-Tom-Hanks-Mark-Rylance.jpg
Tom Hanks on Working with Steven Spielberg and Mark Rylance in 'Bridge of Spies'
"Steven does this incredible thing when he casts you: He empowers you with the scene." - Tom Hanks on Steven Spielberg
http://www.dailyactor.com/actors-on-acting/tom-hanks-working-steven-spielberg-mark-rylance-bridge-of-spies/
http://www.dailyactor.com/wp-content/uploads/2015/09/Tom-Hardy-Legend.jpg
Tom Hardy on Playing Twins in 'Legend,' Being Seen as a Tough Guy, and Working with Philip Seymour Hoffman
Hardy speaks about why he challenged himself to play twins, what he thinks of his tough guy image, and working with the late Philip Seymour Hoffman, who directed him on stage.
http://www.dailyactor.com/actors-on-acting/tom-hardy-playing-twins-legend/
http://www.dailyactor.com/wp-content/uploads/2015/09/Emily-Blunt-Sicario.jpg
Emily Blunt on Action Movie Roles: "I think it's important to show different layers. Nobody is just tough, nobody is just vulnerable"
Emily Blunt touches upon why she has gotten into roles with an action bent and why she thinks there aren't more action movies with female leads
http://www.dailyactor.com/actors-on-acting/emily-blunt-sicario-acting-layers/
http://www.dailyactor.com/wp-content/uploads/2015/09/Jorja-Fox-CSI.jpg
Jorja Fox on Life After 'CSI': "I've always enjoyed not knowing exactly where the road leads"
"I think you kind of have to embrace the unknown if you're an actor." - Jorja Fox
http://www.dailyactor.com/actors-on-acting/jorja-fox-life-after-csi/
http://www.dailyactor.com/wp-content/uploads/2015/09/John-Turturro-Mia-Madre.jpg
John Turturro on the Life of an Actor: "It's a rough business. I wouldn't want my kids to do it"
"I am usually very well prepared. If you're a surgeon, you've got to know what you're going to take out today." - John Turturro
http://www.dailyactor.com/actors-on-acting/john-turturro-life-of-an-actor/