'Macbeth' is Violent, y'all. James McAvoy Ends Up with Cuts, Bruises and Dr. Visits After Performances (video)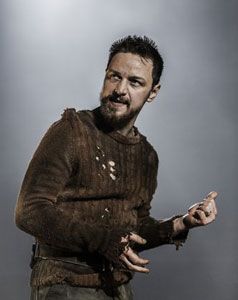 When actors claim that doing Shakespeare is hard, they probably weren't referring to the likelihood of getting injured on stage.  But James McAvoy was recently so roughed up during performances on Macbeth at London's Trafalgar Studios Theater that he had to turn to physiotherapy sessions to get healed.
"It's an incredibly physically violent play in its language and we felt that it should be physical, and at times, [as] violent as the language suggests so that it doesn't just become about poetry…But the physicality of the play matches it in intensity," McAvoy said in an interview with British chat show, This Morning.  "And as such, we're all falling to pieces.  We all had cuts and bruises, we have all been to the physio two or three times.  I keep punching a door in it and I let that heal up and then suddenly I ended up punching another guy [actor] and I hit his armour and that cut me up.  But it is good fun though."
Here's hoping McAvoy's upcoming role in X-Men: Days of Future Past isn't quite so dangerous.
http://www.dailyactor.com/wp-content/uploads/2015/10/Bridge-of-Spies-Tom-Hanks-Mark-Rylance.jpg
Tom Hanks on Working with Steven Spielberg and Mark Rylance in 'Bridge of Spies'
"Steven does this incredible thing when he casts you: He empowers you with the scene." - Tom Hanks on Steven Spielberg
http://www.dailyactor.com/actors-on-acting/tom-hanks-working-steven-spielberg-mark-rylance-bridge-of-spies/
http://www.dailyactor.com/wp-content/uploads/2015/09/Tom-Hardy-Legend.jpg
Tom Hardy on Playing Twins in 'Legend,' Being Seen as a Tough Guy, and Working with Philip Seymour Hoffman
Hardy speaks about why he challenged himself to play twins, what he thinks of his tough guy image, and working with the late Philip Seymour Hoffman, who directed him on stage.
http://www.dailyactor.com/actors-on-acting/tom-hardy-playing-twins-legend/
http://www.dailyactor.com/wp-content/uploads/2015/09/Emily-Blunt-Sicario.jpg
Emily Blunt on Action Movie Roles: "I think it's important to show different layers. Nobody is just tough, nobody is just vulnerable"
Emily Blunt touches upon why she has gotten into roles with an action bent and why she thinks there aren't more action movies with female leads
http://www.dailyactor.com/actors-on-acting/emily-blunt-sicario-acting-layers/
http://www.dailyactor.com/wp-content/uploads/2015/09/Jorja-Fox-CSI.jpg
Jorja Fox on Life After 'CSI': "I've always enjoyed not knowing exactly where the road leads"
"I think you kind of have to embrace the unknown if you're an actor." - Jorja Fox
http://www.dailyactor.com/actors-on-acting/jorja-fox-life-after-csi/
http://www.dailyactor.com/wp-content/uploads/2015/09/John-Turturro-Mia-Madre.jpg
John Turturro on the Life of an Actor: "It's a rough business. I wouldn't want my kids to do it"
"I am usually very well prepared. If you're a surgeon, you've got to know what you're going to take out today." - John Turturro
http://www.dailyactor.com/actors-on-acting/john-turturro-life-of-an-actor/