James Franco Says He's Not Nervous About His Broadway Debut Because Everything is Awesome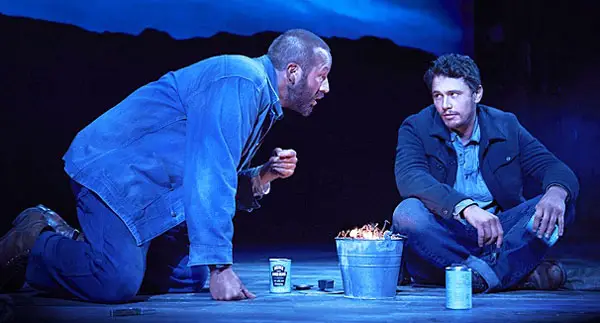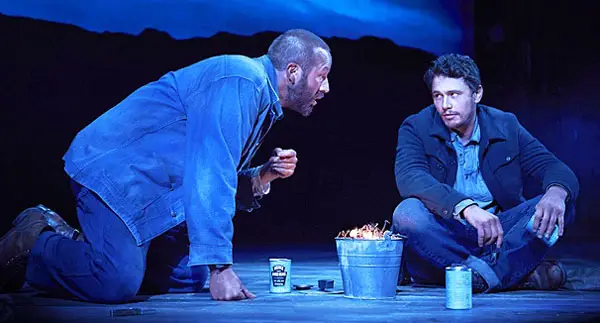 James Franco was already an easy target for jokes even before he recently made headlines for trying to pick up a 17 year old girl on Instagram regarding his various non-acting pursuits. In the eyes of many, his side-careers as a writer, painter, and student with the desire to earn seemingly every degree in higher education cast him as a desperate overachiever. To his credit, Franco himself is often the first to joke about how he is perceived by the public, and he has done so in movies like This Is The End and various self-parodying videos on the Internet.
But according to the Associated Press, the "actor, writer and student" (as the AP calls him) is not nervous about his Broadway debut in the play version of John Steinback's Of Mice and Men, which opens on April 16. He clarifies how non-nervous he is by adding, "Sounds like I'm bragging. I just wasn't. I've learned that if you work with people that you trust, that you depend on, then you just flow with it."
Why else isn't he nervous? Because much like the song says in The Lego Movie, everything is apparently awesome. He says, "I've got the best: I've got an awesome, classic American play. I've got an awesome director. I've got awesome co-stars. It's not going to get better. If it fails, I'm not going to feel bad because I did everything possible. Absolutely everything possible. So it's not on me." No wonder why the AP also calls him "amiable but slightly smug"!
On why he has decided to do a play on Broadway when he does not have an extensive background in theater, Franco says, "I've always been a huge theater fan. I'd see as much theater as I can. So it's always been a huge part of my life. It just felt like something I was always on the outside of."
Something he was always on the awesome outside of, I guess.
http://www.dailyactor.com/wp-content/uploads/2016/02/david-harewood-supergirl.jpg
David Harewood on 'Supergirl' and How He Was "Struggling to Get a Handle" on His Character
Harewood reveals how he relates to the character and how he eventually got comfortable playing him.
http://www.dailyactor.com/actors-on-acting/david-harewood-supergirlstruggling-to-get-a-handle-on-his-character/
http://www.dailyactor.com/wp-content/uploads/2016/01/Jeff-Daniels.jpg
Jeff Daniels Remembers a Terrible Audition for a Diane Keaton Movie
One actor that knows the ups and downs of the audition process is Jeff Daniels.
http://www.dailyactor.com/actors-on-acting/jeff-daniels-terrible-audition-diane-keaton-movie/
http://www.dailyactor.com/wp-content/uploads/2016/02/Jennifer-Jason-Leigh-The-Hateful-Eight.jpg
Jennifer Jason Leigh on Her First-Ever Oscar Nomination: "It's kind of phenomenal"
"He knew that I could, in his words, 'act the … out of it' and I'm not afraid to take a risk in terms of acting" Jennifer Jason Leigh on Quentin Tarantino
http://www.dailyactor.com/actors-on-acting/jennifer-jason-leigh-oscar-nomination/
http://www.dailyactor.com/wp-content/uploads/2016/02/Forest-Whitaker-Hughie-Broadway.jpg
Forest Whitaker on Making His Broadway Debut in 'Hughie': "His rhythms are starting to invade inside of me"
"I want to get better as an actor, to keep trying to work harder, trying to discover something different" - Forest Whitaker
http://www.dailyactor.com/actors-on-acting/forest-whitaker-broadway-debut-hughie/
http://www.dailyactor.com/wp-content/uploads/2016/02/alicia-Vikander-Ex-machina.jpg
Alicia Vikander on the Her First Trip to L.A. and the Acting Tip 'Ex-Machina' Director Alex Garland Gave Her
"You [get immersed in] a film and of course you think that that is it. And then you go away and you read a new script and you have a new crush" - Alicia Vikander
http://www.dailyactor.com/actors-on-acting/alicia-vikanderacting-tip-ex-machina-director-alex-garland-gave-her/