Idina Menzel is Returning to Broadway in the New Musical, 'If/Then'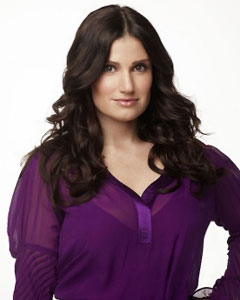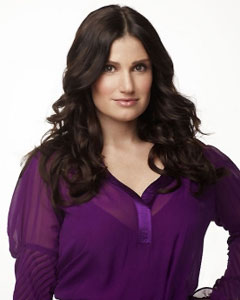 Idina Menzel is returning to Broadway for the first time since winning the Tony Award for Wicked! She's starring in If/Then, an original Broadway musical which reunites Tom Kitt (music), Brian Yorkey (book and lyrics), and Michael Greif (director), the creative team behind the Pulitzer Prize and Tony Award-winning musical, Next to Normal.  
The show will have its world premiere in a pre-Broadway out-of-town engagement at the National Theatre in Washington, D.C., beginning preview performances on Tuesday, November 5, 2013 and officially opening on Sunday, November 24, 2013. That's great news for me because it means I can see it when I'm visiting my family in Maryland for Christmas.
The production will begin previews on Broadway on Tuesday, March 4, 2014 and will officially open on Thursday, March 27, 2014 at a Nederlander Theatre to be announced. 
"I've experienced the beauty of working on original musicals and was eager to find a project where the material was exciting and new and spoke to my heart.  I'm thrilled to have finally found it – an original musical with a complex, flawed, and surprising central character that I cannot wait to bring to life onstage," said Menzel.  "I have loved collaborating with Tom Kitt and Brian Yorkey on the creation of this character.  And it is such a blessing to be reunited with Michael Greif, who launched my career with Rent, and David Stone, who took such good care of me with Wicked.  I am extremely excited about If/Then and very much look forward to returning home to Broadway."
Here's the synopsis: On the verge of turning 40, Elizabeth moves to New York City, the ultimate city of possibility, intent on a fresh start – new home, new friends, and hopes for a resurgent career.  But even in her carefully planned new life, the smallest decision or most random occurrence will impact her world in ways she never dreamt possible.  Set against the ever-shifting landscape of modern day Manhattan, If/Then is a romantic and original new musical about how choice and chance collide and how we learn to love the fallout.
On-sale dates, performance schedule, and ticket information will be announced shortly. For more information, check out www.ifthenthemusical.com.
http://www.dailyactor.com/wp-content/uploads/2016/02/Owen-Wilson.jpg
Owen Wilson on How He Started Acting, Trying "To Be Real" On-Screen and Choosing His Roles
"It's not enough just to be real; you have to try to make it interesting or entertaining" - Owen Wilson on Acting
http://www.dailyactor.com/actors-on-acting/owen-wilson-started-acting-real-on-screen/
http://www.dailyactor.com/wp-content/uploads/2016/02/John-Krasinski.jpg
John Krasinski on His Directing Debut, 'The Hollars', and How He'll Always Be an "Actor at Heart"
"To me, it's not about comedy or drama or genre, it's about, where's the good story?" - John Krasinski
http://www.dailyactor.com/actors-on-acting/john-krasinski-directing-debut-the-hollars-actor-at-heart/
http://www.dailyactor.com/wp-content/uploads/2016/02/david-harewood-supergirl.jpg
David Harewood on 'Supergirl' and How He Was "Struggling to Get a Handle" on His Character
Harewood reveals how he relates to the character and how he eventually got comfortable playing him.
http://www.dailyactor.com/actors-on-acting/david-harewood-supergirlstruggling-to-get-a-handle-on-his-character/
http://www.dailyactor.com/wp-content/uploads/2016/01/Jeff-Daniels.jpg
Jeff Daniels Remembers a Terrible Audition for a Diane Keaton Movie
One actor that knows the ups and downs of the audition process is Jeff Daniels.
http://www.dailyactor.com/actors-on-acting/jeff-daniels-terrible-audition-diane-keaton-movie/
http://www.dailyactor.com/wp-content/uploads/2016/02/Jennifer-Jason-Leigh-The-Hateful-Eight.jpg
Jennifer Jason Leigh on Her First-Ever Oscar Nomination: "It's kind of phenomenal"
"He knew that I could, in his words, 'act the … out of it' and I'm not afraid to take a risk in terms of acting" Jennifer Jason Leigh on Quentin Tarantino
http://www.dailyactor.com/actors-on-acting/jennifer-jason-leigh-oscar-nomination/