'Good People' is the Most Produced Play in America in 2012-2013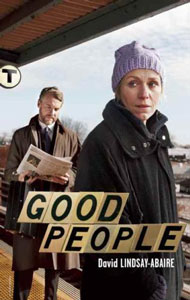 Good news for Good People, the 2011 play by David Lindsay-Abaire that Frances McDormand won a Tony Award for: it will be the most-produced play in America in the 2012-2013 season.  Of the 415 member theaters of The Theatre Communications Group, the largest trade group in the theater industry, 17 theaters will produce the play, which is about a recently-fired single mother trying to find a way to provide for herself and her handicapped daughter by seeking help from her former boyfriend.
There are numerous other plays that will have several productions across the country in several months.  Rounded out the top ten are Bruce Norris' Clybourne Park (15), Matthew Lopez's The Whipping Man (14), the Brian Yorkey-Tom Kitt musical Next to Normal (13), Katori Hall's The Mountaintop (12), last year's list topper John Logan's Red (11), Donald Margulies' Time Stands Still (10), Jon Robin Baitz's Other Desert Cities (10), Stephen Adly Guirgis' The Motherf**ker with the Hat (9), and Lorraine Hansberry's A Raisin in the Sun (8), tied with the Alex Timbers-Michael Friedman musical Bloody Bloody Andrew Jackson (8).  Though originally produced in 1959, A Raisin in the Sun is frequently produced in conjunction with Clybourne Park, which is set before and after A Raisin in the Sun.
However, the count does not count holiday plays or the works of Shakespeare, which would likely dominate the list.  Bah humbug!
via Yahoo!, Theatermania
http://www.dailyactor.com/wp-content/uploads/2016/02/alicia-Vikander-Ex-machina.jpg
Alicia Vikander on the Her First Trip to L.A. and the Acting Tip 'Ex-Machina' Director Alex Garland Gave Her
"You [get immersed in] a film and of course you think that that is it. And then you go away and you read a new script and you have a new crush" - Alicia Vikander
http://www.dailyactor.com/actors-on-acting/alicia-vikanderacting-tip-ex-machina-director-alex-garland-gave-her/
http://www.dailyactor.com/wp-content/uploads/2016/02/Channing-Tatum-Hail-Caesar.jpg
Channing Tatum Talks 'Hail, Caesar!': "I've been beating on the Coens' door for years, man"
"It's the most I've ever prepped for a six-minute section in a movie." - Channing Tatum
http://www.dailyactor.com/actors-on-acting/channing-tatum-hail-caesar-tap-dancing/
http://www.dailyactor.com/wp-content/uploads/2016/01/Isidora-Goreshter-Shameless-audition.jpg
Isidora Goreshter Remembers Her Audition for 'Shameless'
Goreshter recently recalled that her audition for the 'Shameless' was by far her worst ever.
http://www.dailyactor.com/actors-on-acting/isidora-goreshter-audition-for-shameless/
http://www.dailyactor.com/wp-content/uploads/2016/01/Sutton-Foster-Younger.jpg
Sutton Foster: "Sometimes I won't even find a character until I put on the costume"
"I never had grand aspirations to be a movie star, to be famous or to be on TV. The theater was what I wanted." - Sutton Foster
http://www.dailyactor.com/actors-on-acting/sutton-foster-younger-character-costume/
http://www.dailyactor.com/wp-content/uploads/2016/01/Paul-Giamatti-Billions.jpg
Paul Giamatti on Building His Career: "I was always willing to just go, 'OK, sure, I'll do that'"
"I've done everything an actor can do except porn and performing in an amusement park" - Paul Giamatti
http://www.dailyactor.com/actors-on-acting/paul-giamatti-billions-building-an-acting-career/