Full Casting Announced for Roundabout's 'The Big Knife'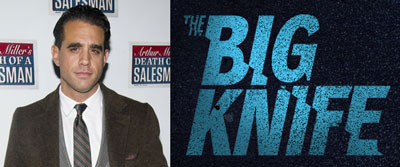 Roundabout Theatre Company has announced the actors for the new Broadway production of Clifford Odets, The Big Knife.
The production already had Bobby Cannavale as "Charlie Castle" and the rest of the company are as follows: Rachel Brosnahan as "Dixie Evans," Marin Ireland as "Marion Castle," Billy Eugene Jones as "Russell," Richard Kind as "Marcus Hoff," Adam Rapp as "Hank Teagle," Ana Reeder as "Connie Bliss," Reg Rogers as "Smiley Coy," Joey Slotnick as "Buddy Bliss," Brenda Wehle as "Patty Benedict," Chip Zien as "Nat Danziger," directed by Tony Award winner Doug Hughes.
Synopsis: In the golden age of Hollywood cinema, actors may have all the glory, but studio execs have all the power. The Hoff-Federated studio has had its most successful star, Charlie Castle, over a barrel ever since it helped cover up a mistake that could have ended his career. When a woman with insider knowledge threatens to come forward, the studio heads will stop at nothing to protect Charlie's secret… but how far is he willing to go before he quits the movie business for good?  Set in a glossy world of rumor mills and rocky friendships, Clifford Odets's The Big Knife is about living the life you always wanted but wanting something more.
The show will begin previews on March 22, 2013 and open officially on April 16, 2013 at the American Airlines Theatre on Broadway (227 West 42nd Street). This will be a limited engagement through June 2, 2013.
http://www.dailyactor.com/wp-content/uploads/2016/02/alicia-Vikander-Ex-machina.jpg
Alicia Vikander on the Her First Trip to L.A. and the Acting Tip 'Ex-Machina' Director Alex Garland Gave Her
"You [get immersed in] a film and of course you think that that is it. And then you go away and you read a new script and you have a new crush" - Alicia Vikander
http://www.dailyactor.com/actors-on-acting/alicia-vikanderacting-tip-ex-machina-director-alex-garland-gave-her/
http://www.dailyactor.com/wp-content/uploads/2016/02/Channing-Tatum-Hail-Caesar.jpg
Channing Tatum Talks 'Hail, Caesar!': "I've been beating on the Coens' door for years, man"
"It's the most I've ever prepped for a six-minute section in a movie." - Channing Tatum
http://www.dailyactor.com/actors-on-acting/channing-tatum-hail-caesar-tap-dancing/
http://www.dailyactor.com/wp-content/uploads/2016/01/Isidora-Goreshter-Shameless-audition.jpg
Isidora Goreshter Remembers Her Audition for 'Shameless'
Goreshter recently recalled that her audition for the 'Shameless' was by far her worst ever.
http://www.dailyactor.com/actors-on-acting/isidora-goreshter-audition-for-shameless/
http://www.dailyactor.com/wp-content/uploads/2016/01/Sutton-Foster-Younger.jpg
Sutton Foster: "Sometimes I won't even find a character until I put on the costume"
"I never had grand aspirations to be a movie star, to be famous or to be on TV. The theater was what I wanted." - Sutton Foster
http://www.dailyactor.com/actors-on-acting/sutton-foster-younger-character-costume/
http://www.dailyactor.com/wp-content/uploads/2016/01/Paul-Giamatti-Billions.jpg
Paul Giamatti on Building His Career: "I was always willing to just go, 'OK, sure, I'll do that'"
"I've done everything an actor can do except porn and performing in an amusement park" - Paul Giamatti
http://www.dailyactor.com/actors-on-acting/paul-giamatti-billions-building-an-acting-career/