'End of Rainbow' to Play Final Broadway Performance August 19th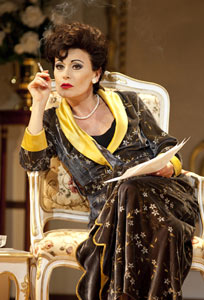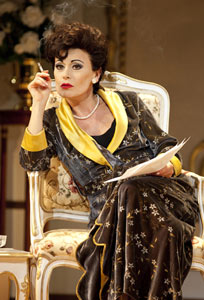 Goodbye Judy.
It was announced today that the highly acclaimed Broadway production of End of the Rainbow, written by Peter Quilter and directed by Tony® Award winner Terry Johnson, will play its final performance on Sunday, August 19. 
The production, which began performances on Monday, March 19, 2012 and opened to rave reviews on Monday, April 2, will have played a total of 176 performances at Broadway's Belasco Theatre. 
Making her Broadway debut and earning a 2012 Tony Nomination, Tracie Bennet was hailed for her performance as Judy Garland. The cast also featured 2012 Tony® Award-nominee Michael Cumpsty, Tom Pelphrey and Jay Russell.
When the Broadway production ends, Los Angeles audiences will get a their chance to see Bennett when the show plays the Los Angeles Music Center from March 12 through April 21, 2013, as part of CTG/Ahmanson Theatre's 2012/2013 Season.  A National Tour is being planned on the heels of that West Coast premiere.  Details on the National Tour will be announced shortly, along with additional information about the film adaptation, also starring Bennett, that is currently in development.
Synopsis: It's December 1968 and Judy Garland is poised to make a triumphant comeback…again.  The drama unfolds in a London hotel room as she prepares for a series of concerts at the famed "Talk of the Town" nightclub. Alongside her young fiancé and trusted pianist, Garland—with her signature cocktail of talent, tenacity and razor-sharp wit—takes on her most challenging role ever: herself.
Tracie Bennett Sings Judy: Songs from End of the Rainbow and Other Garland Classics is now available on Masterworks Broadway.
http://www.dailyactor.com/wp-content/uploads/2016/02/alicia-Vikander-Ex-machina.jpg
Alicia Vikander on the Her First Trip to L.A. and the Acting Tip 'Ex-Machina' Director Alex Garland Gave Her
"You [get immersed in] a film and of course you think that that is it. And then you go away and you read a new script and you have a new crush" - Alicia Vikander
http://www.dailyactor.com/actors-on-acting/alicia-vikanderacting-tip-ex-machina-director-alex-garland-gave-her/
http://www.dailyactor.com/wp-content/uploads/2016/02/Channing-Tatum-Hail-Caesar.jpg
Channing Tatum Talks 'Hail, Caesar!': "I've been beating on the Coens' door for years, man"
"It's the most I've ever prepped for a six-minute section in a movie." - Channing Tatum
http://www.dailyactor.com/actors-on-acting/channing-tatum-hail-caesar-tap-dancing/
http://www.dailyactor.com/wp-content/uploads/2016/01/Isidora-Goreshter-Shameless-audition.jpg
Isidora Goreshter Remembers Her Audition for 'Shameless'
Goreshter recently recalled that her audition for the 'Shameless' was by far her worst ever.
http://www.dailyactor.com/actors-on-acting/isidora-goreshter-audition-for-shameless/
http://www.dailyactor.com/wp-content/uploads/2016/01/Sutton-Foster-Younger.jpg
Sutton Foster: "Sometimes I won't even find a character until I put on the costume"
"I never had grand aspirations to be a movie star, to be famous or to be on TV. The theater was what I wanted." - Sutton Foster
http://www.dailyactor.com/actors-on-acting/sutton-foster-younger-character-costume/
http://www.dailyactor.com/wp-content/uploads/2016/01/Paul-Giamatti-Billions.jpg
Paul Giamatti on Building His Career: "I was always willing to just go, 'OK, sure, I'll do that'"
"I've done everything an actor can do except porn and performing in an amusement park" - Paul Giamatti
http://www.dailyactor.com/actors-on-acting/paul-giamatti-billions-building-an-acting-career/