'Cotton Club Parade' is Transferring to Broadway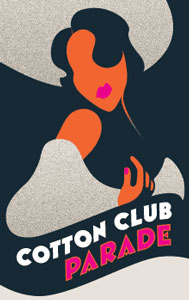 Cotton Club Parade, the Encores! Special event that celebrates Duke Ellington's years at the famed Harlem nightclub in the 1920s and '30s, is moving to Broadway this fall.
Our own Chris McKittrick reviewed the show last November said that the it's "a musical celebration that should be shared with audiences all over."
The show, directed by Wynton Marsalis, features singers, dancers, and the world renowned Jazz at Lincoln Center All Stars.  The score includes songs by the greatest jazz composers of the time, including Jimmy McHugh and Dorothy Fields ("I Can't Give You Anything But Love" and "Digga Digga Doo"), a young Harold Arlen ("Stormy Weather," "I've Got the World on a String," "Between the Devil and the Deep Blue Sea,"), and of course, the legendary Duke Ellington ("Rockin' in Rhythm," "Cotton Club Stomp," "Black and Tan Fantasy," and "Creole Love Call").
Theatre, casting, creative team, and ticketing will be announced soon.
http://www.dailyactor.com/wp-content/uploads/2015/09/Tom-Hardy-Legend.jpg
Tom Hardy on Playing Twins in 'Legend,' Being Seen as a Tough Guy, and Working with Philip Seymour Hoffman
Hardy speaks about why he challenged himself to play twins, what he thinks of his tough guy image, and working with the late Philip Seymour Hoffman, who directed him on stage.
http://www.dailyactor.com/actors-on-acting/tom-hardy-playing-twins-legend/
http://www.dailyactor.com/wp-content/uploads/2015/09/Emily-Blunt-Sicario.jpg
Emily Blunt on Action Movie Roles: "I think it's important to show different layers. Nobody is just tough, nobody is just vulnerable"
Emily Blunt touches upon why she has gotten into roles with an action bent and why she thinks there aren't more action movies with female leads
http://www.dailyactor.com/actors-on-acting/emily-blunt-sicario-acting-layers/
http://www.dailyactor.com/wp-content/uploads/2015/09/Jorja-Fox-CSI.jpg
Jorja Fox on Life After 'CSI': "I've always enjoyed not knowing exactly where the road leads"
"I think you kind of have to embrace the unknown if you're an actor." - Jorja Fox
http://www.dailyactor.com/actors-on-acting/jorja-fox-life-after-csi/
http://www.dailyactor.com/wp-content/uploads/2015/09/John-Turturro-Mia-Madre.jpg
John Turturro on the Life of an Actor: "It's a rough business. I wouldn't want my kids to do it"
"I am usually very well prepared. If you're a surgeon, you've got to know what you're going to take out today." - John Turturro
http://www.dailyactor.com/actors-on-acting/john-turturro-life-of-an-actor/
http://www.dailyactor.com/wp-content/uploads/2015/09/Matt-Damon-The-Martian.jpg
Matt Damon's Controversial Comments on Actors Keeping Their Real Lives a Mystery
"I think you're a better actor the less people know about you period. And sexuality is a huge part of that." - Matt Damon
http://www.dailyactor.com/actors-on-acting/matt-damon-actors-keeping-their-real-lives-a-mystery/