Complete Casting Announced for 'Truman Capote's Breakfast at Tiffany's'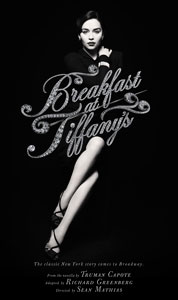 Complete casting has been announced for the world premiere of Tony® Award winning playwright Richard Greenberg's new play, Truman Capote's Breakfast at Tiffany's, which begins preview performances on Monday, March 4th with an opening night of Wednesday, March 20th at the Cort Theatre (138 West 48th Street).
Joining the previously announced Emilia Clarke (Game of Thrones) as 'Holly Golightly,' Cory Michael Smith as 'Fred' and George Wendt as 'Joe Bell' will be Suzanne Bertish, Danny Binstock, Pedro Carmo, Elisabeth Anthony Gray, Murphy Guyer, Eddie Korbich, Paolo Montalban, Kate Cullen Roberts, John Rothman, Tony Torn, Lee Wilkof and James Yaegashi.
Based on Truman Capote's much loved book, the new show is set in New York City in 1943.  'Fred', a young writer from Louisiana, meets Holly Golightly, a charming, vivacious and utterly elusive good-time girl.  Everyone falls in love with Holly – including Fred.  But Fred is poor, and Holly's other suitors include a playboy millionaire and the future president of Brazil.  As war rages on in Europe, Holly begins to fall in love with Fred – just as her past catches up with her.
http://www.dailyactor.com/wp-content/uploads/2015/09/Tom-Hardy-Legend.jpg
Tom Hardy on Playing Twins in 'Legend,' Being Seen as a Tough Guy, and Working with Philip Seymour Hoffman
Hardy speaks about why he challenged himself to play twins, what he thinks of his tough guy image, and working with the late Philip Seymour Hoffman, who directed him on stage.
http://www.dailyactor.com/actors-on-acting/tom-hardy-playing-twins-legend/
http://www.dailyactor.com/wp-content/uploads/2015/09/Emily-Blunt-Sicario.jpg
Emily Blunt on Action Movie Roles: "I think it's important to show different layers. Nobody is just tough, nobody is just vulnerable"
Emily Blunt touches upon why she has gotten into roles with an action bent and why she thinks there aren't more action movies with female leads
http://www.dailyactor.com/actors-on-acting/emily-blunt-sicario-acting-layers/
http://www.dailyactor.com/wp-content/uploads/2015/09/Jorja-Fox-CSI.jpg
Jorja Fox on Life After 'CSI': "I've always enjoyed not knowing exactly where the road leads"
"I think you kind of have to embrace the unknown if you're an actor." - Jorja Fox
http://www.dailyactor.com/actors-on-acting/jorja-fox-life-after-csi/
http://www.dailyactor.com/wp-content/uploads/2015/09/John-Turturro-Mia-Madre.jpg
John Turturro on the Life of an Actor: "It's a rough business. I wouldn't want my kids to do it"
"I am usually very well prepared. If you're a surgeon, you've got to know what you're going to take out today." - John Turturro
http://www.dailyactor.com/actors-on-acting/john-turturro-life-of-an-actor/
http://www.dailyactor.com/wp-content/uploads/2015/09/Matt-Damon-The-Martian.jpg
Matt Damon's Controversial Comments on Actors Keeping Their Real Lives a Mystery
"I think you're a better actor the less people know about you period. And sexuality is a huge part of that." - Matt Damon
http://www.dailyactor.com/actors-on-acting/matt-damon-actors-keeping-their-real-lives-a-mystery/