Christopher Walken on His Early Musical Roles and Famous Voice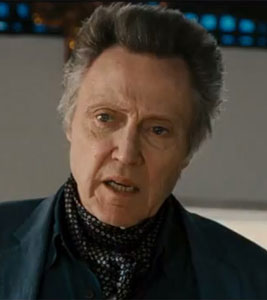 Though Seven Psychopaths didn't do the business at the box office this weekend that CBS Films was hoping for, the film got rave reviews — with much of the praise centered on Christopher Walken's character, Hans.  Walken has been an immensely popular actor for years, and he spoke to The Daily Beast about his surprising early years and why he thinks he's remained so popular all these years.
What most people are surprised by is that Walken — who usually breaks out in a little dance step at some point in his movies — cut his teeth in musicals.  He explains, "I was in musicals for a long time—Broadway musicals, and tours. I did a lot of West Side Story and various musicals in New York during the '60s and '70s. I was in musicals and then at some point I got a job to be in a play, and then I got a part in a movie. It all happened a bit accidentally."
Yet despite his success in acting and his popularity with the general public, Walken admits that like other actors he is always concerned what his next job will be he.  He says, "Actors are always worried about their next job and it's never been any different for me. When I'm busy and when I wasn't busy, I've never really known much about what I'm going to do next. You know, I don't have kids and I don't have hobbies. I don't like to travel. So, going to work is really about it."
Of course, one of the most endearing features of Christopher Walken is his voice, including his unique cadence and New York accent.  Walken reveals that he believes that his voice comes from the immigrant-rich area he grew up in, pointing out, "I think it comes from the part of New York I come from. I'm from an area of New York full of people from other places, particularly Europe. My parents both came to America as adults from Europe and all my friends had parents where English was their second language. There are places I grew up where people still spoke Italian and German and kind of brought Europe to America with them. The people I grew up with, a lot of them had very heavy accents, and I think it rubbed off a little in terms of rhythm."
Watch: Keegan-Michael Key Explains Why "Improv actors are at war together"
Check out Key's points on why it's so important for improv actors to have each others' backs in the clip above.
http://www.dailyactor.com/actors-on-acting/keegan-michael-key-improv-actors-at-war-together/
http://www.dailyactor.com/wp-content/uploads/2016/07/norman-reedus-actor.jpg
Norman Reedus on Acting: "If it's something you really want, you have to roll with the rejection"
Norman Reedus is a fan-favorite star on The Walking Dead and was in the cult favorite film The Boondock Saints. However, in the dozen years between those two gigs Reedus had experienced ups and downs in his career and in many cases he was cast in very small roles in big movies or lead roles […]
http://www.dailyactor.com/actors-on-acting/norman-reedus-acting-rejection/
http://www.dailyactor.com/wp-content/uploads/2016/07/frank-grillo.jpg
Frank Grillo on Being Typecast: "I welcome it"
"I hear actors pooh-pooh the idea... people might see them as a certain thing. I welcome it" - Frank Grillo on Typecasting
http://www.dailyactor.com/actors-on-acting/frank-grillo-on-typecasting/
http://www.dailyactor.com/wp-content/uploads/2016/07/Michael-Shannon-Acting-for-free.jpg
Michael Shannon on Actors Working for Free: "I think as a group actors need to stop enabling this behavior"
"If somebody's got a good script and you want to put good actors in it then everybody should be taken care of." - Michael Shannon
http://www.dailyactor.com/actors-on-acting/michael-shannon-actors-working-for-free/
http://www.dailyactor.com/wp-content/uploads/2016/07/Javier-Munoz-Hamilton.jpg
Javier Muñoz on Taking the Lead in 'Hamilton': "This is just fun, and glorious"
Muñoz talks about his feelings on playing Alexander Hamilton full-time and his relationship with Lin-Manuel Miranda.
http://www.dailyactor.com/actors-on-acting/javier-munoz-new-hamilton/