Christopher Walken on His Early Musical Roles and Famous Voice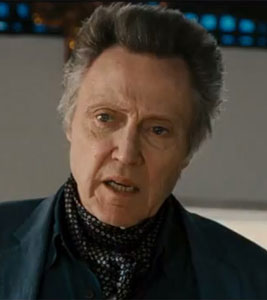 Though Seven Psychopaths didn't do the business at the box office this weekend that CBS Films was hoping for, the film got rave reviews — with much of the praise centered on Christopher Walken's character, Hans.  Walken has been an immensely popular actor for years, and he spoke to The Daily Beast about his surprising early years and why he thinks he's remained so popular all these years.
What most people are surprised by is that Walken — who usually breaks out in a little dance step at some point in his movies — cut his teeth in musicals.  He explains, "I was in musicals for a long time—Broadway musicals, and tours. I did a lot of West Side Story and various musicals in New York during the '60s and '70s. I was in musicals and then at some point I got a job to be in a play, and then I got a part in a movie. It all happened a bit accidentally."
Yet despite his success in acting and his popularity with the general public, Walken admits that like other actors he is always concerned what his next job will be he.  He says, "Actors are always worried about their next job and it's never been any different for me. When I'm busy and when I wasn't busy, I've never really known much about what I'm going to do next. You know, I don't have kids and I don't have hobbies. I don't like to travel. So, going to work is really about it."
Of course, one of the most endearing features of Christopher Walken is his voice, including his unique cadence and New York accent.  Walken reveals that he believes that his voice comes from the immigrant-rich area he grew up in, pointing out, "I think it comes from the part of New York I come from. I'm from an area of New York full of people from other places, particularly Europe. My parents both came to America as adults from Europe and all my friends had parents where English was their second language. There are places I grew up where people still spoke Italian and German and kind of brought Europe to America with them. The people I grew up with, a lot of them had very heavy accents, and I think it rubbed off a little in terms of rhythm."
http://www.dailyactor.com/wp-content/uploads/2016/05/Chris-Evans-Captain-America.jpg
Chris Evans on the Challenges of Being Captain America Outside of Acting
"It's part of the job, I've got to sell this thing. But it's just a gross feeling. It makes me insecure."
http://www.dailyactor.com/actors-on-acting/chris-evans-challenges-of-being-captain-america/
http://www.dailyactor.com/wp-content/uploads/2016/04/julia-louis-dreyfus-veep.jpg
Julia Louis-Dreyfus: "Opportunity for women in television has increased. It's because the landscape has widened"
"I did not come out of SNL as any kind of name. I didn't do anything particularly great when I was there. I didn't. It's fine. But I learned a tremendous amount."
http://www.dailyactor.com/actors-on-acting/julia-louis-dreyfus/
http://www.dailyactor.com/wp-content/uploads/2016/04/Tituss-Burgess-Unbreakable-Kimmy-Schmidt.jpg
Tituss Burgess on How He Landed His 'Unbreakable Kimmy Schmidt' Role
Burgess reveals how his role on 30 Rock led to 'Kimmy Schmidt' and whether or not he'd consider returning to Broadway.
http://www.dailyactor.com/actors-on-acting/tituss-burgess-unbreakable-kimmy-schmidt-role/
http://www.dailyactor.com/wp-content/uploads/2016/04/Christine-Baranski-The-Good-Wife.jpg
Christine Baranski on the End of 'The Good Wife' and Going Back to Theatre
The final episode of The Good Wife airs on May 8, and it's been several weeks since series star Christine Baranski shot the final episode with her co-stars. She spoke to The Hollywood Reporter about the end of the series she has spent the last seven years working on and what she plans to do […]
http://www.dailyactor.com/actors-on-acting/christine-baranski-the-good-wife-theatre/
http://www.dailyactor.com/wp-content/uploads/2016/04/jake-gyllenhaal-demolition.jpg
Jake Gyllenhaal on 'Demolition', Working with Chris Cooper and Directors Who Want Nothing to Do With Him
"I think storytelling is the most important part of movie-making over performance." - Jake Gyllenhaal
http://www.dailyactor.com/actors-on-acting/jake-gyllenhaal-demolition-chris-cooper/