'Cat on a Hot Tin Roof' Star Benjamin Walker on Acting: "If a magician tells you how he did his trick, it's not magical any more"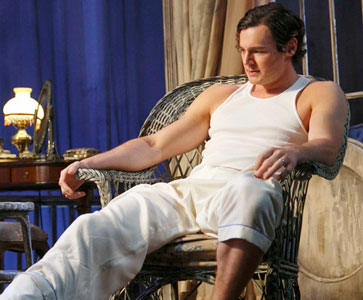 While there's no doubt that the big star of the current Broadway revival of Tennessee Williams' Cat on a Hot Tin Roof is Scarlett Johnasson, who plays Maggie, Johansson's co-star is Bloody Bloody Andrew Jackson star Benjamin Walker.  Walker plays Johansson's husband Brick, and in a lengthy interview with Broadway.com he talks about working with Johansson and the other actors.  He also talks about his view of Brick, but he refuses to disclose all his thoughts on the character.
When the interviewer asks about the "complex and intimate connection" between Walker and Johansson's characters, he points out, "We talk about that connection every day. Brick and Maggie have a very complicated relationship, but I think every love relationship has those layers. Luckily, we have the brilliant poetry of Tennessee Williams to shepherd us through it. Scarlett is fantastic. She's highly intelligent, very funny and a wonderful scene partner. Maggie has this great line, 'I've gone through this – hideous! – transformation, become – hard!' Scarlett is courageous enough to allow herself to drift from being attractive to find that place in herself that is desperate, and what's ironic is that it just makes her more attractive. I think she's fearless. The woman's got a Tony, she could do movies in Hollywood until she's blue in the face, but for some reason she's back here trying to tackle one of the most difficult parts written for a woman her age. I have to hand it to her."
Though Brick is not the lead character of the play, Walker praises Williams' characterization of Brick.  He explains, "There's no stone unturned, and if you pay attention to what he wrote, in the dialogue and in his essays about it, it never occurred to me that Brick is a thankless part."
While Walker denies the part is "thankless," he does have to cope with the difficulty of hobbling on stage on crutches throughout the play.  However, he credits his co-stars for driving him to handle the physical part of the role, pointing out, "It's exhausting, particularly now that it's so cold outside. I have to take care of myself and keep myself healthy. I have a wonderful group of actors around me that really helps me sustain it, particularly Ciaran Hinds [Big Daddy]. You can be as exhausted as any human being on the planet, and as soon as you lock eyes with him, it's the 50s, your name is Brick and you're in Mississippi whether you like it or not."
The interviewer asks Walker his opinion on the relationship between Brick and Skipper, who was Brick's friend who had committed suicide before the events of the play.  Many have speculated on the exact nature of the relationship because Skipper's death crushes Brick.  However, Walker will not reveal his opinion of the nature of their relationship.  He says,  "Those private things, for me as an actor and for each individual audience member, need to stay private. That's what's great about the play. Everybody comes in, and they have to figure it out themselves. If I tell you and you print it, then that takes the fun out of it. You have an opinion of what you think happened, but if I tell you then you're going to compare what you felt to what I thought and it's all screwed up. Where's the fun in that? If a magician tells you how he did his trick, it's not magical any more."
http://www.dailyactor.com/wp-content/uploads/2016/07/watch-keegan-michael-key-explain.jpg
Watch: Keegan-Michael Key Explains Why "Improv actors are at war together"
Check out Key's points on why it's so important for improv actors to have each others' backs in the clip above.
http://www.dailyactor.com/videos/keegan-michael-key-improv-actors-at-war-together/
http://www.dailyactor.com/wp-content/uploads/2016/07/norman-reedus-actor.jpg
Norman Reedus on Acting: "If it's something you really want, you have to roll with the rejection"
Norman Reedus is a fan-favorite star on The Walking Dead and was in the cult favorite film The Boondock Saints. However, in the dozen years between those two gigs Reedus had experienced ups and downs in his career and in many cases he was cast in very small roles in big movies or lead roles […]
http://www.dailyactor.com/actors-on-acting/norman-reedus-acting-rejection/
http://www.dailyactor.com/wp-content/uploads/2016/07/frank-grillo.jpg
Frank Grillo on Being Typecast: "I welcome it"
"I hear actors pooh-pooh the idea... people might see them as a certain thing. I welcome it" - Frank Grillo on Typecasting
http://www.dailyactor.com/film/frank-grillo-on-typecasting/
http://www.dailyactor.com/wp-content/uploads/2016/07/Michael-Shannon-Acting-for-free.jpg
Michael Shannon on Actors Working for Free: "I think as a group actors need to stop enabling this behavior"
"If somebody's got a good script and you want to put good actors in it then everybody should be taken care of." - Michael Shannon
http://www.dailyactor.com/film/michael-shannon-actors-working-for-free/
http://www.dailyactor.com/wp-content/uploads/2016/07/Javier-Munoz-Hamilton.jpg
Javier Muñoz on Taking the Lead in 'Hamilton': "This is just fun, and glorious"
Muñoz talks about his feelings on playing Alexander Hamilton full-time and his relationship with Lin-Manuel Miranda.
http://www.dailyactor.com/broadway-theater/javier-munoz-new-hamilton/