'Cat on a Hot Tin Roof' Star Benjamin Walker Reveals His Craziest On-Stage Mishap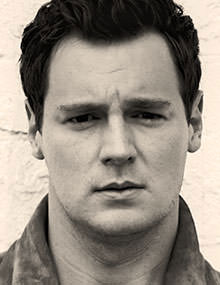 Actor Benjamin Walker has taken a step back from presidential roles — he starred as Andrew Jackson in Broadway's Bloody, Bloody Andrew Jackson and as Abraham Lincoln in Abraham Lincoln: Vampire Hunter — to star as Brick in the current Broadway production of Cat on a Hot Tin Roof.  In a short interview with The New York Times, Walker spoke about preparing himself physically for the role, whether he prefers film or theater, and reveals the craziest thing to happen to him while on stage.
Since Walker is playing a former quarterback, he had to make sure that he physically looked like a former football player.  He explains, "I'm working with a guy that kind of helps me as an actor, you know? We looked up quarterbacks in the '50s and tried to recreate their bodies on my body. So we just kind of approached it as actors who need to look a certain way."
When asked if he prefers movies or theater, Walker humorously responds, "The place I feel most at home is when I have health insurance. I really don't care how I get it, whether it's on film, or television or waiting tables, you know? The world, and entertainment, and film, and television, it's all changing, and we're just lucky to be a part of it. If I keep my goals simple, like health insurance, I should have a good time."
However, I find it hard to believe that Walker prefers film when he recounts his craziest on-stage moment.  He recalls, "One time during Bloody Bloody Andrew Jackson, there's a point where I jump off the stage and give an unsuspecting patron a lap dance. I straddled an elderly woman, and I don't know if I bumped her in the face with my crotch — I'm not really sure what happened. But somehow, I knocked her dentures out."  He then adds, "I'm not kidding. Her false teeth fell right out of her mouth. And it was probably because she was screaming in horror, but they landed right in my lap. I took it as a high compliment, but I'm sure it wasn't."
http://www.dailyactor.com/wp-content/uploads/2016/04/jake-gyllenhaal-demolition.jpg
Jake Gyllenhaal on 'Demolition', Working with Chris Cooper and Directors Who Want Nothing to Do With Him
"I think storytelling is the most important part of movie-making over performance." - Jake Gyllenhaal
http://www.dailyactor.com/actors-on-acting/jake-gyllenhaal-demolition-chris-cooper/
http://www.dailyactor.com/wp-content/uploads/2016/04/don-cheadle-miles-davis.jpg
Don Cheadle: "Be scared. Be on the edge of your creativity"
"Be willing to fall flat on your face and be in an unknown place. If you're doing that, you're probably growing" - Don Cheadle
http://www.dailyactor.com/actors-on-acting/don-cheadle-scared-creativity/
http://www.dailyactor.com/wp-content/uploads/2016/04/jessie-eisenberg-louder-than-bombs.jpg
What is Jesse Eisenberg's "Most Fulfilling Acting Experience"?
"My absolute favorite thing to do is to write a play and then, after I finish, do the first reading of it with my friends around the table"- Jesse Eisenberg
http://www.dailyactor.com/actors-on-acting/jesse-eisenberg-most-fulfilling-acting-experience/
http://www.dailyactor.com/wp-content/uploads/2016/03/Lupita-Nyong'o-eclipsed.jpg
Lupita Nyong'o on Her Broadway Debut: "When we get up on that stage, you do not know what will happen"
"I think theater offers a chance to flex muscles that then only help to sustain cinematic work." - Lupita Nyong'o
http://www.dailyactor.com/actors-on-acting/lupita-nyongo-eclipsed-broadway/
http://www.dailyactor.com/wp-content/uploads/2016/03/jake-gyllenhaal-demolition.jpg
Jake Gyllenhaal on Missed Superhero Opportunities and Portraying "Antisocial" Characters
"I've always wanted to have the opportunity to play a number of different roles, and I knew it wasn't necessarily the role, but how you played them" - Jake Gyllenhaal
http://www.dailyactor.com/actors-on-acting/jake-gyllenhaal-antisocial-characters/