In NYC this Weekend? Check out Broadway on Broadway!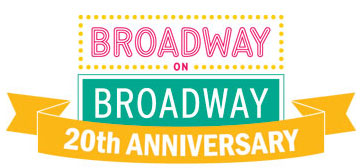 Broadway on Broadway, a free outdoor concert in Times Square featuring performances from some great Broadway shows, is happening this weekend!
On Sunday, September 9th at 11:30am, head on over to Times Square to kick off the 2012-2013 Broadway season with performances from new and long-running shows.
You'll get to see performances from:
Annie: Special Appearance
Bring It On: The Musical: "It's All Happening"
Chicago: "Me and My Baby"
Mamma Mia!: "Mamma Mia! Medley"
Newsies: "The World Will Know"
Motown: The Musical: "Get Ready"
Once: "Falling Slowly"
Scandalous: The Life and Trials of Aimee Semple McPherson: "For Such a Time as This"
Sprider-Man: Turn Off the Dark: "Boy Falls From the Sky"
Bare: "Are You There?"
Stomp: "Brooms"
Plus a special Nederlander 100th Anniversary Celebration and a Sneak Peek from Season 2 of NBC's Smash!
Check out the website, www.BroadwayonBroadway.com for more information.
http://www.dailyactor.com/wp-content/uploads/2016/02/david-harewood-supergirl.jpg
David Harewood on 'Supergirl' and How He Was "Struggling to Get a Handle" on His Character
Harewood reveals how he relates to the character and how he eventually got comfortable playing him.
http://www.dailyactor.com/actors-on-acting/david-harewood-supergirlstruggling-to-get-a-handle-on-his-character/
http://www.dailyactor.com/wp-content/uploads/2016/01/Jeff-Daniels.jpg
Jeff Daniels Remembers a Terrible Audition for a Diane Keaton Movie
One actor that knows the ups and downs of the audition process is Jeff Daniels.
http://www.dailyactor.com/actors-on-acting/jeff-daniels-terrible-audition-diane-keaton-movie/
http://www.dailyactor.com/wp-content/uploads/2016/02/Jennifer-Jason-Leigh-The-Hateful-Eight.jpg
Jennifer Jason Leigh on Her First-Ever Oscar Nomination: "It's kind of phenomenal"
"He knew that I could, in his words, 'act the … out of it' and I'm not afraid to take a risk in terms of acting" Jennifer Jason Leigh on Quentin Tarantino
http://www.dailyactor.com/actors-on-acting/jennifer-jason-leigh-oscar-nomination/
http://www.dailyactor.com/wp-content/uploads/2016/02/Forest-Whitaker-Hughie-Broadway.jpg
Forest Whitaker on Making His Broadway Debut in 'Hughie': "His rhythms are starting to invade inside of me"
"I want to get better as an actor, to keep trying to work harder, trying to discover something different" - Forest Whitaker
http://www.dailyactor.com/actors-on-acting/forest-whitaker-broadway-debut-hughie/
http://www.dailyactor.com/wp-content/uploads/2016/02/alicia-Vikander-Ex-machina.jpg
Alicia Vikander on the Her First Trip to L.A. and the Acting Tip 'Ex-Machina' Director Alex Garland Gave Her
"You [get immersed in] a film and of course you think that that is it. And then you go away and you read a new script and you have a new crush" - Alicia Vikander
http://www.dailyactor.com/actors-on-acting/alicia-vikanderacting-tip-ex-machina-director-alex-garland-gave-her/