Broadway is Back and Has Huge Discounts!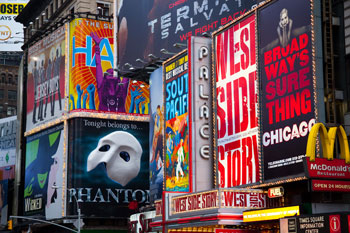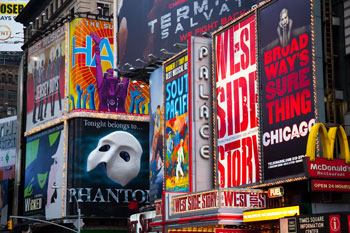 With Hurricane Sandy's after-effects still lingering in the New York area, Broadway is back to its regularly scheduled performances.
And, some of the shows are having huge discounts.
The producers of Chaplin announced a special "buy one get one free" offer for tickets at every price level for performances tonight at 7:00PM and Friday at 8:00PM. This offer is available to anyone who purchases tickets for these performances at the Barrymore Theatre box office only.
The Tony Award winning musical comedy Nice Work If You Can Get It has announced a special post-hurricane rush ticket offer for performances today and Friday, November 2. Residents from New York, New Jersey, Connecticut and other states affected by the storm (NY / NJ / CT / RI / MA / NH / VT / ME / PA / DE/ MD / VA / WV / NC) can present a valid photo i.d. in person at the Imperial Theatre box office beginning at 10 a.m. on the day of their preferred performance to purchase $37 tickets. Two tickets can be purchased per i.d. and seats are subject to availability.
The Performers, the new comedy set against the backdrop of the adult film industry and starring Cheyenne Jackson, Ari Graynor, Alicia Silverstone and Henry Winkler, has a 'Sandy Special' tonight at $29.50. $29.50??
Also, because of the storm, Dead Accounts, a comedy starring Norbert Leo Butz, Katie Holmes and Judy Greer, will now begin previews on Monday, November 5 at the Music Box Theatre. The delay of one performance will not impact the previously announced opening of Thursday, November 29.
And finally, nothing will stop The Heiress' opening night. The show, starring Academy Award nominee Jessica Chastain, Academy Award nominee and Emmy Award winner David Strathairn, Dan Stevens and Tony Award winner Judith Ivey, will open tonight as planned. 
Now go and buy some cheap tickets!
http://www.dailyactor.com/wp-content/uploads/2016/02/alicia-Vikander-Ex-machina.jpg
Alicia Vikander on the Her First Trip to L.A. and the Acting Tip 'Ex-Machina' Director Alex Garland Gave Her
"You [get immersed in] a film and of course you think that that is it. And then you go away and you read a new script and you have a new crush" - Alicia Vikander
http://www.dailyactor.com/actors-on-acting/alicia-vikanderacting-tip-ex-machina-director-alex-garland-gave-her/
http://www.dailyactor.com/wp-content/uploads/2016/02/Channing-Tatum-Hail-Caesar.jpg
Channing Tatum Talks 'Hail, Caesar!': "I've been beating on the Coens' door for years, man"
"It's the most I've ever prepped for a six-minute section in a movie." - Channing Tatum
http://www.dailyactor.com/actors-on-acting/channing-tatum-hail-caesar-tap-dancing/
http://www.dailyactor.com/wp-content/uploads/2016/01/Isidora-Goreshter-Shameless-audition.jpg
Isidora Goreshter Remembers Her Audition for 'Shameless'
Goreshter recently recalled that her audition for the 'Shameless' was by far her worst ever.
http://www.dailyactor.com/actors-on-acting/isidora-goreshter-audition-for-shameless/
http://www.dailyactor.com/wp-content/uploads/2016/01/Sutton-Foster-Younger.jpg
Sutton Foster: "Sometimes I won't even find a character until I put on the costume"
"I never had grand aspirations to be a movie star, to be famous or to be on TV. The theater was what I wanted." - Sutton Foster
http://www.dailyactor.com/actors-on-acting/sutton-foster-younger-character-costume/
http://www.dailyactor.com/wp-content/uploads/2016/01/Paul-Giamatti-Billions.jpg
Paul Giamatti on Building His Career: "I was always willing to just go, 'OK, sure, I'll do that'"
"I've done everything an actor can do except porn and performing in an amusement park" - Paul Giamatti
http://www.dailyactor.com/actors-on-acting/paul-giamatti-billions-building-an-acting-career/