Broadway Had Highest Grosses Ever for 2011-2012 Season, But Ticket Prices Continue to Rise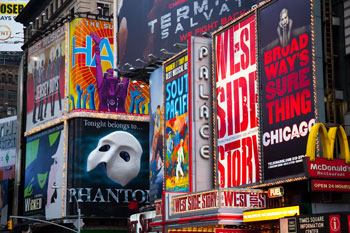 There is a lot of pretty good news for Broadway in the Broadway League's annual "Demographics of Broadway" report for the 2011-2012 season.
While attendance was slightly down versus the 2010-2011 season (12.33 million vs. 12.54 million), grosses were the highest ever in Broadway history, rising to $1.139 billion from last season's previous record of $1.08 billion.  Of course, this also means that unfortunately average ticket prices continued to rise, with this season's average ticket price rising to $92.37 from last season's previous record of $86.21. 
In addition, Broadway remains to grow as a tourist destination, with tourists making up 63.4% of the record 12.3 million people who attended Broadway shows this season (up from last season's 61.7%).  Of that, 18.4% were from visitors from other countries.
Audiences also were more diverse.  While the percentage of white patrons declined 82.5% in 2010-2011 to 77.8%, there were slight raises in Asian theatergoers (6.5% from 4%) and Hispanic audiences (6% from 5.7%).  However, the largest increase was in black audiences, which rose to 5.4% from 1.5%.  It's worth noting that plays like The Mountaintop, which starred Samuel L. Jackson and Angela Bassett, drew large African-American audiences this season.  Audiences remain predominantly female, making up 67% of this season's audience.  Average age of ticket-buyers inched down to 43.5 years old from 2010-2011's 44.
Of course, there remain a core group of rabid fans.  While just 5% of the audience saw fifteen or more shows that year, that accounts for 29% (3.6 million) of all admissions.  In addition, a majority of theatergoers see two or more shows a year.
You could check out the rest of the statistics at the Broadway League and additional statistics from Deadline.
http://www.dailyactor.com/wp-content/uploads/2015/10/Bridge-of-Spies-Tom-Hanks-Mark-Rylance.jpg
Tom Hanks on Working with Steven Spielberg and Mark Rylance in 'Bridge of Spies'
"Steven does this incredible thing when he casts you: He empowers you with the scene." - Tom Hanks on Steven Spielberg
http://www.dailyactor.com/actors-on-acting/tom-hanks-working-steven-spielberg-mark-rylance-bridge-of-spies/
http://www.dailyactor.com/wp-content/uploads/2015/09/Tom-Hardy-Legend.jpg
Tom Hardy on Playing Twins in 'Legend,' Being Seen as a Tough Guy, and Working with Philip Seymour Hoffman
Hardy speaks about why he challenged himself to play twins, what he thinks of his tough guy image, and working with the late Philip Seymour Hoffman, who directed him on stage.
http://www.dailyactor.com/actors-on-acting/tom-hardy-playing-twins-legend/
http://www.dailyactor.com/wp-content/uploads/2015/09/Emily-Blunt-Sicario.jpg
Emily Blunt on Action Movie Roles: "I think it's important to show different layers. Nobody is just tough, nobody is just vulnerable"
Emily Blunt touches upon why she has gotten into roles with an action bent and why she thinks there aren't more action movies with female leads
http://www.dailyactor.com/actors-on-acting/emily-blunt-sicario-acting-layers/
http://www.dailyactor.com/wp-content/uploads/2015/09/Jorja-Fox-CSI.jpg
Jorja Fox on Life After 'CSI': "I've always enjoyed not knowing exactly where the road leads"
"I think you kind of have to embrace the unknown if you're an actor." - Jorja Fox
http://www.dailyactor.com/actors-on-acting/jorja-fox-life-after-csi/
http://www.dailyactor.com/wp-content/uploads/2015/09/John-Turturro-Mia-Madre.jpg
John Turturro on the Life of an Actor: "It's a rough business. I wouldn't want my kids to do it"
"I am usually very well prepared. If you're a surgeon, you've got to know what you're going to take out today." - John Turturro
http://www.dailyactor.com/actors-on-acting/john-turturro-life-of-an-actor/