Broadway Continues Going to the Dogs with Porridge in 'Pippin'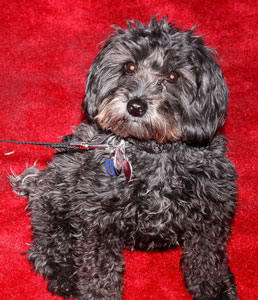 What's with animals on Broadway this season?  Not only do we have a cat in Breakfast at Tiffany's and a dog in Annie, but another pooch has taken the stage in the revival of Pippin.  However, Porridge the dog isn't some superstar stage dog.  In fact, the poodle-mix is owned and trained by Matthew James Thomas, who also stars in Pippin at the Music Box Theatre.
Thomas, a UK actor who debuted on Broadway in Spider-Man: Turn Off the Dark as the alternate Spider-Man (performing in two shows per week), bought Porridge from a rundown pet store after moving to New York City.  He explains to The New York Post, "Through the window, I saw a little black dog curled up in a cage, and he just looked at me."  Though he took a brief trip to Starbucks to convince himself to stick to his original plan of adopting a puppy from the Human Society, he couldn't help himself and returned to buy Porridge, whom he named after a family dog that had once saved the life of Thomas' mother.
While Thomas was rehearsing for Pippin after leaving Spider-Man, he brought Porridge to a rehearsal.  The dog's focused behavior intrigued director Diane Paulus, and she decided to cast Porridge in the play in a small role that has become a hit with audiences.
So how did Thomas become a dog trainer during the demanding hours of a Broadway actor?  Though Porridge is well-trained, Thomas admits the training wasn't actually difficult.  "Sometimes I just take away his favorite toy," he explains.  
http://www.dailyactor.com/wp-content/uploads/2016/08/imperium_daniele_radcliffe.jpg
Daniel Radcliffe on Playing a Neo-Nazi in 'Imperium': "It's still just horrible to say some of this stuff"
Radcliffe reveals how he played such a layered character and what it felt like to say his character's hate-filled dialogue.
http://www.dailyactor.com/actors-on-acting/daniel-radcliffe-playing-a-neo-nazi-imperium/
http://www.dailyactor.com/wp-content/uploads/2016/08/John-Cho-Star-Trek-Beyond.jpg
How John Cho Took A Stand for Diversity Early in His Career
"When one does speak one's mind, one might be surprised at how receptive people are." - Actor John Cho
http://www.dailyactor.com/actors-on-acting/john-cho-took-a-stand-for-diversity/
http://www.dailyactor.com/wp-content/uploads/2016/08/simon-helberg-florence-foster-jenkins.jpg
Simon Helberg on His 'Florence Foster Jenkins' Role: "I'm an actor and I want to stretch different muscles"
Helberg spoke about portraying his character in the film and whether or not he feels typecast by his Big Bang Theory role.
http://www.dailyactor.com/actors-on-acting/simon-helberg-florence-foster-jenkins-role/
http://www.dailyactor.com/wp-content/uploads/2016/08/Will-Chase-Something-Rotten.jpg
The Role That Got Away: Will Chase on Returning to 'Something Rotten!'
"I know that I am a poor man's fill-in-the-blank. And I know that there are poor man's Will Chases out there. That's just the nature of the business" - Will Chase
http://www.dailyactor.com/actors-on-acting/will-chase-something-rotten-role-that-got-away/
http://www.dailyactor.com/wp-content/uploads/2016/08/Julia-Stiles-Jason-Bourne.jpg
Julia Stiles on the Jason Bourne Series and Growing as an Actress: "There's always room for improvement"
"I like a director that encourages me to be playful. I don't really like being restricted or controlled by a director." - Julia Stiles
http://www.dailyactor.com/actors-on-acting/julia-stiles-growing-as-an-actress/