'Bring It On: The Musical': Details Behind the Broadway Show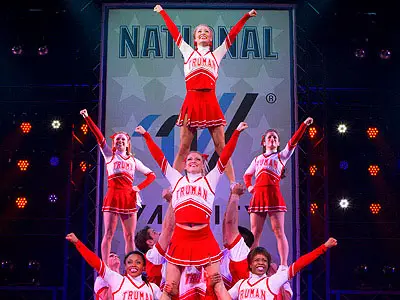 Bring It On: The Musical  has just opened at the St. James Theater at the start of this month. The production's plot will follow the same formula as the movie's storyline, but this time around fans will be invited to slip into the world of a "cheerleading whiz" by the name of Campbell (played by actress Taylor Louderman) who finds herself the new student at a school without a cheerleading squad. 
Something director and choreographer Andy Blankenbuehler can relate to. Now 42-years old, the helmer of the production attended an all boy's school in Cincinnati where his school, for obvious reasons in those days, did not have a cheerleading squad. "I went to an all-boys' high school in Cincinnati.  We didn't even have a cheerleading squad," he shared.
Talking to USA Today,  Blankenbuehler  shared some inside details behind the production, the musical's premise, and what it was like for him to bring the production to the stage.
"She ends up cheerleading again," the helmer of In The Heights shared.  "But she learns that life takes you on a circuitous journey and that what's most important is to enjoy that journey and appreciate friendship."  In order to bring the world of competitive cheerleading to the stage in a believable and entertaining way, Blankenbuehler enlisted the help of Jessica Colombo, a 27-year-old "cheer consultant".
"My job was to teach the singers and dancers and actors how to do the stunts safely and correctly, and to make them look like cheerleaders. Because how you move is very different than it is in the dance world," Colombo stated.  Together the two have brought Bring It On: The Musical to life on stage in a production that has been deemed both entertaining and amazing.
Watch a clip from Bring It On below.
http://www.dailyactor.com/wp-content/uploads/2016/04/jake-gyllenhaal-demolition.jpg
Jake Gyllenhaal on 'Demolition', Working with Chris Cooper and Directors Who Want Nothing to Do With Him
"I think storytelling is the most important part of movie-making over performance." - Jake Gyllenhaal
http://www.dailyactor.com/actors-on-acting/jake-gyllenhaal-demolition-chris-cooper/
http://www.dailyactor.com/wp-content/uploads/2016/04/don-cheadle-miles-davis.jpg
Don Cheadle: "Be scared. Be on the edge of your creativity"
"Be willing to fall flat on your face and be in an unknown place. If you're doing that, you're probably growing" - Don Cheadle
http://www.dailyactor.com/actors-on-acting/don-cheadle-scared-creativity/
http://www.dailyactor.com/wp-content/uploads/2016/04/jessie-eisenberg-louder-than-bombs.jpg
What is Jesse Eisenberg's "Most Fulfilling Acting Experience"?
"My absolute favorite thing to do is to write a play and then, after I finish, do the first reading of it with my friends around the table"- Jesse Eisenberg
http://www.dailyactor.com/actors-on-acting/jesse-eisenberg-most-fulfilling-acting-experience/
http://www.dailyactor.com/wp-content/uploads/2016/03/Lupita-Nyong'o-eclipsed.jpg
Lupita Nyong'o on Her Broadway Debut: "When we get up on that stage, you do not know what will happen"
"I think theater offers a chance to flex muscles that then only help to sustain cinematic work." - Lupita Nyong'o
http://www.dailyactor.com/actors-on-acting/lupita-nyongo-eclipsed-broadway/
http://www.dailyactor.com/wp-content/uploads/2016/03/jake-gyllenhaal-demolition.jpg
Jake Gyllenhaal on Missed Superhero Opportunities and Portraying "Antisocial" Characters
"I've always wanted to have the opportunity to play a number of different roles, and I knew it wasn't necessarily the role, but how you played them" - Jake Gyllenhaal
http://www.dailyactor.com/actors-on-acting/jake-gyllenhaal-antisocial-characters/