'Breakfast at Tiffany's' to Make Long-Delayed Broadway Debut in 2013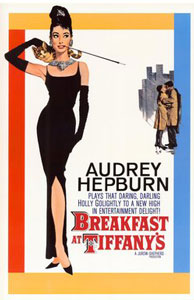 Musicals based on films can sometimes be wonderful (Once and The Producers come to mind), but often risk being blasted for unoriginality.  One that falls in the latter category is the infamous 1966 musical adaption of Breakfast at Tiffany's, which only ran four previews (!) before being canceled by the producer despite starring Mary Tyler Moore and Richard Chamberlin and having a score by Bob Merrill (Funny Girl) and a book by Pulitzer Prize-winning playwright Edward Albee. 
Famously, producer David Merrick took an ad out in the New York Times announcing the cancellation of the musical despite successful ticket sales, claiming he was shutting it down "rather than subject the drama critics and the public to an excruciatingly boring evening."  Yikes!
But Breakfast at Tiffany's, both the 1958 novella by Truman Capote and the 1961 film starring Audrey Hepburn and directed by Blake Edwards, have endured as celebrated works, so why not give a stage adaptation another shot?  The new play adaptation by Tony Award winner Richard Greenberg (Take Me Out) will make it to Broadway in February 2013 starring Emilia Clarke (HBO's Game of Thrones) as the iconic Holly Golightly.  It will be directed by Sean Mathias (Indiscretions), who previously directed another adaptation of the novella for the London stage.
The adaptation is said to reflect the novella more than the film, which was less of a romantic comedy than the movie and more blatant in its portrayal of Golightly's risque motives.  Like the novella, it will be set during World War II, which might surprise those more familiar with the film that was sent in the then-contemporary early 1960s who are expecting to hear Clarke sing "Moon River."
http://www.dailyactor.com/wp-content/uploads/2016/02/david-harewood-supergirl.jpg
David Harewood on 'Supergirl' and How He Was "Struggling to Get a Handle" on His Character
Harewood reveals how he relates to the character and how he eventually got comfortable playing him.
http://www.dailyactor.com/actors-on-acting/david-harewood-supergirlstruggling-to-get-a-handle-on-his-character/
http://www.dailyactor.com/wp-content/uploads/2016/01/Jeff-Daniels.jpg
Jeff Daniels Remembers a Terrible Audition for a Diane Keaton Movie
One actor that knows the ups and downs of the audition process is Jeff Daniels.
http://www.dailyactor.com/actors-on-acting/jeff-daniels-terrible-audition-diane-keaton-movie/
http://www.dailyactor.com/wp-content/uploads/2016/02/Jennifer-Jason-Leigh-The-Hateful-Eight.jpg
Jennifer Jason Leigh on Her First-Ever Oscar Nomination: "It's kind of phenomenal"
"He knew that I could, in his words, 'act the … out of it' and I'm not afraid to take a risk in terms of acting" Jennifer Jason Leigh on Quentin Tarantino
http://www.dailyactor.com/actors-on-acting/jennifer-jason-leigh-oscar-nomination/
http://www.dailyactor.com/wp-content/uploads/2016/02/Forest-Whitaker-Hughie-Broadway.jpg
Forest Whitaker on Making His Broadway Debut in 'Hughie': "His rhythms are starting to invade inside of me"
"I want to get better as an actor, to keep trying to work harder, trying to discover something different" - Forest Whitaker
http://www.dailyactor.com/actors-on-acting/forest-whitaker-broadway-debut-hughie/
http://www.dailyactor.com/wp-content/uploads/2016/02/alicia-Vikander-Ex-machina.jpg
Alicia Vikander on the Her First Trip to L.A. and the Acting Tip 'Ex-Machina' Director Alex Garland Gave Her
"You [get immersed in] a film and of course you think that that is it. And then you go away and you read a new script and you have a new crush" - Alicia Vikander
http://www.dailyactor.com/actors-on-acting/alicia-vikanderacting-tip-ex-machina-director-alex-garland-gave-her/