Actor David John Birrell Sues Theatre Company After Prop Gun Blinds and Disfigures Him on Stage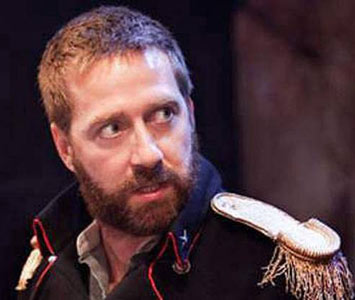 It's been nearly twenty years since actor Brandon Lee was accidentally shot and killed on the set of The Crow.  While unfortunate accidents that cause injury or death such as this have occurred during the production of films, they are much rarer on stage (the early days of Spider-Man: Turn Off the Dark notwithstanding). 
Actor David John Birrell was injured while starring in Stephen Sondheim's Passion at the Donmar Warehouse in the West End when a blank-firing replica revolver he was handling backfired during a performance.  Birrell was left blinded in his right eye and now is forced to wear "a cosmetic shell" to cover his "unsightly" appearance.  Birrell claims he has suffered both personally and professional because of the injury.
While his theatre company, Donmar Warehouse Projects Ltd, has accepted liability, it refuses to claim it was negligent and instead blames the prop company that supplied the gun, History in the Making Ltd. Birrell has filed a £250,000 damages lawsuit against Donmar Warehouse.  History in the Making claims that per its contract with Donmar Warehouse it is not responsible for the injury since it hasn't been proven that the gun used was supplied by the company and even if it was History in the Making did not supply the "defective" ammunition. 
No matter who is to blame, Birrell is luckily still finding work.  He is currently starring in two productions for the Open Air theatre company in London's Regents Park, and hopefully he will continue to act despite his horrific injury.
http://www.dailyactor.com/wp-content/uploads/2016/02/alicia-Vikander-Ex-machina.jpg
Alicia Vikander on the Her First Trip to L.A. and the Acting Tip 'Ex-Machina' Director Alex Garland Gave Her
"You [get immersed in] a film and of course you think that that is it. And then you go away and you read a new script and you have a new crush" - Alicia Vikander
http://www.dailyactor.com/actors-on-acting/alicia-vikanderacting-tip-ex-machina-director-alex-garland-gave-her/
http://www.dailyactor.com/wp-content/uploads/2016/02/Channing-Tatum-Hail-Caesar.jpg
Channing Tatum Talks 'Hail, Caesar!': "I've been beating on the Coens' door for years, man"
"It's the most I've ever prepped for a six-minute section in a movie." - Channing Tatum
http://www.dailyactor.com/actors-on-acting/channing-tatum-hail-caesar-tap-dancing/
http://www.dailyactor.com/wp-content/uploads/2016/01/Isidora-Goreshter-Shameless-audition.jpg
Isidora Goreshter Remembers Her Audition for 'Shameless'
Goreshter recently recalled that her audition for the 'Shameless' was by far her worst ever.
http://www.dailyactor.com/actors-on-acting/isidora-goreshter-audition-for-shameless/
http://www.dailyactor.com/wp-content/uploads/2016/01/Sutton-Foster-Younger.jpg
Sutton Foster: "Sometimes I won't even find a character until I put on the costume"
"I never had grand aspirations to be a movie star, to be famous or to be on TV. The theater was what I wanted." - Sutton Foster
http://www.dailyactor.com/actors-on-acting/sutton-foster-younger-character-costume/
http://www.dailyactor.com/wp-content/uploads/2016/01/Paul-Giamatti-Billions.jpg
Paul Giamatti on Building His Career: "I was always willing to just go, 'OK, sure, I'll do that'"
"I've done everything an actor can do except porn and performing in an amusement park" - Paul Giamatti
http://www.dailyactor.com/actors-on-acting/paul-giamatti-billions-building-an-acting-career/