Back to One Weekly Magazine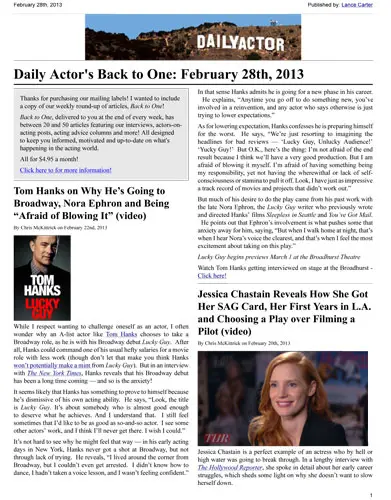 Back to One, delivered to you at the end of every week, has
between 20 and 50 articles featuring our interviews, actors-on-acting
posts, acting advice columns and more! All designed
to keep you informed, motivated and up-to-date on what's
happening in the acting world.
All for $4.95 a month!
Click here to for more information!
Latest Videos
The Cast of 'Mad Men' on the Final Season and More
Though the AMC television series Mad Men might not carry the same cultural weight that it did a few years ago (splitting your final season over two years might do that to you), the second half of the show's final season is expected to be full of powerful performances from its ensemble cast. With the […]
http://www.dailyactor.com/2014/10/cast-of-mad-men-final-season/
Watch: Ron Perlman on His Father's Influence on His Early Career
Ron Perlman is a prolific actor, and he has also lent his distinctive voice to a number of projects in film and television — including the new animated film The Book of Life. One of the reasons that Perlman works so hard is not only because he loves being an actor, but because of what […]
http://www.dailyactor.com/2014/10/ron-perlman-advice-father-influence-early-career/
http://www.dailyactor.com/wp-content/uploads/2014/10/cate-blanchett-asks-graduating-s.jpg
Cate Blanchett Asks Graduating Students a Heavy Question: "What the hell can you do with an arts degree?"
"What the hell can you do with an arts degree?" Many actors ask themselves that when they find themselves struggling to make it in Hollywood while saddled with student loans. It was Cate Blanchett who posed that question recently to graduating students at Macquarie University in Sydney where she received an honorary doctorate degree. The […]
http://www.dailyactor.com/2014/10/cate-blanchett-what-the-hell-can-you-do-with-an-arts-degree/
http://www.dailyactor.com/wp-content/uploads/2014/10/matthew-mcconaughey-rallies-his.jpg
Matthew McConaughey Rallies his Alma Mater Football Team to Victory with the 'Wolf of Wall Street' Chant
Oscar winner Matthew McConaughey delivered a different kind of speech two weeks ago when he spoke with the Texas Longhorns football team after their close 20-17 loss to UCLA. The moment was a bit odd, but hilarious at the same time. Coach Charlie Strong was the one who invited the Dallas Buyers Club star to inspire the […]
http://www.dailyactor.com/2014/10/matthew-mcconaughey-rallies-his-alma-mater-football-team/
http://www.dailyactor.com/wp-content/uploads/2014/10/watch-anna-gunn-reveals-her-awkw.jpg
Watch: Anna Gunn Reveals Her Awkward 'Breaking Bad' Audition Details
Though Breaking Bad was obviously a career highpoint for every actor involved, they all must move on to their next projects (except for the few who are involved in the Breaking Bad spinoff, Better Call Saul). This includes Anna Gunn, who portrayed Walter White's wife Skyler on the award-winning series series. Gunn's new series, the […]
http://www.dailyactor.com/2014/10/watch-anna-gunn-reveals-her-awkward-breaking-bad-audition-details/