Watch Neil Patrick Harris and Aaron Paul Announce the Emmy Nominations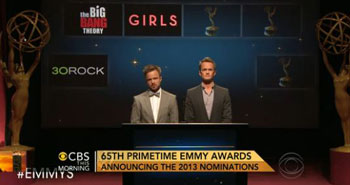 The Emmy nominations were announced this morning and it looks like Netflix is shaking up the industry a bit.
Aaron Paul and Neil Patrick Harris woke up early and gave out the good news that House of Cards, Arrested Development and even Hemlock Grove had a total of 14 nominations, with Kevin Spacey, Robin Wright and Jason Bateman getting the acting noms.
The acting nominations are really great this year with some of my favorite people (Bill Hader!) in the running; Jon Hamm, Amy Poehler, Louis C.K., Alec Baldwin, Tina Fey and more. This will make watching the Emmy's a whole lot of fun this year.
Check out the video of the announcements below, followed by the full list.
Outstanding Comedy Series:
"30 Rock" (NBC)
"The Big Bang Theory" (CBS)
"Girls" (HBO)
"Louie" (FX)
"Modern Family" (ABC)
"Veep" (HBO)
Outstanding Lead Actor in a Comedy Series:
Jason Bateman, "Arrested Development"
Jim Parsons, "The Big Bang Theory"
Matt LeBlanc, "Episodes"
Don Cheadle, "House of Lies"
Louis C.K., "Louie"
Alec Baldwin, "30 Rock"
Outstanding Lead Actress in a Comedy Series:
Laura Dern, "Enlightened"
Lena Dunham, "Girls"
Edie Falco, "Nurse Jackie"
Amy Poehler, "Parks and Recreation"
Tina Fey, "30 Rock"
Julia Louis-Dreyfus, "Veep"
Outstanding Supporting Actor in a Comedy Series:
Adam Driver, "Girls"
Jesse Tyler Ferguson, "Modern Family"
Ed O'Neill, "Modern Family"
Ty Burrell, "Modern Family"
Bill Hader, "Saturday Night Live"
Tony Hale, "Veep"
Outstanding Supporting Actress in a Comedy Series:
Mayim Bialik, "The Big Bang Theory"
Jane Lynch, "Glee"
Sofia Vergara, "Modern Family"
Julie Bowen, "Modern Family"
Merritt Wever, "Nurse Jackie"
Jane Krakowski, "30 Rock"
Anna Chlumsky, "Veep"
Outstanding Drama Series:
"Breaking Bad" (AMC)
"Downton Abbey" (PBS)
"Game of Thrones" (HBO)
"Homeland" (Showtime)
"House of Cards" (Netflix)
"Mad Men" (AMC)
Outstanding Lead Actor in a Drama Series:
Bryan Cranston, "Breaking Bad"
Hugh Bonneville, "Downton Abbey"
Damian Lewis, "Homeland"
Kevin Spacey, "House of Cards"
Jon Hamm, "Mad Men"
Jeff Daniels, "The Newsroom"
Outstanding Lead Actress in a Drama Series:
Vera Farmiga, "Bates Motel"
Michelle Dockery, "Downton Abbey"
Claire Danes, "Homeland"
Robin Wright, "House of Cards"
Elisabeth Moss, "Mad Men"
Connie Britton, "Nashville"
Kerry Washington, "Scandal"
Outstanding Supporting Actor in a Drama Series:
Bobby Cannavale, "Boardwalk Empire"
Jonathan Banks, "Breaking Bad"
Aaron Paul, "Breaking Bad"
Jim Carter, "Downton Abbey"
Peter Dinklage, "Game of Thrones"
Mandy Patinkin, "Homeland"
Outstanding Supporting Actress in a Drama Series:
Anna Gunn, "Breaking Bad"
Maggie Smith, "Downton Abbey"
Emilia Clarke, "Game of Thrones"
Christine Baranski, "The Good Wife"
Morena Baccarin, "Homeland"
Christina Hendricks, "Mad Men"
Outstanding Miniseries or Movie:
"American Horror Story: Asylum" (FX)
"Behind the Candelabra" (HBO)
"The Bible" (History)
"Phil Spector" (HBO)
"Political Animals" (USA)
"Top of the Lake" (Sundance Channel)
Outstanding Lead Actor in a Miniseries or a Movie:
Michael Douglas, "Behind the Candelabra"
Matt Damon, "Behind the Candelabra"
Toby Jones, "The Girl"
Benedict Cumberbatch, "Parade's End"
Al Pacino, "Phil Spector"
Outstanding Lead Actress in a Miniseries or a Movie:
Jessica Lange, "American Horror Story: Asylum"
Laura Linney, "The Big C: Hereafter"
Helen Mirren, "Phil Spector"
Sigourney Weaver, "Political Animals"
Elisabeth Moss, "Top of the Lake"
Outstanding Supporting Actor in a Miniseries or a Movie:
James Cromwell, "American Horror Story: Asylum"
Zachary Quinto, "American Horror Story: Asylum"
Scott Bakula, "Behind the Candelabra"
John Benjamin Hickey, "The Big C: Hereafter"
Peter Mullan, "Top of the Lake"
Outstanding Supporting Actress in a Miniseries or a Movie:
Sarah Paulson, "American Horror Story: Asylum"
Imelda Staunton, "The Girl"
Ellen Burstyn, "Political Animals"
Charlotte Rampling, "Restless"
Alfre Woodard, "Steel Magnolias"
Outstanding Variety Series:
"The Colbert Report" (Comedy Central)
"The Daily Show with Jon Stewart" (Comedy Central)
"Jimmy Kimmel Live" (ABC)
"Late Night With Jimmy Fallon" (NBC)
"Real Time with Bill Maher" (HBO)
"Saturday Night Live" (NBC)
Outstanding Host for a Reality or Reality-Competition Program:
Ryan Seacrest, "American Idol"
Betty White, "Betty White's Off Their Rockers"
Tom Bergeron, "Dancing with the Stars"
Heidi Klum and Tim Gunn, "Project Runway"
Cat Deeley, "So You Think You Can Dance"
Anthony Bourdain, "The Taste"
Outstanding Reality-Competition Program:
"The Amazing Race" (CBS)
"Dancing with the Stars" (ABC)
"Project Runway" (Lifetime)
"So You Think You Can Dance" (Fox)
"Top Chef" (Bravo)
"The Voice" (NBC)
Outstanding Reality Program:
"Antiques Roadshow" (PBS)
"Deadliest Catch" (Discovery Channel)
"Diners, Drive-Ins and Dives" (Food Network)
"MythBusters" (Discovery Channel)
"Shark Tank" (ABC)
"Undercover Boss" (CBS)
Outstanding Animated Program:
"Bob's Burgers" (Fox)
"Kung Fu Panda: Legends of Awesomeness" (Nickelodeon)
"Regular Show" (Cartoon Network)
"The Simpsons"
"South Park"
Outstanding Guest Actor in a Comedy Series:
Bob Newhart, "The Big Bang Theory"
Nathan Lane, "Modern Family"
Bobby Cannavale, "Nurse Jackie"
Louis C.K., "Saturday Night Live"
Justin Timberlake, "Saturday Night Live"
Will Forte, "30 Rock"
Outstanding Guest Actress in a Comedy Series:
Molly Shannon, "Enlightened"
Dot-Marie Jones, "Glee"
Melissa Leo, "Louie"
Melissa McCarthy, "Saturday Night Live"
Kristen Wiig, "Saturday Night Live"
Elaine Stritch, "30 Rock"
Outstanding Guest Actor in a Drama Series:
Nathan Lane, "The Good Wife"
Michael J. Fox, "The Good Wife"
Rupert Friend, "Homeland"
Robert Morse, "Mad Men"
Harry Hamlin, "Mad Men"
Dan Bucatinsky, "Scandal"
Outstanding Guest Actress in a Drama Series:
Margo Martindale, "The Americans"
Diana Rigg, "Game of Thrones"
Carrie Preston, "The Good Wife"
Linda Cardellini, "Mad Men"
Jane Fonda, "The Newsroom"
Joan Cusack, "Shameless"
http://www.dailyactor.com/wp-content/uploads/2016/05/kristen-dunst-fargo.jpg
Kirsten Dunst: Auditions are "the most stressful thing to me on the planet Earth"
Despite being a well-known actress with dozens of credits, Kristen Dunst tells Variety that she still thinks of auditions as "the most stressful thing to me on the planet Earth." Most audiences first became familiar with Dunst after her appearance as the young vampire Claudia in 1994's Interview with the Vampire, but Dunst confesses that […]
http://www.dailyactor.com/actors-on-acting/kirsten-dunst-stressful-auditions/
http://www.dailyactor.com/wp-content/uploads/2016/05/Jessie-Mueller-Waitress.jpg
Jessie Mueller on Following up 'Beautiful' with 'Waitress': "I think early on I did feel little bit of pressure"
"I was taken with theater from the beginning, it was the coolest thing for me." - Jessie Mueller
http://www.dailyactor.com/actors-on-acting/jessie-mueller-waitress-pressure/
http://www.dailyactor.com/wp-content/uploads/2016/05/Sean-Hayes-An-Act-of-God.jpg
Sean Hayes on Why He Loves Theater and His Return to Broadway in 'An Act of God'
"I think one of the worst mistakes an actor can make is run away from the role that made them beloved in the first place, that gave them an audience." - Sean Hayes
http://www.dailyactor.com/actors-on-acting/sean-hayes-broadway-an-act-of-god/
http://www.dailyactor.com/wp-content/uploads/2016/05/zachary-levi-she-loves-me.jpg
Zachary Levi on Starring in Broadway's 'She Loves Me': "Honestly, the biggest challenge is just my own brain"
"My whole life, all I've ever wanted to do was be an actor and an entertainer and make people happy and also feel like I belonged" - Zachary Levi
http://www.dailyactor.com/actors-on-acting/zachary-levi-broadway-she-loves-me/
http://www.dailyactor.com/wp-content/uploads/2016/05/Ewan-McGregor-Last-Days.jpg
Ewan McGregor Talks Playing Jesus and the Devil in 'Last Days in the Desert'
"I was just trying to play him like any other role, really. Who do I think he was? Who do I want him to be in this story?" - Ewan McGregor
http://www.dailyactor.com/actors-on-acting/ewan-mcgregor-playing-jesus-devil/