Hugh Jackman Returns to Host The 68th Annual Tony Awards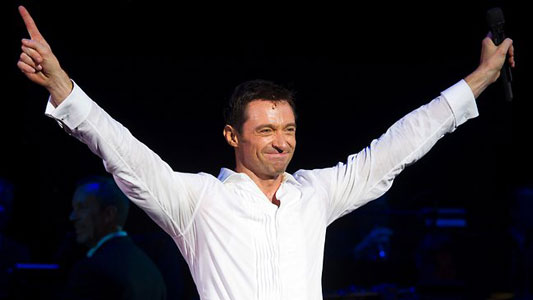 Tony Award winner, Academy Award® nominated and Golden Globe-winning actor Hugh Jackman is returning to host The 68TH Annual Tony Awards!
The show will be at Radio City Music Hall and airs on Sunday, June 8 (8:00-11:00 PM, live ET/delayed PT) on CBS.
This will be Jackman's fourth time hosting the Tony Awards. He previously hosted the 57th, 58th, and 59th Annual Tony Awards. Jackman received an Emmy Award for hosting the 58th Annual Tony Awards in the category of Outstanding Individual Performance in a Variety or Music Program.
"We are thrilled that Hugh will be joining us, once again, at Radio City Music Hall to host 'The 68th Annual Tony Awards,' said Charlotte St. Martin, Executive Director of The Broadway League and Heather Hitchens, Executive Director of the American Theatre Wing. "Hugh is an extraordinary talent and loyal supporter of the Broadway community – whether he is on-stage or in the audience – and we are honored to have him back as host."
Jackman made his return to Broadway his one-man show "Hugh Jackman – Back on Broadway" in the fall of 2011. Although the show ran only until the end of the year, Jackman's continued dedication to the Broadway community was feted at the 2012 Tony Awards, where he received a Special Award from the Tony Awards Administration Committee, recognizing his accomplishments both as a performer as well as a humanitarian. In the fall of 2009, Broadway-goers could see Jackman in the Keith Huff penned "A Steady Rain" with Daniel Craig.
http://www.dailyactor.com/wp-content/uploads/2016/05/zachary-levi-she-loves-me.jpg
Zachary Levi on Starring in Broadway's 'She Loves Me': "Honestly, the biggest challenge is just my own brain"
"My whole life, all I've ever wanted to do was be an actor and an entertainer and make people happy and also feel like I belonged" - Zachary Levi
http://www.dailyactor.com/actors-on-acting/zachary-levi-broadway-she-loves-me/
http://www.dailyactor.com/wp-content/uploads/2016/05/Ewan-McGregor-Last-Days.jpg
Ewan McGregor Talks Playing Jesus and the Devil in 'Last Days in the Desert'
"I was just trying to play him like any other role, really. Who do I think he was? Who do I want him to be in this story?" - Ewan McGregor
http://www.dailyactor.com/actors-on-acting/ewan-mcgregor-playing-jesus-devil/
http://www.dailyactor.com/wp-content/uploads/2016/05/Rose-Byrne.jpg
Rose Byrne on Her First Audition, Broadway and the Science of Comedy
"I think comedy is very hard. It's very scientific getting the beats of it" - Rose Byrne
http://www.dailyactor.com/actors-on-acting/rose-byrne-first-audition-broadway/
http://www.dailyactor.com/wp-content/uploads/2016/05/Josh-Gad-Angry-Birds.jpg
Josh Gad Talks 'Angry Birds' and Voicing Animated Characters
"Animation is so liberating because you're just left to your own voice and there's nothing else you can fall back on" - Josh Gad
http://www.dailyactor.com/actors-on-acting/josh-gad-angry-birds-animated-characters/
http://www.dailyactor.com/wp-content/uploads/2016/05/Cara-Delevingne-paper-towns.jpg
Cara Delevingne Had to Read a Scene from 'Who's Afraid of Virginia Woolf?' for her 'Suicide Squad' Audition
"More is known about my life than the lives of the characters I play. My plan is to reverse that" - Cara Delevingne
http://www.dailyactor.com/actors-on-acting/cara-delevingne-suicide-squad-audition/