Hugh Jackman Returns to Host The 68th Annual Tony Awards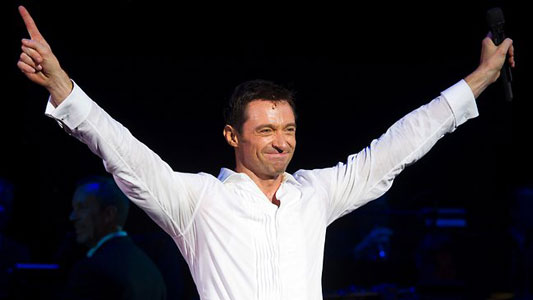 Tony Award winner, Academy Award® nominated and Golden Globe-winning actor Hugh Jackman is returning to host The 68TH Annual Tony Awards!
The show will be at Radio City Music Hall and airs on Sunday, June 8 (8:00-11:00 PM, live ET/delayed PT) on CBS.
This will be Jackman's fourth time hosting the Tony Awards. He previously hosted the 57th, 58th, and 59th Annual Tony Awards. Jackman received an Emmy Award for hosting the 58th Annual Tony Awards in the category of Outstanding Individual Performance in a Variety or Music Program.
"We are thrilled that Hugh will be joining us, once again, at Radio City Music Hall to host 'The 68th Annual Tony Awards,' said Charlotte St. Martin, Executive Director of The Broadway League and Heather Hitchens, Executive Director of the American Theatre Wing. "Hugh is an extraordinary talent and loyal supporter of the Broadway community – whether he is on-stage or in the audience – and we are honored to have him back as host."
Jackman made his return to Broadway his one-man show "Hugh Jackman – Back on Broadway" in the fall of 2011. Although the show ran only until the end of the year, Jackman's continued dedication to the Broadway community was feted at the 2012 Tony Awards, where he received a Special Award from the Tony Awards Administration Committee, recognizing his accomplishments both as a performer as well as a humanitarian. In the fall of 2009, Broadway-goers could see Jackman in the Keith Huff penned "A Steady Rain" with Daniel Craig.
http://www.dailyactor.com/wp-content/uploads/2015/10/Bridge-of-Spies-Tom-Hanks-Mark-Rylance.jpg
Tom Hanks on Working with Steven Spielberg and Mark Rylance in 'Bridge of Spies'
"Steven does this incredible thing when he casts you: He empowers you with the scene." - Tom Hanks on Steven Spielberg
http://www.dailyactor.com/actors-on-acting/tom-hanks-working-steven-spielberg-mark-rylance-bridge-of-spies/
http://www.dailyactor.com/wp-content/uploads/2015/09/Tom-Hardy-Legend.jpg
Tom Hardy on Playing Twins in 'Legend,' Being Seen as a Tough Guy, and Working with Philip Seymour Hoffman
Hardy speaks about why he challenged himself to play twins, what he thinks of his tough guy image, and working with the late Philip Seymour Hoffman, who directed him on stage.
http://www.dailyactor.com/actors-on-acting/tom-hardy-playing-twins-legend/
http://www.dailyactor.com/wp-content/uploads/2015/09/Emily-Blunt-Sicario.jpg
Emily Blunt on Action Movie Roles: "I think it's important to show different layers. Nobody is just tough, nobody is just vulnerable"
Emily Blunt touches upon why she has gotten into roles with an action bent and why she thinks there aren't more action movies with female leads
http://www.dailyactor.com/actors-on-acting/emily-blunt-sicario-acting-layers/
http://www.dailyactor.com/wp-content/uploads/2015/09/Jorja-Fox-CSI.jpg
Jorja Fox on Life After 'CSI': "I've always enjoyed not knowing exactly where the road leads"
"I think you kind of have to embrace the unknown if you're an actor." - Jorja Fox
http://www.dailyactor.com/actors-on-acting/jorja-fox-life-after-csi/
http://www.dailyactor.com/wp-content/uploads/2015/09/John-Turturro-Mia-Madre.jpg
John Turturro on the Life of an Actor: "It's a rough business. I wouldn't want my kids to do it"
"I am usually very well prepared. If you're a surgeon, you've got to know what you're going to take out today." - John Turturro
http://www.dailyactor.com/actors-on-acting/john-turturro-life-of-an-actor/