Barbra Streisand to Perform on the Oscars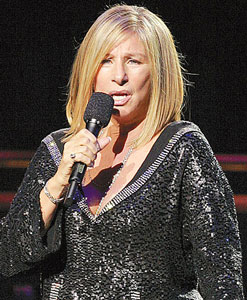 Two-time Academy Award® winner Barbra Streisand, who has sung on the Oscars only once before, will perform on the upcoming Oscar® telecast.
Streisand last sang the love theme from "A Star Is Born" on the March 28, 1977 show, winning the Best Original Song Oscar for "Evergreen" that same night.
I'm betting she'll sing something by Marvin Hamlisch who died last August – on my birthday actually.
Producers Craig Zadan and Neil Meron said that "In an evening that celebrates the artistry of movies and music, how could the telecast be complete without Barbra Streisand? We are honored that she has agreed to do a very special performance on this year's Oscars, her first time singing on the show in 36 years."
Streisand won her first Oscar for Best Actress in Funny Girl (1968), and was nominated again in 1973 for her lead performance in The Way We Were. She was also nominated for producing the Best Picture nominee The Prince of Tides (1991), which she also directed, and for co-writing the original song "I Finally Found Someone" from The Mirror Has Two Faces (1996).
The Oscars will air on Sunday, February 24, at the Dolby Theatre™ at Hollywood & Highland Center®, and will be hosted by Seth MacFarlane.
http://www.dailyactor.com/wp-content/uploads/2016/02/david-harewood-supergirl.jpg
David Harewood on 'Supergirl' and How He Was "Struggling to Get a Handle" on His Character
Harewood reveals how he relates to the character and how he eventually got comfortable playing him.
http://www.dailyactor.com/actors-on-acting/david-harewood-supergirlstruggling-to-get-a-handle-on-his-character/
http://www.dailyactor.com/wp-content/uploads/2016/01/Jeff-Daniels.jpg
Jeff Daniels Remembers a Terrible Audition for a Diane Keaton Movie
One actor that knows the ups and downs of the audition process is Jeff Daniels.
http://www.dailyactor.com/actors-on-acting/jeff-daniels-terrible-audition-diane-keaton-movie/
http://www.dailyactor.com/wp-content/uploads/2016/02/Jennifer-Jason-Leigh-The-Hateful-Eight.jpg
Jennifer Jason Leigh on Her First-Ever Oscar Nomination: "It's kind of phenomenal"
"He knew that I could, in his words, 'act the … out of it' and I'm not afraid to take a risk in terms of acting" Jennifer Jason Leigh on Quentin Tarantino
http://www.dailyactor.com/actors-on-acting/jennifer-jason-leigh-oscar-nomination/
http://www.dailyactor.com/wp-content/uploads/2016/02/Forest-Whitaker-Hughie-Broadway.jpg
Forest Whitaker on Making His Broadway Debut in 'Hughie': "His rhythms are starting to invade inside of me"
"I want to get better as an actor, to keep trying to work harder, trying to discover something different" - Forest Whitaker
http://www.dailyactor.com/actors-on-acting/forest-whitaker-broadway-debut-hughie/
http://www.dailyactor.com/wp-content/uploads/2016/02/alicia-Vikander-Ex-machina.jpg
Alicia Vikander on the Her First Trip to L.A. and the Acting Tip 'Ex-Machina' Director Alex Garland Gave Her
"You [get immersed in] a film and of course you think that that is it. And then you go away and you read a new script and you have a new crush" - Alicia Vikander
http://www.dailyactor.com/actors-on-acting/alicia-vikanderacting-tip-ex-machina-director-alex-garland-gave-her/