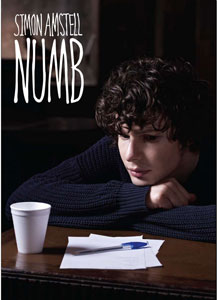 Every generation has its pop culture purists, the ones who "discover" an artist before they are famous. When they're Green Day fans, you laugh – but when you're the connoisseur in question, sharing your niche love can be difficult.
Brace yourselves, comedy cognoscenti: British stand-up comedian Simon Amstell is bringing his show to New York. "Numb" will make its U.S. debut Tuesday night at Theater 80 in St. Marks Place, kicking off a five-week run. Tickets can be purchased for $20 here.  
In addition to his stand-up, Amstell is known for co-writing and starring in BBC Two mini-series "Grandma's House" and for hosting pop music quiz show "Never Mind the Buzzcocks." Read more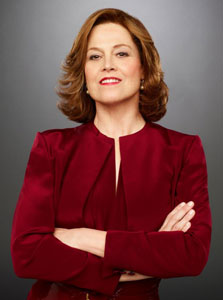 Why do Americans watch political dramas – especially during an election year? What kind of comment do they offer on the realities of campaigning and governance?
Perhaps the narrative of budget cuts and partisan acrimony is too just too grim for some viewers. Even the star of new USA Network mini-series "Political Animals" calls the fictional alternative "easier to watch."
When asked how she felt about the ongoing campaigns, Sigourney Weaver ("Aliens," "Gorillas in the Mist") put it delicately: "I think it's a pretty daunting thing to watch. It's our dysfunctional political process front and center, and I actually think it'll be one of the reasons people will tune into 'Political Animals.' As dysfunctional as we are, it's fiction." Read more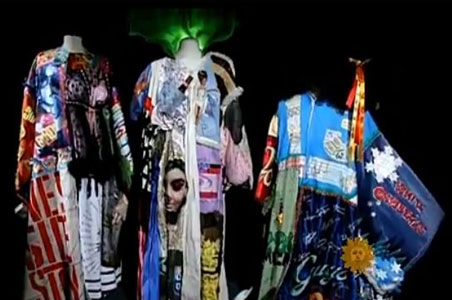 You watched the Tony Awards this month. But do you know which chorus member of your favorite Broadway musical received the "Gypsy Robe"?
CBS correspondent Mo Rocca went behind the scenes to interview more than a dozen of Broadway's "gypsies," or the members of Broadway's ensemble casts who support the lead actors.
The segment aired on CBS Sunday Morning, and those interviews are now online – along with a piece focusing on the legendary Gypsy Robe, a patchwork of mementos given to the chorus line member of a Broadway show who has the most credits on opening night. The storied tradition, captured on video for CBS, has its origins in the 1950 production of Gentlemen Prefer Blondes. Read more
The fall 2012 Broadway revival of David Mamet's Glengarry Glen Ross just got a whole lot cooler.
The show, a tale of cutthroat politics at a Chicago real estate firm circa 1969, will feature Emmy award winner and two-time Tony nominee Bobby Cannavale.
The play was written 30 years ago and premiered at the Royal National Theatre in London. This production will be directed by Tony winner Daniel Sullivan. In addition to Cannavale in the role of Richard "Ricky" Roma, the production will star two-time Tony winner Al Pacino.
Cannavale received the 2011 Drama Desk Award for Outstanding Actor in a Play and a Tony nomination for his performance in "The Motherf**cker with the Hat." He has been seen on television in "Nurse Jackie," "Modern Family," "Will & Grace," "Six Feet Under" and "Cupid," in which he starred. This summer, he is working with Woody Allen on an untitled project. Read more
Actor/playwright John Pollono will bring his play Small Engine Repair to New York audiences for the first time, MCC Theater announced, next summer.
Small Engine Repair will run from May 16 – June 23, 2013 at the Lucille Lortel Theatre (121 Christopher Street) and will be the third and final production of MCC's 2012-2013 three-play mainstage season. The upcoming season marks MCC's 27th year producing and developing new work.
The company recently announced that Jon Bernthal of AMC's The Walking Dead and Pollono himself will star in the New York production, to be directed by Jo Bonney (The Break of Noon, Some Girl(s), Fat Pig). Read more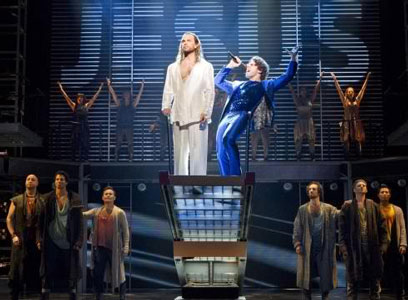 Broadway's Jesus Christ Superstar may have to end its run early in July unless it can boost ticket sales, according to producers.
The news release reads: "The producers of the Broadway production of 'Jesus Christ Superstar' have announced that unless business improves, the musical will close at the Neil Simon Theatre on Sunday, July 1. As of that date, the show will have played 116 regular performances and 24 previews." Read more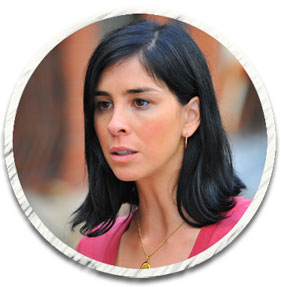 Those familiar with Sarah Silverman's envelope-pushing brand of comedy might be surprised to hear of her forays into drama. She might not seem the safest choice for playing Seth Rogen's wise sister in new comedy/drama "Take This Waltz," but Canadian actress/director Sarah Polley and casting director John Buchan were willing to take that risk.
"I'd never get read for a part like this," Silverman said in a news release. "Usually when I'm told that someone had me in mind for a part, it's vulgar and it has shit jokes and it's gross. It must be what I put out there, but I don't see myself like that. But when I read this, I got choked up because I couldn't believe someone would see me this way. I see myself able to play drama. But we put people in boxes and can't see outside of it, but Sarah did. It was so nice. And I'm so grateful for this." Read more
On the last day of shooting Harry Potter and the Deathly Hallows II, cast and crew paid tribute to each other and said their goodbyes. Now, so can the public.
A newly released video documents the bittersweet close of the saga behind the saga. Many fans are likely to tear up as the actors cast back over the last ten years, themselves looking like college grads about to pack up their cars.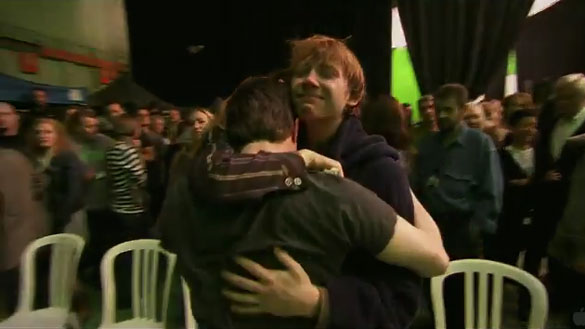 Highlights of the almost-three-minute clip include: a goofy Voldemort, in full make-up, palling around with Pettigrew; standing ovations for Alan Rickman, David Thewlis and Robbie Coltrane; Daniel Radcliffe's poignant farewell; and many hugs.
"I just want to say I—I love this place," Radcliffe declared, standing on a plastic white chair as cameras flashed around him. "This has been my life. And so it's going to be very, very hard, I think, for all of us, because I don't know what my day-to-day life consists of without you, all of you, and it's wonderful. And I just want to say that I've loved every minute, and thank you all very, very much for making it possible."
"And that is one of the ten scariest guys I've ever seen in a movie," NPR's Dave Davies tells Javier Bardem, after playing a clip from the Coen Brothers' "No Country for Old Men."
In the movie, Bardem plays Anton Chigurh, a murderous psychopath who wants his money back. It's a very different role when compared to his portrayal of a poet in "Before Night Falls," the archetypal lover in "Vicky Cristina Barcelona," or, most recently, a dying father in Alejandro Gonzalez Inarritu's "Biutiful."
In the interview Bardem discusses the unique challenges and rewards of acting in a foreign language. Reading lines in English, he explains, can be as tiring as it is liberating. "It's like, I'm trying to express myself … and there's this office in my brain full of people working at the same time … trying to not be wrong with the intonation, with the words," he said. "So it's very exhausting. If I speak Spanish, that office is closed. … But [working in English] gives me a different kind of freedom because, since some of the words don't have an emotional resonance with me, I can play with them more freely. When you're speaking in your mother tongue, you may be more cautious." Read more
After playing lash-tongued misanthrope Severus Snape in the last installment of the Harry Potter franchise, Alan Rickman plans to return to Broadway to play a manipulative writing instructor in "Seminar," a dark comedy by Theresa Rebeck.
Rickman is hardly a stranger to the stage. The British actor made his Broadway debut in 1987 portraying Valmont in "Les Liasions Dangereuses," garnering a Tony Award nomination in the category of "Best Actor" for his performance.
Rebeck's play will mark Rickman's first return to a Broadway theater since 2002, when his lead performance in Noel Coward's "Private Lives" revival earned him another Tony nomination. His work in theater includes eight Royal Shakespeare Company productions.
In "Seminar," Rickman will play Leonard, a "brilliant but unpredictable" writer whose international reputation as a literary legend precedes him. The four young writers in the seminar of the title are thrilled to be in his class.