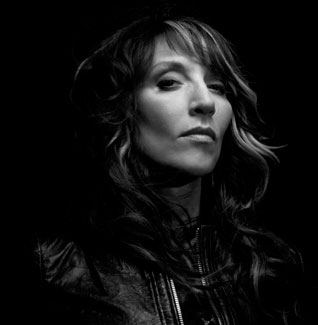 Sons of Anarchy is well into its sixth season and Katey Sagal's Gemma is getting more and more dangerous. But, as she said in a recent conference call, "I don't see her as evil at all.  I rather like her." I like Gemma too… but I'm damn afraid if her. I actually think she might be the most dangerous character in the whole show.
In this interview, Katey talks about Gemma and if she takes her home at night, how the violence on the show is "just another day at the office", music being her first love and more.
Sons of Anarchy airs on Tuesdays at 10 on FX Read more
Here's another video in the great New York Times series, In Performance. This time, we get Joe Manganiello as Stanley Kowalski. He's currently starring as Kowalski in the Yale Repertory Theater's revival of Tennessee Williams's 1947 drama, A Streetcar Named Desire.
In the scene below, Stanley talks to his wife Stella (Sarah Sokolovic) about how their life will return to normal once her sister, Blanche (Rene Augesen) finally leaves their New Orleans apartment. 
The play runs through October 12th.
Read more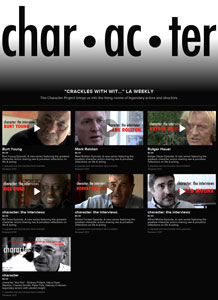 Our friend and occasional writer here at Daily Actor, Christian Meoli, is behind a new project called, The Character Project.
Originally a documentary, which was a work in progress for years, the producers set out to interview some of the best character actors working today. The DVD featured Dabney Coleman, Peter Falk, Charles Grodin, Mark Rydell, Harry Dean Stanton and Sydney Pollack.
Now, to supplement the documentary, they've created a website and added more interviews from some of the most recognizable actors who've ever appeared on film: Dom De Luise, Dan Lauria, Jack Klugman, Rutger Hauer, William Sadler, Ernie Hudson, Bill Duke, Ed Begley Jr., Robert Forster, Stephen Root, Scott Wilson, Saul Rubinek, Ed Asner (interviewed by Stephen Root), Henry Winkler, John Savage, Robert Loggia, David Paymer and in one of his last interviews, Charles Durning.  Read more
Ladies and Gentlemen, I present to you, Neil Johnson and his acting demo reel.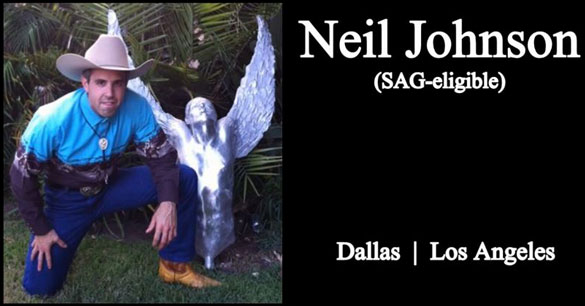 At over 7 minutes long, the demo features sex acts, various cowboy hats, the murder and dismemberment of a homeless person and dildos. Lots of dildos.
And it's hilarious.
But, that's the thing, I don't think it's meant to be funny. I've watched it a couple of times and I honestly have no idea if it's a joke or not. If it is a joke, then it's a pretty good one. If it's not a joke, then we have the best example of the worst demo reel ever created. It's totally inappropriate and if he's seriously using this as his reel, then his cowboy hat is way too tight on his head. And you know, Johnson isn't a bad actor. I've definitely seen and acted opposite much worse.
Thanks to one our readers who sent this in. I can't thank her enough.
Check it out below! Read more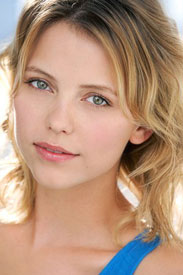 In The Secret Lives of Dorks, Riley Voelkel plays Carrie, a cheerleader who is actually… a good person!
The film is a throwback to those early 80's teen comedies where the nerdy Peyton (Gaelan Connell) is in deep teen-love with Carrie, the hot cheerleader. But, in a fun twist, Carrie plays matchmaker and sets out to help Peyton hook up with fellow dork Samantha (Vanessa Marano).
The film marked Riley's first starring role and she's terrific. It's no wonder why she was cast in a small role in the pilot of Aaron Sorkin's hit HBO show, The Newsroom. She was so good, Sorkin brought her back for the first season finale which then lead to her being a regular on season two.
She's smart, funny and you'll definitely enjoy this interview where we chat about her audition for Secret Lives, working on The Newsroom, an absolutely nightmare audition(!) and her advice to young actors.
The Secret Lives of Dorks is in theaters now or on VOD (click here to watch it)  Read more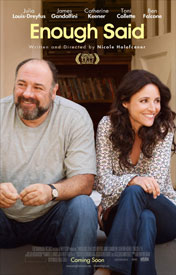 There are times when I'm watching a movie and I become so engrossed in the world and the characters that when it's over, I feel a certain sadness. Not because the movie itself was sad, but sad because my time with these people has come to an end. 
Enough Said was one of those movies.
The film, written and directed by Nicole Holofcener and staring Julia Louis-Dreyfus and, in his final film, James Gandolfini, is the story of a divorced masseuse, named Eva (Louis-Dreyfus). Her teenaged daughter is about to head off to college and she's coming to terms with the thought of an empty house. On a rare night out, she meets Albert (Galdolfini) and the two quickly hit it off, bonding over their kids and being middle-aged singles.
They both start to fall for each other, except… Eva now has a new client, Marianne (Catherine Keener). As the two become close friends, her bitter divorce and constant complaining about her ex-husband begins to throw a wrench in Eva and Albert's romance. Read more
Listen to that voice and that command he has while reading.
Recorded at Air Studios in London, Tom Hiddleston reads Shakespeare's Sonnet 18, 'Shall I compare thee to a summer's day' from The Love Book app.
The Love Book interactive app has a selection of poems, quotes, short stories and love letters all inspired by that most noble (but troublesome) theme of love. Other readers on the app are Helena Bonham Carter reading from Harry Potter, Damian Lewis and Hiddleston also reading some ee cummings works.
Check it out below! Read more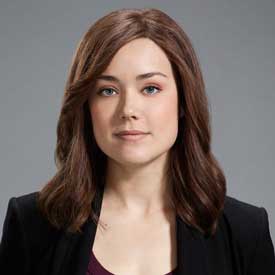 The Blacklist stars James Spader as Raymond 'Red' Reddington, a wanted fugitive who mysteriously surrenders to the FBI. When he does though, he has an offer: He'll help catch the world's most wanted criminals… but only if he can work with to Elizabeth Keen (Megan Boone), an FBI profiler fresh out of Quantico.
I talked to Boone, who has appeared on Law & Order: LA, Blue Bloods and starred in the film, My Bloody Valentine, and Executive Producer John Eisendrath in a recent conference call where they talked about the new series. In the interview, she talks about auditioning for the role, working with Spader and how she almost gave up acting.
 The Blacklist airs on Mondays at 10pm on NBC Read more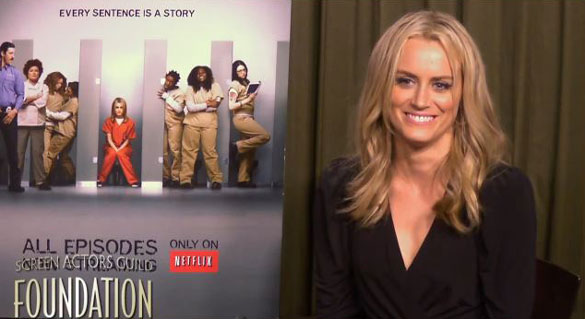 The SAG Foundation talked with Taylor Schilling, star of the fantastic (and addictive) Netflix series, Orange is the New Black.
Interviewed by Variety's Jenelle Riley, Schilling talks about how she got the part of Piper, working on the show, her career, being directed by Jodie Foster and tons more. It's a little over a half hour long and I enjoyed every bit of it.
Best quote: On auditions and getting roles she says, "The things that feel the most right are the easiest." 
Check it out below!  Read more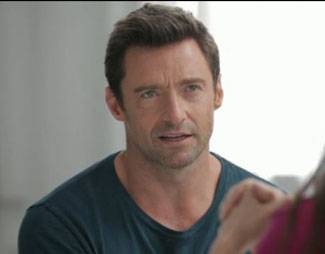 Time Magazine recently got together with Hugh Jackman for their '10 Questions with…' segment. In the interview, he talks about Prisoners, overcoming his childhood fears, Broadway, learning to act in Australia ("You have to be versatile," he says) and more.
Best quote: "I'm a typical actor. Someone picks me up in the morning, they give me something to wear, they tell me what to say, they feed me and they send me home."
Check it out below! Read more