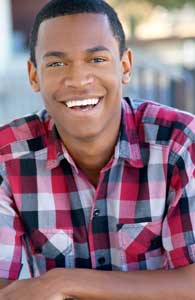 Harrison Knight stars in the new Hallmark Original movie, The Watsons Go to Birmingham, a film based based on the historical-fiction novel by Christopher Paul Curtis.
The film follows the Watsons, who, in the summer of 1963 set out on a road trip to Birmingham, Alabama. Directed by Kenny Leon, the film also stars Anika Noni Rose, Wood Harris and David Alan Grier. Harrison plays Byron, a juvenile delinquent, who despite his tough exterior, still looks out for his younger siblings and has a soft spot for family.
Since 2005, Harrison has been featured in guest-star roles on shows such as CSI Miami and Grey's Anatomy, Detroit 187, Lie to Me and Dark Blue.
We recently asked Harrison five quick questions about the movie, auditioning and working with the cast. Check it out below!  Read more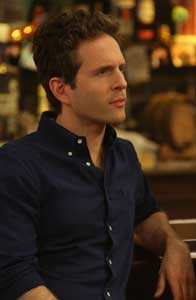 It's not every day that a show is asked to help launch a brand new network, but that's what happened with the gang at It's Always Sunny in Philadelphia. The cast took it in stride though. "[We were] mildly honored to be launching an entire new network.  Maybe slightly worried that it wouldn't work out, but not that worried," star Glenn Howerton said.
Well, they don't need to be worried because since the premiere, the show has kept their demo almost the exact same as it was when it aired on FX.
For the past nine season, Howerton has played Dennis and he told me in a recent conference call, that it's still fun. "I do enjoy playing bad guys," he said. That's why he loves playing the character. Also, "because the challenge is making Dennis, you know, likable even though he's such a despicable person."
In the interview, he talks more about playing Dennis, not getting any Emmy attention, auditioning for blockbuster movies and tons more.
It's Always Sunny in Philadelphia airs at 10pm on Wednesdays on FXX Read more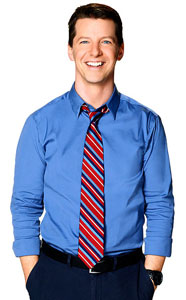 It's been a while since Sean Hayes was a regular on a TV series. Since Will and Grace ended, he's been in films, guest starred on TV shows and starred in the hit Broadway musical revival, Promises, Promises. So, it's not like he was itching to get back into the full-time grind of series television. But, when asked why he decided to come back to TV in Sean Saves the World, he said that "everything is about timing."
In the show, he plays a divorced dad who is struggling to balance his family – including his mom (Linda Lavin) and daughter (Samantha Isler) – and his career. The show also stars the wonderfully talented Megan Hilty.
I talked to Sean in a recent conference call where he talked about the show, working with the cast, his time on Broadway and more.
Sean Save The World premieres tonight at 9pm on NBC Read more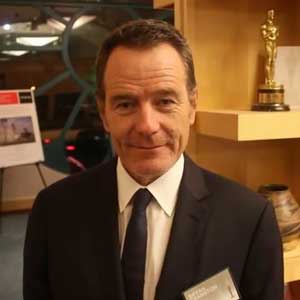 We've posted some of Bryan Cranston's advice to actors before and it was, as expected, pure gold. Now, we've got some more awesomeness to chew on in the video below.
Taken from last years Academy Awards new member reception, he drops some more awesome advice: "Know what your job is," he says. "I was trying to go into auditions trying to get a job." he says. "An actor is simply trying to create a compelling interesting character and that serves the text. You present in the environment where your audition happens and then you walk away. Everything else is out of your control."
Check out the video for the rest of his comments. You'll be glad you did. 
Director Alfonso Cuarón's visually stunning film, Gravity, opens this weekend and it's definitely something you should watch on the big screen; you should see in both IMAX and 3D. And I hate 3D.
In this New York Times Anatomy of a Scene video, Cuarón narrates a scene from the film that stars Sandra Bullock and George Clooney. The scene, he says, was constructed in one single shot and is supposed to immerse you into the action. He goes on to say that he wanted you, the audience, to feel like you were floating in space. And yeah, that's definitely true.
Check it out below!  Read more
Tom Hanks and Director Paul Greengrass' Captain Phillips looks like it's going to be one of many award-worthy films that are coming out this fall. I'm really looking forward to catching it.
In the video below, Hanks and star Barkhad Abdi talk about the filming, how Abdi got the part and more. "It was unlike anything I've ever read," Hanks says.
Check it out below! Read more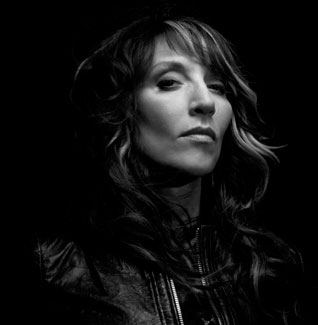 Sons of Anarchy is well into its sixth season and Katey Sagal's Gemma is getting more and more dangerous. But, as she said in a recent conference call, "I don't see her as evil at all.  I rather like her." I like Gemma too… but I'm damn afraid if her. I actually think she might be the most dangerous character in the whole show.
In this interview, Katey talks about Gemma and if she takes her home at night, how the violence on the show is "just another day at the office", music being her first love and more.
Sons of Anarchy airs on Tuesdays at 10 on FX Read more
Here's another video in the great New York Times series, In Performance. This time, we get Joe Manganiello as Stanley Kowalski. He's currently starring as Kowalski in the Yale Repertory Theater's revival of Tennessee Williams's 1947 drama, A Streetcar Named Desire.
In the scene below, Stanley talks to his wife Stella (Sarah Sokolovic) about how their life will return to normal once her sister, Blanche (Rene Augesen) finally leaves their New Orleans apartment. 
The play runs through October 12th.
Read more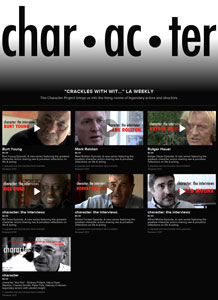 Our friend and occasional writer here at Daily Actor, Christian Meoli, is behind a new project called, The Character Project.
Originally a documentary, which was a work in progress for years, the producers set out to interview some of the best character actors working today. The DVD featured Dabney Coleman, Peter Falk, Charles Grodin, Mark Rydell, Harry Dean Stanton and Sydney Pollack.
Now, to supplement the documentary, they've created a website and added more interviews from some of the most recognizable actors who've ever appeared on film: Dom De Luise, Dan Lauria, Jack Klugman, Rutger Hauer, William Sadler, Ernie Hudson, Bill Duke, Ed Begley Jr., Robert Forster, Stephen Root, Scott Wilson, Saul Rubinek, Ed Asner (interviewed by Stephen Root), Henry Winkler, John Savage, Robert Loggia, David Paymer and in one of his last interviews, Charles Durning.  Read more
Ladies and Gentlemen, I present to you, Neil Johnson and his acting demo reel.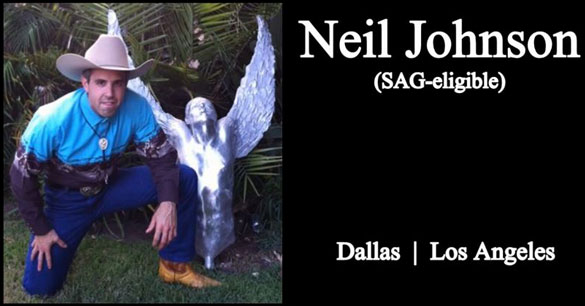 At over 7 minutes long, the demo features sex acts, various cowboy hats, the murder and dismemberment of a homeless person and dildos. Lots of dildos.
And it's hilarious.
But, that's the thing, I don't think it's meant to be funny. I've watched it a couple of times and I honestly have no idea if it's a joke or not. If it is a joke, then it's a pretty good one. If it's not a joke, then we have the best example of the worst demo reel ever created. It's totally inappropriate and if he's seriously using this as his reel, then his cowboy hat is way too tight on his head. And you know, Johnson isn't a bad actor. I've definitely seen and acted opposite much worse.
Thanks to one our readers who sent this in. I can't thank her enough.
Check it out below! Read more