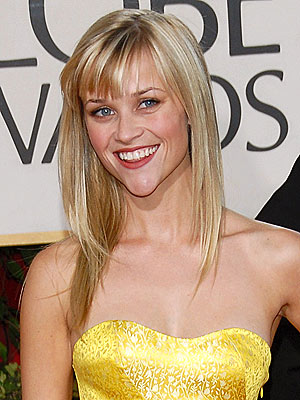 Despite all the rumors that she and Vince Vaughn had battles on the set of their new film, 'Four Christmases', Reese Witherspoon puts them to rest.
"First of all I don't know where all that came from. Every costar I ever worked with I'm either having an affair, about to get married to him, we're having a baby or we absolutely cannot stand each other."
Finally, she says, "We were very good friends and were very much partners on this movie. We decided to produce it together and we rewrote the script together. Every day was like, 'How are we going to do this? What are we going to do now?' "
Click here for the article
SAG issued a statement today saying that it will ask members to authorize a strike. Contract talks came to a screeching halt last night at 1 am after SAG realized there was going to be no movement from the AMPTP.
"We have already made difficult decisions and sacrifices in an attempt to reach agreement," the statement said. "Now it's time for SAG members to stand united and empower the national negotiating committee to bargain with the strength of a possible work stoppage behind them."
The AMPTP quickly issued this tersly worded statement: "Let's review the facts:  SAG is the only major Hollywood guild that has failed to negotiate a labor deal in 2008.  Now, SAG is bizarrely asking its members to bail out the failed negotiating strategy with a strike vote – at a time of historic economic crisis.  The tone deafness of SAG is stunning."
It's funny… the AMPTP stiffs the WGA on money they are owed and they have yet to comment. The second they walked out of talks with SAG the above statement was released.
Well, should we strike?
Click here for the article and here for DHD's rundown.
Even though they are still talking as of today, the news doesn't look good.
One of the big hang-ups about this new contract is New Media. Word got out Wednesday that the AMPTP has not made any New Media payments to the WGA since signing their new contract earlier this year. The AMPTP had been telling SAG that they wanted them to sign the same type of deal the writers had… and now this comes out?
Why in the world would SAG even begin to think about signing a contract now? Can SAG trust the AMPTP?
The great Nikki Finke explains it all here
"There's so much to learn about acting and performance in general. … I mean, acting is a very complex art, and there are a lot more theories and methods and techniques to it than I think anybody would think. … Some of our best respected film and stage performances come from people like (Marlon) Brando and everything, and they studied their entire lives," he says.
This is pretty cool. Here's a list of the actors who are in 'Milk' and the people they play. A kind of Where are they now article.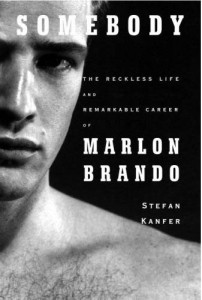 Stefan Kanfer, a former Time magazine writer whose Brando biography, "Somebody," is the first to be published since Brando's death.
"Brando has gotten larger instead of smaller as people realize what effect he's had on acting. He's one of those people who changed their art," the author says. "There were wonderful actors like Spencer Tracy, who dominated film, but they were protecting themselves in their performances. Brando went out there naked."
Kanfer says his central thesis is that Brando was mentally ill his whole life. Brando had a "wretched childhood," pulling his "fall down drunk" mother out of bars as a teenager. He managed to get to New York from rural Illinois after being deemed unfit for the Army and, through his actress sister, Jocelyn, befriend acting teacher Stella Adler, who gave him a "political and aesthetic" education.
Click here for the Amazon site

There's a theory out there that since Hugh Jackman has won the coveted (it's coveted…right?) People magazine title of 'Sexiest Man Alive' that this has somehow hurt his chances for getting a nomination for his role in 'Australia'.
Apparently its the older male portion of the academy who doesnt like to vote for pretty boys. Sounds like they're a little jealous?
Chazz Palminteri is performing in a revival of his one man show, "The Bronx Tale" and was asked 5 questions. They're not the questions I'd ask… but they're still interesting.
SAG and the AMPTP are going to meet tomorrow…but don't expect anything to come of it industry experts say.
"I'm not terribly optimistic," said Jonathan Handel, an entertainment lawyer who has represented the Writer's Guild of America and is not part of the current talks. "The union is probably somewhat wary of moving in the direction of a strike, but I think that's what they're going to do."
When asked about a possible awards show boycott, AMPTP lap-dog Scott Witlin, an entertainment lawyer who has represented television networks in the past, said "an awards show boycott or a strike could divide the union. I think that they would be in very dangerous territory if they tried to take on the Golden Globes. Aside from that they would run a big risk of ripping their union further apart."
Thanks Scott. Your check from the AMPTP is in the mail.
Zvi Howard Rosenman, producer of such films as Buffy The Vampire Slayer & Family Man,  had never acted before but now he's acting opposite Sean Penn in the upcoming film, "Milk."
How did he get the part? He looked like the guy. Oh, and he knew Francine Maisler – the casting director. "When they were trying to cast David Goodstein (founder of The Advocate), Francine said to Gus (Van Sant), 'We need someone who looks like Howard Rosenman, who talks like him and who has his size.' I think all Gus said was, 'Well, can he act?' Francine called me and asked if I had any experience and I told her that I'd done 'My Fair Lady' when I was 14 at a Hebrew student camp."