Watch out, Rick, there's a walker behind you!
AMC just released a First Look photo from The Walking Dead's upcoming season.
The picture shows star Andrew Lincoln (Rick) on the set in Atlanta, GA. The cast and crew began production on May 6th and the show is set to return this October.
I know, it's not much to look at but hey, beggars can't be choosers. Read more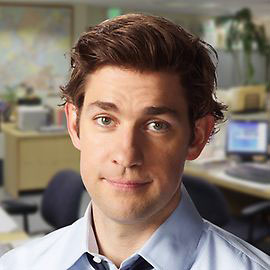 On May 16th, The Office will be closing its doors. After an eight-year run, Jim Pam, Dwight and the rest of the gang will be moving on to bigger and better things (hopefully). I've watched every episode of the long running series and I'll definitely be sad to see the show go.
Before getting the role of Jim, John Krasinski was like almost every other actor in New York. He'd work his job as a waiter during the week then run off to an audition when he could. He had booked a few things but "not anything that would allow me to claim that I was a working actor and didn't need another job," he said during a conference call. Booking The Office was like winning the lottery, "except with a winning lottery ticket you just get money, and with this you get a whole change of your life."
If you're a fan of the show, you'll love this interview. And honestly, even if you're not, there's some great stuff in here about what it's like to go from hustling for auditions to becoming a star on a major network show. In this interview, John and Executive Producer/Writer Greg Daniels talk about the end of The Office, John's audition, his past commercials and more. It's a long one but it's really great.
The Office airs on Thursdays at 9 on NBC – for only 2 more weeks! Read more
Inside the Actors Studio, hosted by James Lipton, will celebrate reaching 250 episodes with a special 2-hour show on Wednesday, May 29th at 7p.m.

Lipton sits down for brand new interviews with former guests including Actors Studio alumnus Bradley Cooper, Robert DeNiro, Jennifer Lopez, Christopher Walken, Barbara Walters, Dave Chappelle, Jay Leno, Conan O'Brien, Ellen Burstyn and Spike Lee. Read more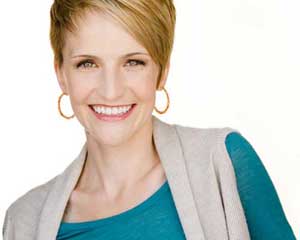 Written by Dallas Travers, CEC
If you're like me, you've realized that Twitter holds a lot of potential for relationship building in the business because of the direct line of communication it offers you.
Everyday, I see more actors, agents, casting directors and filmmakers engage in powerful online communication using Twitter as their tool.
Everyday, I also see a lot of actors waste time tweeting away and wondering why their followers aren't responding.
Well, there's a right way and a wrong way to tweet, so let me share two easy tips to help you make the most out of your tweets. Read more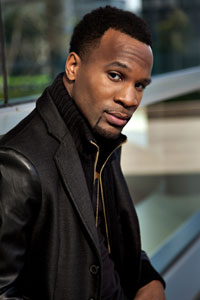 Johnny Ray Gill graduated from University of California, San Diego in 2010 with an MFA in Acting. While commuting back and forth to LA looking for work and a decent place to live, he auditioned for an episode of NBC's Harry's Law. The producers liked his work so much, that 1-episode role quickly turned into a 10-episode arc.
Since then, he hasn't stopped working. He's appeared on Bones, a couple of episodes of True Blood and now, he's starring in The Sundance Channel's new series, Rectify. The show is about a death row inmate named Daniel Holden (Aden Young), who has to put his life back together after DNA evidence reveals his innocence. Through flashbacks, Daniel relives his prison years and his friendship with another inmate, Kerwin Whitman, played by Johnny.
In this interview, Johnny talks about his education, Rectify and his advice to actors!
Rectify airs on Mondays at 10pm on The Sundance Channel Read more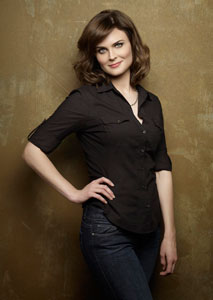 Bones just wrapped up its eighth season on a high note and star Emily Deschanel thinks one of the reasons they've lasted is because the show offers so many "different things for so many different people."
"But," she said in a recent conference call, "it may also be why we're not the number one television series on TV."
In this Q & A, Emily talks about the past season, how she balances starring on a hit show and motherhood and the growth of Brennan.
Do you find filming the emotional scenes challenging?
Emily Deschanel: It depends.  It really depends on what it is.  It depends on the emotion and the way the scene is written and the circumstances.  I find it challenging to switch tone like we do on our show.  It's definitely challenging to go from comedy to humor and lightness to sadness.  It really depends on the particular scene and what it is.  Sometimes emotion comes easily for me and sometimes it's more challenging whether it's because we are laughing and being light a moment before or for whatever reason it's not as—sorry.  My baby is pounding on the door right now.  Sorry.  What we were talking about? Read more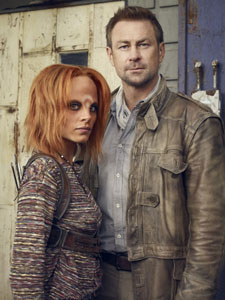 Defiance is one hugely ambitious show because for the first time ever, a TV show and video game will exist concurrently in a shared universe, influencing and impacting one anothers outcome. It all sounds pretty damn cool to me.
Defiance is set in the year 2046. It's a new Earth and with over thirty different Alien races, it's also a different Earth. Defiance is now what used to be St. Louis and when the mysterious Nolan (Grant Bowler) and Irisa (Stephanie Leonidas) settle in, things begin to happen that threaten the peacefulness the town has enjoyed for years.
Grant Bowler and Stephanie Leonidas took some time out of their schedule for a really cool Q&A where they talked about all aspects of the show; green screen and the special effects, the extensive makeup and all of the acting challenges they faced while shooting.
Defiance airs on Mondays at 9/8c on Syfy Read more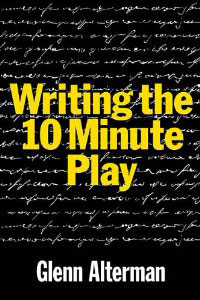 I've been wanting to write a play for the past year or so. I've written several screenplays before but writing a play just seemed so daunting. I have an idea that I think is great and interesting but just sitting down and putting pen to paper – or fingers to keyboard – seems like a monumental task.
But then, in the midst of all of my hemming-and-hawing, I got an opportunity to review Glenn Alterman's, Writing the 10-Minute Play.
Perfect timing, right?
I'd honestly never thought about writing a 10-Minute play before. But after reading the book, I'm totally chomping at the bit to start.
Alterman is an actor and now acting coach in New York City and he's been writing monologues and 10-minute plays for a while now, winning over 40 playwriting competitions. He writes the book from an actors perspective, which makes the thought of actually writing a play more inviting. Writing a play can almost be easier for actors, he says. We are always asking, "What does my character want?" and in playwriting, we get to ask, "What do my lead characters want?," he writes. Read more

Tony Award winners Billy Crudup and Shuler Hensley will join Ian McKellen and Patrick Stewart in the limited season repertoire of Harold Pinter's No Man's Land and Samuel Beckett's Waiting for Godot.
Directed by Sean Mathias, the performances will begin Saturday, October 26th at the Cort Theatre on Broadway.
This limited season will run for 14 weeks only. Read more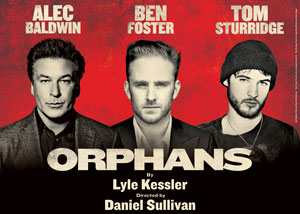 Holy crap, I didn't see this one coming.
The producers of the Tony Award-nominated play ORPHANS  have announced that the Broadway production will play its final performance on Sunday, May 19th.
The show has received several accolades including Tony Nominations for Best Leading Actor Tom Sturridge and Best Revival of a Play. Additionally Sturridge has been nominated for an Outer Critics Circle Award and a Drama League Award. Alec Baldwin has been nominated for a Drama League Award and the production was also nominated for Outstanding Revival of a Play by the Outer Critics Circle. Read more