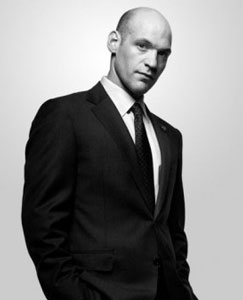 The gang at Gold Derby talked with Corey Stoll, who played Congressman Peter Russo in the great Netflix series, House of Cards.
In the interview, he talks about working with House of Cards director David Fincher and all of the takes the director likes to do, if he had any huge challenges playing a character with a substance abuse problem and how having the show on Netflix was "a huge relief."
Stoll is absolutely fantastic in the show and I think he's the heart of the series. If you haven't watched it yet, you definitely should. 
Beware – there are a ton of spoilers! Do not watch this if you haven't seen the show. 
Check it out below! Read more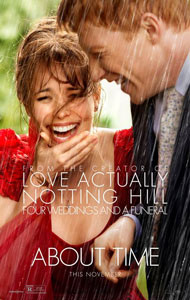 About Time: At the age of 21, Tim Lake (Domhnall Gleeson) discovers he can travel in time… 
The night after another unsatisfactory New Year party, Tim's father (Bill Nighy) tells his son that the men in his family have always had the ability to travel through time.  Tim can't change history, but he can change what happens and has happened in his own life—so he decides to make his world a better place…by getting a girlfriend.  Sadly, that turns out not to be as easy as you might think.
Moving from the Cornwall coast to London to train as a lawyer, Tim finally meets the beautiful but insecure Mary (Rachel McAdams).  They fall in love, then an unfortunate time-travel incident means he's never met her at all.  So they meet for the first time again—and again—but finally, after a lot of cunning time-traveling, he wins her heart.
About Time is a comedy about love and time travel, which discovers that, in the end, making the most of life may not need time travel at all.
Cast: Domhnall Gleeson, Rachel McAdams, Bill Nighy, Tom Hollander, Margot Robbie
Written and Directed by: Richard Curtis 
In Theaters: November 1, 2013 (Limited Engagements), November 8, 2013 (Wide) Read more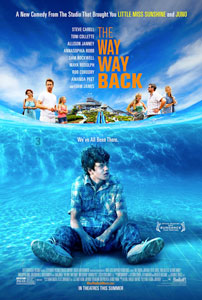 Synopsis: The Way, Way Back is the funny and poignant coming of age story of 14-year-old Duncan's (Liam James) summer vacation with his mother, Pam (Toni Collette), her overbearing boyfriend, Trent (Steve Carell), and his daughter, Steph (Zoe Levin).  Having a rough time fitting in, the introverted Duncan finds an unexpected friend in gregarious Owen (Sam Rockwell), manager of the Water Wizz water park. Through his funny, clandestine friendship with Owen, Duncan slowly opens up to and begins to finally find his place in the world – all during a summer he will never forget. 
Written & Directed by Nat Faxon & Jim Rash
Starring Steve Carell, Toni Collette, Allison Janney, AnnaSophia Robb, Sam Rockwell, Maya Rudolph and Liam James, Amanda Peet and Rob Corddry
In Theaters July 5th Read more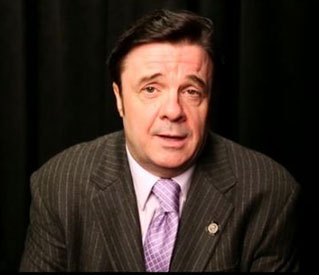 Broadway.com has a series of videos called 'Secrets of Tony Nominees!' and in this installment, they asked Tony Nominee Nathan Lane (The Nance) a handful of questions like what his life-changing role is, his Broadway hero's and the first Broadway show he ever saw.
Check it out below! Read more
The SAG Foundation recently had Kevin Bacon as a guest for an in-depth conversation and career retrospective.
Currently starring in FOX's hit, The Following, they cover his whole career, from beginning to where he is now. It's almost 1 1/2 hours long but I thought it was worth the time. Bacon is very charming and it'll go by in no time.
Check it out below! Read more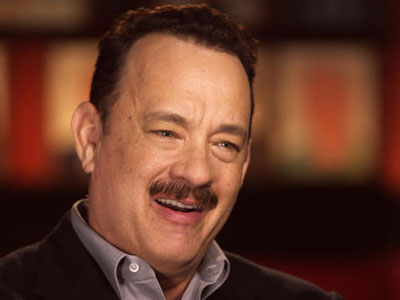 Tom Hanks is riding high right now. He's got a hugely successful Broadway show, Nora Ephron's Lucky Guy. He's nominated for a Tony Award, the show has already recouped it's investment and, wait for it…. he was just voted as the most trusted man in America by Readers Digest.
Yesterday, he appeared on CBS' Sunday Morning where we were treated to some clips of the show – which makes me want to see it even more. Read more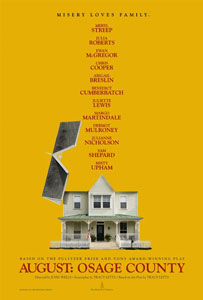 August Osage County: A look at the lives of the strong-willed women of the Weston family, whose paths have diverged until a family crisis brings them back to the Midwest house they grew up in, and to the dysfunctional woman who raised them.
Starring Meryl Streep, Julia Roberts, Margo Martindale, Sam Shepard, Chris Cooper, Benedict Cumberbatch, Ewan McGregor, Juliette Lewis, Abigail Breslin, Dermot Mulroney Read more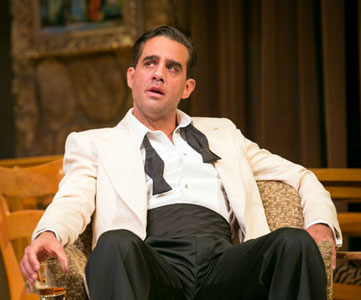 Check out Bobby Cannavale and Reg Rogers in a clip from the Roundabout's revival of Clifford Odet's, The Big Knife. Read more

Here's a clip from Douglas Carter Beane's new Broadway play, The Nance, featuring Nathan Lane and Jonny Orsini.
Check it out below! Read more
Watch out, Rick, there's a walker behind you!
AMC just released a First Look photo from The Walking Dead's upcoming season.
The picture shows star Andrew Lincoln (Rick) on the set in Atlanta, GA. The cast and crew began production on May 6th and the show is set to return this October.
I know, it's not much to look at but hey, beggars can't be choosers. Read more