As any working woman will tell you, the topic of gender bias in the work place is still relevant, regardless of which field of work you happen to be a part of. And it seems even in Tinsel Town this proves to be the case, with word around town Hollywood is still very much a man's world. But it is difficult to bemoan the injustice some actresses suffer when collecting their paycheck, seeing that in most cities it would solve the economic crisis facing an entire school district.
Angelina Jolie is a versatile actress, winning over audiences with roles in both action and dramatic films, and recently she expanded her talents to include directing, as well. She is credited as writer and director on the upcoming film In the Land of Blood and Honey. With two big-budget action movies in 2010, Salt and The Tourist, the latter co-starred Johnny Depp, and despite a less than spectacular opening weekend box-office of $16 million, the film went on to earn a respectable $280 million worldwide. Jolie has proven herself to be a solid box office draw and her salary reflects that fact: an estimated $30 million.
Read more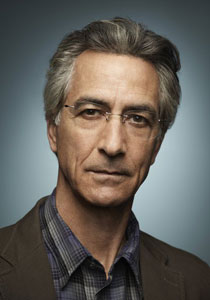 David Strathairn says he loves to act because with each new role he feels he is forever learning something new. "If I'm fortunate enough to get involved in a project that has some pretty good legs under it, people have given thought to it, you're going to learn something."
The actor has tackled parts spanning various genres from Edward R. Murrow to a child abuser. "In theater I've always learned something about the particular world that the play is about – whether it's 1906 outside of Moscow in a Chekhov play, or an Arthur Miller play. Of course, Shakespeare is extraordinary."
Having experienced a spectrum of roles in theater, film and television, and having costarred in such blockbuster's as "The Bourne Ultimatum" and award winning films "L.A. Confidential" and "Temple Grandin," Strathairn has become the "go-to" supporting actor in Hollywood.
"Often I wonder, why am I still doing this?," he says. "Why don't I just go back to my garden and chickens and dogs and family and just hunker down? But there are a lot of questions I haven't answered, and being involved in this discipline keeps me answering them."
Read more
Tom Hanks clearly understands that actors can do great things, but they are not always able get the things they want to done; enter the role of producer which allows the actor more creative control over the end product.
With his new film, Larry Crowne, Hanks explains his decision to add the title of producer to his resume which already included actor, writer and director. "A lot of actors are nuts, and they don't want to do the long-haul  diligence. My joke about producing is that it's getting somebody to do something they don't want to do, and telling somebody else they don't get to do the thing they want to do. It's not easy."
Yet Hanks says he has no regrets about his decision to expand his on set duties. "I sought to be creative without being at the mercy of the phone. Most actors have to wait for permission to go out and do their job. And I didn't want to be a guy who was sitting in Los Angeles waiting for a call. In order to change that, I needed to have alliance with people who knew how to make things work. I made those alliances [by forming] Playtone, and I was able to get back to my original  desire, and that was to answer the question, 'How can we do this?'
Read more
Emma Watson has come to the conclusion that no amount of fame, money or level of education can make growing pangs any easier to handle.  "I have had no control over my life," the costar of the "Harry Potter" franchise says. "I  have lived in a complete bubble. They found me and picked me for the  part, and now I'm desperately trying to find my way through it."
With a July 15 release date ushering in the end of the "Harry Potter" series, which made Watson financially set for life and universally recognizable, the actress is learning to live life as an adult and a super star on her own. Her passion for fashion and design are currently keeping her busy, and knowing her Potter costar Daniel Radcliffe is available to offer support and guidance has helped her keep from feeling overwhelmed by it all.
"When one or the other of us was having a tricky moment in our lives, it was often that we would confide in each other," Radcliffe says. "We would also help each other with relationship advice."
Watson chose to take a leave from Brown University after receiving numerous acting and modeling offers now that she has wrapped up her commitment to the Potter films. First up is a starring role in the film adaptation of the novel "The Perks of Being a Wallflower."
via vogue.com
Four time Emmy winner Edie Falco is starring on Broadway in House of Blue Leaves where she plays Bananas, a schizophrenic from 1960′s Queens.
Falco, who received a Tony nomination for her role,  says not much has changed since that era and now in the way people chase after the fame and fortune they associate with Hollywood success.
"I don't really know if the hunger for it has changed, but our obsession for it seems to have changed. I'm not so good at commenting in any meaningful way about these things, but celebrities are now like our royalty, you know what I mean? Most of them haven't really done anything to earn where they are, which is what's so troubling. There's an obsession with famous people who, oftentimes, are not worthy of a million people knowing who they are and what they think," the actress says.
The irony of her success as an actor is not lost on Falco, as fame was never her ultimate goal, unlike some of her fellow SUNY students.  "There were other women I went to school with who really were aiming for this; this was kind of what they wanted. And the fact that I am the one who ended up here is actually a big, you know, the universe is getting a good laugh at it. Like every actor says, I just want to do good work. It sounds disgusting, but I think it really is true."
via nymag.com
In Showtime's, The Big C, Oliver Platt plays a husband who has no idea his wife is dying of cancer.
Platt says it wasn't easy filming those scenes "in the dark. You had to really focus and forget that you knew," he said. How did he pull it off? "Well, you just do it. It's your job. You pretend."
He believes his non movie star attributes have worked to his benefit as an actor. "What I was told early on was that, as an actor, I had a uniqueness: There wasn't anybody who looked like me, for better or worse, and we don't need to get into THAT any further, thank you."
Platt discovered at an early age acting provided a way for him to fit in."I was always a new kid in school and I figured out this was a way to plug in: I'd try out for a play and then I would have a group of friends, and I also loved doing it."
Having worked on both stage and screen, Platt has enjoyed a varied career spanning many genres. "I'm drawn to stuff that I haven't done before," he says. "But at the same time, when you take a job, especially a high-profile job, you want to have a sense that you're not going to completely wipe out. So you try and balance things."
Read more
HBO's "True Blood" returned last night and Alexander Skarsgard's role as vampire sheriff Eric Northman will be directly involved in the story arc this season.
Thanks to a coven of witches, Northman has lost his memory and is forced to rely on Sookie (Anna Paquin), and the actor couldn't be happier with the turn of events.
"I was excited. It was quite different from what we've seen before. It's been difficult because he doesn't …  it was difficult finding the right tone. He doesn't know who he is, so all that baggage is gone, 1,000 years of resentment and bitterness, the whole, like, loathing humanity kind of stuff is gone. But there has to be an element of danger there still. I didn't want him to become too much of a little puppy. It was about finding that balance, because he has to be extremely vulnerable now," Skarsgard says.
He also enjoyed trying out his comedic skills throughout the first few episodes.  "I had fun with it. It was just important to make it real. The humor had to come out of the situations more than him trying to be funny."
Read more
In Green Lantern, actress Blake Lively is starring in her first big-budget franchise film.
Lively admits she was unfamiliar with the comic book series prior to filming. She said that she "actually knew nothing about Green Lantern, and I imagined that nobody else in the world knew anything about Green Lantern. And as soon as I got the role I was quickly humbled about how naïve I was. It's really exciting that I didn't know anything about it because then my nephews don't know anything about it. And to introduce a character to a younger generation, you have a lot more freedom and you're not being compared to all the different incarnations that you've seen before, like the more commonly known superheroes."
The star of The Town and  TV's Gossip Girl, plays Carol Ferris, fighter pilot and girlfriend of Hal Jordan (Ryan Reynolds), had never worked with special effects involving a blue screen but she embraced the experience. "A lot of the stuff we did was with blue screen, and that's very different because I'm used to being in scenes and having a good idea what it's going to look like when the finished product comes out. But to be existing in a world that doesn't even have life until we wrap? That you're shooting for six months and then the movie starts is something very different, and makes it that much more exciting when you see it. Seeing those ten minutes of footage, I now feel like a fan of the movie whether I was in it or not."
via wsj.com
As Sinestro in "Green Lantern," Mark Strong gets to hide behind purple make-up and prosthetics but while he say's that didn't bother him, they did pose a challenge for him.
"You have to rethink the way you use your face. We take for granted the fact that you communicate with people by your eyes, your eyebrows, your brow, how you are using your face," he said. "Suddenly when you have a prosthetic, that changes, because what you are doing underneath the prosthetic is not necessarily what's registering out there. So you have to learn different ways of communicating, which I've had to do with the way he tilts his head, the way he catches the light. It's been fascinating."
The theater trained actor approached working with a green screen, as he would acting in a play. "I don't know if it gives me an advantage, but it doesn't faze me. If you grow up doing ten or fifteen years of theatre, you know it's not real, you know you're in a room, you can see the front row of the audience, you can see the lights, you know the minute you walk off stage there's a props table where you get your gear. You walk on pretending you've just been somewhere else, it's not real it's about imagination, and the fact that people can go in a room and switch the lights off and watch another bunch of people pretending to be other people and be transported, in terms of a story, is fascinating to me and having experienced it, being in a blue box pretending to be an alien, it's the same thing."
Read more
"I always was an actor," says 74-year-old Morgan Freeman, who is reminiscing about one of his early "acting" memories. "I didn't become an actor, this is what I was meant to do. I remember an incident when I was 5 years old. I had a friend, and we used to play different kinds of games."
While growing up in rural Mississippi, Freeman and a friend were playing "horse and buggy". "What you do is that you get a clothes line and wrap it around yourself if you are the horse," Freeman recalls. "My friend was the driver, and we would go through the town. This lady, Mrs. Hackman, saw us running out there in the sun and said, 'Why don't you come in and drink some water?'" The future Oscar winner refused to break character, even choosing to stick his head in the cup and drink like a horse, letting loose with the occasional "neigh" between drinks.
Success did not come quickly for Freeman, waiting to strike until the actor turned 50 years old. That was the year "Street Smart" was released and he landed a starring role in the off-Broadway stage production of "Driving Miss Daisy."
Read more