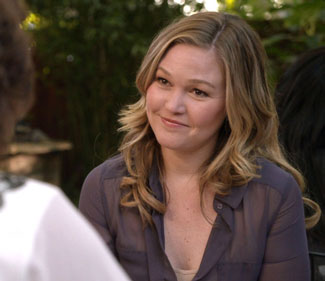 It's been over a decade since Julia Stiles made her name in starring in modern updates of Shakespeare's plays (10 Things I Hate About You, 2000′s Hamlet, O), and though she's certainly not as visible as in the early 2000s she's been working steadily as an actress ever since.  She's also branched into directing, having written and directed four shorts episodes of Paloma on the WIGS YouTube channel. 
In an interview with New York magazine, Stiles speaks about why she aspires to direct, what she thinks about recent female directors, and what she's learned about acting from working with David O. Russell. Read more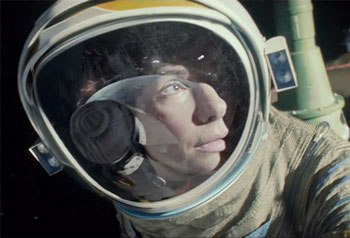 Sandra Bullock might get the most praise from critics for her dramatic roles in films like The Blind Side, Crash, and the Venice International Film Festival hit Gravity, but it's important to remember that among her top grossing films are comedies like The Heat, The Proposal, and Miss Congeniality.  It's no wonder that she insisted on Reuters Television that she has no plans to stop doing comedic roles, especially in light of the challenging shoot of Gravity, which was directed by Children of Men director Alfonso Cuarón.
She explains, "I will do comedy until the day I die: inappropriate comedy, funny comedy, gender-bending, twisting comedy, whatever comedy is out there.  Even a bad TV show — if that's where I have got to go at the end I will go there if it's comedy." Read more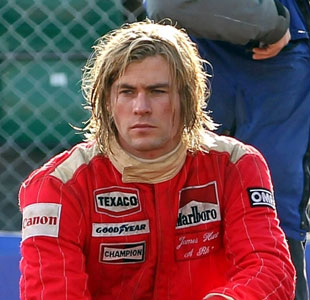 Ron Howard's movie Rush is about the real-life rivalry between Formula One drivers Niki Lauda and James Hunt.  Chris Hemsworth stars as Hunt in the film, but according to Howard in an interview with MTV, Hemsworth wasn't originally able to audition for the part in person because of other commitments.  However, Howard reveals that Hemsworth wasn't going to let that prevent him from getting the part.
Howard explains that at first it was very difficult to find a suitable actor for the part.  He says, "I started meeting some people, started thinking about it, and it wasn't going very well. I thought, 'Maybe we're just not going to be able to do this movie.'"  Though Howard's longtime producing partner Brian Grazer suggested that Howard consider Hemsworth for the part, Howard wanted him to audition.  Read more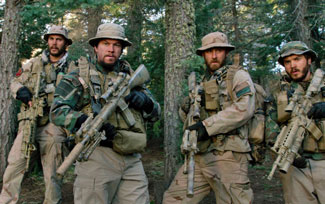 Sure, it's easier to get acting roles if you have a lot of money: just tell a cash-strapped producers "I'll give you X amount of money if you cast me in your movie."  Hey, it worked if you wanted to get in one of Ed Wood's movies, right?  But what happens if after loaning the producers that hefty sum the person with the deep pockets finds out his or her role is mostly on the cutting room floor?
That's the issue that professional poker player Dan Bilzerian is suing producers Randall Emmett and George Furla over in Los Angeles Superior Court.  Blizerian agreed to loan the producers $1 million to help them complete their Navy SEAL drama Lone Survivor, and in return he would receive a role in the film, which was directed by Peter Berg and is set for release in January and stars Mark Wahlberg, Taylor Kitsch, Eric Bana, Emile Hirsch, and Ben Foster. Read more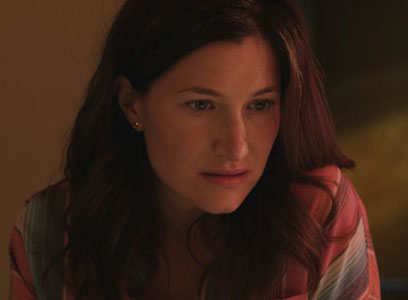 If you're watching a movie that stars Will Ferrell or Paul Rudd (or both), there's a good chance Kathryn Hahn is going to make an appearance at some point.  Hahn has appeared in roles (both big and small) in movies like Anchorman, Step Brothers, Wanderlust, How Do You Know, and Our Idiot Brother, and she's also appeared in plenty of other movies roles and played reoccurring characters on television shows like Parks and Recreation, Crossing Jordan, and Girls. 
However, in the indie movie Afternoon Delight Hahn finally has the opportunity to star in a leading film role alongside Josh Radnor.  She spoke to Interview magazine about establishing a new character and the importance of developing that character's backstory. Read more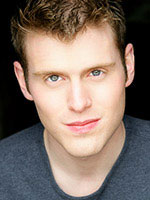 Like many Chicago actors, Jay Worthington is proud to be able to say "I am an actor in the city."  Unlike most of them, Worthington is legally blind.
The twenty-nine year-old Worthington, who has been legally blind since birth, is a graduate from the school at Steppenwolf Theater.  He is a member of the Gift Theatre ensemble since 2011 and has starred in productions such as One Flew Over the Cuckoo's Nest.  He has also taught acting and directed plays.
Worthington describes his limited sight as, "I read large prints, I have glasses, [but] I don't drive. I am legally blind and my eyes are very sensitive to light and there's the erratic movements. It has also caused legal blindness."  He confesses that throughout his life he had been told that because of his blindness he could not become an actor, saying, "I have had actually a couple well-known figures in Chicago tell me, [and] a couple professors in college tell me, cause of my disability I would never have a career in this.  I am happy to have proven all of them wrong." Read more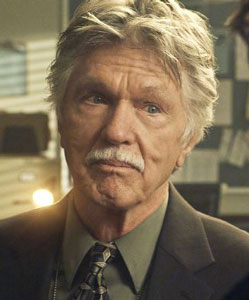 Tom Skerritt has had a five-decade career in both film and television, but Skerritt — who just celebrated his eightieth birthday this week — is finally making his Broadway debut in A Time To Kill, an adaptation of John Grisham's 1989 novel (which was previously turned into a 1996 film starring Matthew McConaughey, Samuel L. Jackson, Sandra Bullock, and Kevin Spacey).  Though the play doesn't begin previews for a month, Skeritt tells The New York Post that he is both excited and terrified about making his debut on Broadway.
Skerritt admits that living in New York while doing the play will be a major life change for him.  He explains, "I never lived in Manhattan. I'm from Detroit. I went to UCLA to be a filmmaker and been in Seattle, an outpost with NYC influences, 25 years. Simple life. Immersed in civic activities. Go to the movies once a year. It's outdoors, up early seeing water, mountains, an eagle overhead. Staying up late, dinner late, sleeping late will be difficult." Read more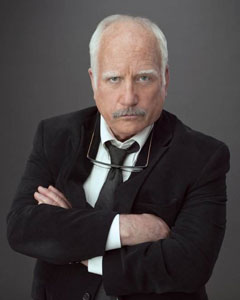 Through Paranoia was roasted by critics and bombed at the box office, it has at least one thing going for it: the film features both Richard Dreyfuss and Harrison Ford for the first time since 1973′s American Graffiti.  In the forty years since both men have had very successful careers, but both have also significantly reduced their workloads in film over the last decades.  While Ford might chalk his career slowdown to his love of flying his various planes, Dreyfuss actually retired from film in order to pursue acting in theater.  However, as he tells the Los Angeles Times, retirement simply didn't work out that way.  He also talks about what films today are missing in comparison to films of his youth.
Several years ago Dreyfuss announced that he was "retiring" from film, though really it was more of a scaling back.  He explains, "I am a very nice and good and decent and selfish person — I am an actor. I did it for 45 years, and anyone who does anything for 45 years has a right to stop." Read more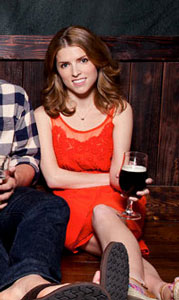 In the interests of full disclosure: I loved Drinking Buddies, the new film from Joe Swanberg (Lance did too).  While I already thought it was a great film about relationships and friendships between members of the opposite sex, what really floored me was the fact that while the film had a script it had no scripted dialogue.  Oh, and the fact that the plot revolves around drinking craft beer definitely appealed to my tastes.  Anna Kendrick stars in the film alongside Ron Livingston, Jake Johnson, and Olivia Wilde, and Kendrick spoke to New York magazine about working while drunk, tackling improv, and her recent surprising success in the music business.
Kendrick reveals that while in one scene she was given fake beer to drink, the filmmakers and cast tricked her in another scene.  She explains, "During a scene at the bar, they gave me fake beer, but then during a scene where I'm playing cards with Jake, they gave me real beer, and I didn't realize it! And so every time I lost, I was pounding beer, and I didn't realize it was real until halfway through the take. I was like, I'm super drunk right now! And so as soon as the take was over, I had to announce to everybody that I was drunk at work. I was horrified by the idea that I was going to be the next troublesome star who got drunk and started flipping over tables or whatever. I just tried to sit quietly until I sobered up." Read more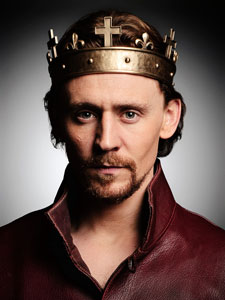 The next time audiences will see Tom Hiddleston won't be as the nefarious Loki in Thor: The Dark World, but doing something closer to his heart — PBS's Great Performances: The Hollow Crown miniseries.  The Hollow Crown is an adaptation of Shakespeare's Richard II, Henry IV, Part 1 and 2 and Henry V, and Hiddleston stars as Prince Hal/Henry V.  Some might wonder why an actor who played the villain in the third highest-grossing film in history would do a PBS miniseries, but as Hiddleston reveals in an interview with The Backlot he has no desire to be known only as Loki.
Considering how perfect he is in the role of Loki, Hiddleston could easily spend the rest of his career churning out Avengers films and other roles in which he plays cowardly, yet crafty, antagonists.  He even expresses surprise at how he even ended up as the best bad guy in the Marvel Cinematic Universe, admitting, "It's never really been something I've consciously chosen. I really want to stay an actor and it's wonderful to have success like The Avengers. It's honestly one of the great unprecedented strange accidents of my life. I was cast in Thor and Avengers with some idea in Kevin Feige's head and then it became the biggest thing I've ever done without question, and on a level that's actually difficult to process." Read more