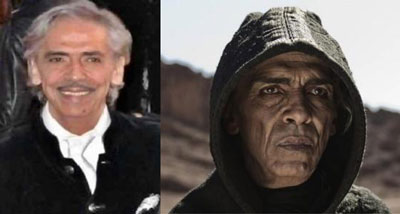 Along with its high ratings, the History Channel's mini-series The Bible was in the news because the actor playing Satan kind of… sort of… well, maybe looked like Barack Obama, the President of the United States. I suppose he does if you squint your eyes and are really trying to look for a resemblance, but you know how the talking heads on the news love to make mountains out of molehills.  Some in the media saw this as a shot at the president on behalf of conservative Christians, though producers Roma Downey and Mark Burnett called the controversy "utter nonsense."
Indeed, one of the people most surprised by the controversy was Mehdi Ouazzani, the Moroccan actor who portrayed Satan in the mini-series.  However, he is obviously grateful for the attention.  In an interview with The Associated Press, he says, "One morning somebody called me and said 'you have to look at your email' and I was so surprised. For someone like me, a simple unknown actor, to find himself in a controversy like this — even though it's nonsense — it makes me known around the world, so it's something positive." Read more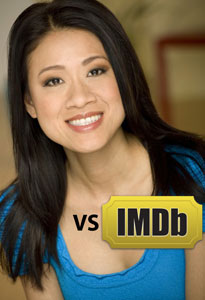 The actress suing IMDb for posting her actual birth date on its site, Huong Hoang (who has also been credited as Junie Hoang), took the stand to speak about the long process she went through to try to get IMDb to remove her age from its website.  Parts of her case were dismissed a year ago, but she has been able to proceed on the grounds of whether or not IMDb took her age from her credit card information without her permission and thus not only breached her IMDbPro contract (by the site violating its own privacy policy) but also violated consumer protection laws. 
Because the judge tossed out Hoang's claims of age discrimination before the trial (the judge ruled that IMDb cannot be held responsible for any age discrimination in the entertainment industry), Hoang's lawyer Derek Newman is unable to use the term "age discrimination" during the trial.  However, Newman still argued that personal information — such as posting the actual age of a much younger-looking actress — can hurt one's career. Read more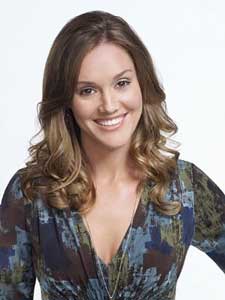 As the legend goes, New York Yankee Wally Pipp was removed from the starting line-up on June 2, 1925 because he had a terrible headache.  His replacement "for the day" was Lou Gehrig — who went on to stay in the starting line-up for fourteen straight years and 2130 consecutive games, becoming one of the greatest legends of baseball in the process.  Pipp reportedly later quipped, "I took the two most expensive aspirin in history."
Of course, that story is more legend than fact.  But if the upcoming NBC comedy Holding Patterns becomes a hit, actress Chyler Leigh might have a similar story.
That's because Leigh was initially cast as Leah for the pilot, which is a comedy from The Office writer Justin Spitzer about the lives of a group of friends who survive a plane crash.  However, Leigh missed the first table read because she was not feeling well.  Her replacement at the reading was Grey's Anatomy actress Erinn Hayes.  The reading must have gone well, because once Leigh returned for rehearsals the cast and creators felt that Hayes had much better chemistry.  As a result, Hayes was called back to replace Leigh in the role for the pilot. Read more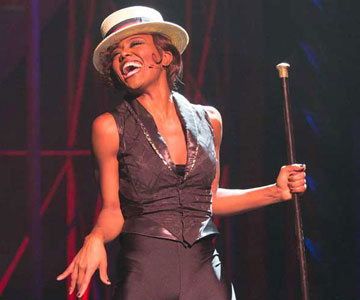 Patina Miller faces a significant challenge as she takes on the role of the Leading Player in the Broadway revival of Pippin.  For one thing, Miller's only previous Broadway experience was starring in Sister Act.  For another, Miller not only has to step into big shoes but shoes meant for another gender: the role was originally written for Ben Vereen, a male Broadway legend.  She spoke to Playbill about preparing for the role, working with director Diane Paulus (who previously directed well-received revivals of Hair and The Gershwins' Porgy and Bess), and learning the choreography created for the original show by the iconic Bob Fosse.
Though hesitant to admit it, Miller says she wasn't familiar with Pippin before trying out for the show and instead wanted the part in order to work with Paulus.  She says, "I wasn't familiar with the show prior to signing on.  Maybe that makes me a bad musical theatre person. But going into the audition, I knew what kind of director [Paulus] is; so I couldn't just wing it. I had to do my homework."  After a few callbacks (during which Miller says she was "making a fool" of herself), she was cast in the role. Read more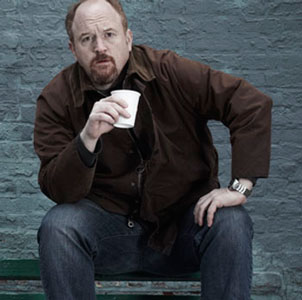 For most actors, getting cast in a Woody Allen movie is something to be crossed off one's bucket list.  However, when the cast list for Allen's next film — which would eventually be titled Blue Jasmine — was revealed, two unlikely names were on the list: comedians Andrew Dice Clay and Louis C.K.  Louis C.K. spoke to The New York Times about being cast in the film and initially losing the role he read for to Clay.
Louis C.K. actually initially approached Woody Allen for the role of Jack Dall on his own show, Louie.  Though Allen turned it down (which led to the offbeat casting of David Lynch), Louis C.K. later heard from Allen when Allen began casting Blue Jasmine.
However, the initial read did not go the way Louis C.K. hoped it would have.  He explains, "It just came out of nowhere. I got this e-mail: Woody Allen wants you to come in for something. I've been waiting for that e-mail my whole life. I'm not going to pretend I'm above that. I went into his office and read for a part that Andrew Dice Clay ended up getting. Woody said: 'I know you can act. I just don't know if this is the kind of guy that you are. This is a very mean guy, and you're not a mean guy.'  And I read it, and I was like, yeah, I'm not getting the part. I can be working class. I can't hit my wife. So I'll talk the way I would say these things and I won't get the part, but I'll leave with my head up high. And that's precisely what happened. But I was very emotional, because I had just met Woody and he was very kind to me." Read more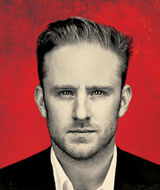 Though Ben Foster is officially starring as Treat in Broadway's Orphans, as far as the cast and crew of Orphans is concerned Foster should probably be billed as "lifesaver."
That is because Foster stepped into the role less than a month before previews were set to start after Shia LaBeouf was fired from the production.  Foster wound up making his Broadway debut under a cloud of controversy as LaBeouf made his behind-the-scenes drama with co-star Alec Baldwin very public by posting e-mails between the cast and crew on Twitter.  Foster spoke about his stepping into the role to The New York Times.
Foster was ready to jump in the role because he originally auditioned for it, but lost out to LaBeouf.  He says, "I was crestfallen that it didn't work out originally. Then I got a phone call saying, 'Are you still interested?'"  Read more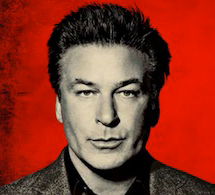 Though it is still in previews, Orphans is one of the most talked about Broadway plays in recent memory. This is because it not only stars Alec Baldwin making his Broadway return for the first time in nine years and it is directed by Tony Award winner Daniel Sullivan, but because of the extensive behind the scenes drama that led to the exit of Shia LaBeouf from the cast and its very public aftermath. 
In an interview with The New York Times, Baldwin spoke about his hand in bringing the play to Broadway and his feelings on LaBeouf making their behind-the-scenes drama very public.
Baldwin reveals that he was the driving force behind the play's return to New York.  He explains, "I knew Al Pacino was circling it. He did it once at a 75-seat theater in L.A. in 2005. I thought, 'I have to see that,' and flew out. Then when Al said he'd do Glengarry Glen Ross on Broadway this season, I knew Orphans was available. So I went to producers and said, 'Let's do it.' You spend years tracking plays until you're right for them and then try to make the other factors happen — getting the right theater, the producers, the money, the rights, the director, the cast. I'm at the age where, in the Tennessee Williams canon, all that's available is Shannon [in The Night of the Iguana]. After that it's Big Daddy." Read more

Imagine if somebody was planning to auction off a tape of your last few job interviews — even that awkward one in which you were completely wrong for the job!
You'd probably wonder why anyone would want that, right?  Well, if you were a major Hollywood star people would definitely be interested in glimpses of you behind the scenes.  And something just like that job interview scenario nearly happened.  That's because on April 5th and 6th Julien's Auctions was set to auction off a variety of film memorabilia, including audition tapes of some of Hollywood's biggest names, but the sale of the audition tapes has been stopped by SGA-AFTRA.  The auction will go on, just without the tapes.
The Hollywood Reporter revealed a partial list of actors whose tapes were set to be on the auction block, including Leonardo DiCaprio, Brad Pitt, Robert Downey Jr., Keanu Reeves, Dermot Mulroney, Sandra Bullock, Gwyneth Paltrow, Julianne Moore, Helen Hunt, David Arquette, Adrien Brody, Noah Wylie, Ben Affleck, Lisa Kudrow, Ellen DeGeneres, Russell Crowe, Jennifer Connelly and Patrick Dempsey. Read more
There are few actors who can show emotion on stage as well as Bobby Cannavale.  Despite a deep passion for the Broadway stage, Cannavale's intensity makes him in demand for a variety of film and television roles, including a season-long stint on HBO's Boardwalk Empire. 
In a conversation with The New York Times on the eve of his next Broadway role in Clifford Odets's The Big Knife, Cannavale spoke about how he made it despite never being formally trained as an actor and where his intensity comes from.
Cannavale explains that he started his career by doing just about anything to be part of the New York theater scene.  He recalls, "I just started showing up everywhere.  This was when Eric Bogosian's shows were at their height at P.S. 122, so I would go there and say, 'Can I just do anything to get in?' And they would let me clean the bathrooms. Then I started getting plays that didn't pay, showcases." Read more
Broadway audiences are getting to see Game of Thrones star Emilia Clarke in a whole new light on Broadway starring as Holly Golightly in a new stage adaptation of Truman Capote's beloved novella Breakfast at Tiffany's. 
However, more people are talking about the production's difficulty in training cats and Clarke's brief moments of nudity on the stage rather than the play itself!  In an interview with New York magazine, Clarke spoke about the reaction to her baring it all on stage.
Clarke is appreciative that so many fans of her television character are turning up to see her on Broadway.  She says, "A lot of the Game of Thrones fans have really come out to the show, which is really wonderful. And I hope they get a different experience than what they're used to seeing me doing." Read more