Most lists of "Top" whatever make me scratch my head and wonder, "Really?  That's number one?"  However, for this particular list this number one is no headscratcher. 
That's because Eddie Murphy tops Forbes' list of the most overpaid actors, with the average estimate that for every dollar he is paid he only returns $2.30 at the box office. The list was calculated by looking at the box office results of an actor's last three films over the last three years that opened in wide release (2000+ theaters).  With the exception of the blockbuster animated Shrek films, Murphy hasn't had a hit in five years. Last year's Tower Heist was supposed to be a return-to-form and was tied to hosting duties at the Academy Awards, but he pulled out of the hosting gig when Brett Ratner, who directed Tower Heist and was set to direct the Oscars, stepped down amid a series of offensive comments.  In the end, Tower Heist performed far below expectations. Read more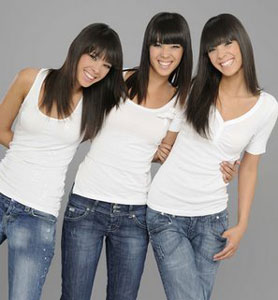 Most of our posts here on Daily Actor focus on the perspective of the actor, but any experienced actor knows that an agent is essential for growth in the industry. 
In an interview with Yahoo!, agent Mark Measures of the commercial department at Abrams Artists Agency, answered questions about some of the more difficult parts of an actor-agent relationship.
When it comes to getting an agent, if an agent says he or she is already representing too many of your "type," it probably means that the agent doesn't see anything marketability-wise different from others that agent already represents.  He explains, "They don't see money in you. That's the excuse we're using when we sit down and talk about it. We may say we have 4 other guys in your category that are getting out more. We don't just come out and say, 'Yeah, we don't see it and we don't think you're going to work.' We're not in the business to hurt people's feelings. That's why agents have these excuses. What we're saying is we don't see a million dollars in you. While yes, that is absolutely what we're saying, we're not in it to perpetuate the stereotype that all agents are nasty and mean or that we are all Ari Gold types from Entourage." Read more
It's becoming increasingly common for actors on long-running television shows to step behind the camera and direct episodes of the series.  After directing two episodes in season of four of Mad Men and a third in season five, John Slattery — who stars on the show as Roger Sterling — is directing two more for the upcoming sixth season according to The Hollywood Reporter.   While talking to the magazine, Slattery talks about the challenges of starring in a show while also directing it.
Slattery points out that there are more challenges to directing an episode than in acting in one.  He says, "It takes a lot more time.  You have a hand in the whole thing, and each one takes about a month, from a directorial standpoint. From the time you get the script to the time you turn your cut in, it's a month. And it's a long month." Read more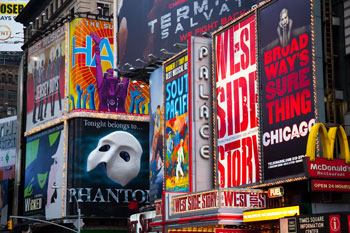 There is a lot of pretty good news for Broadway in the Broadway League's annual "Demographics of Broadway" report for the 2011-2012 season.
While attendance was slightly down versus the 2010-2011 season (12.33 million vs. 12.54 million), grosses were the highest ever in Broadway history, rising to $1.139 billion from last season's previous record of $1.08 billion.  Of course, this also means that unfortunately average ticket prices continued to rise, with this season's average ticket price rising to $92.37 from last season's previous record of $86.21. 
In addition, Broadway remains to grow as a tourist destination, with tourists making up 63.4% of the record 12.3 million people who attended Broadway shows this season (up from last season's 61.7%).  Of that, 18.4% were from visitors from other countries. Read more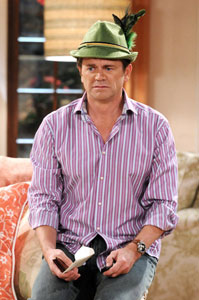 John Michael Higgins has appeared on dozens of televisions shows, from Frasier to Ally McBeal to Arrested Development, but now, he's finally in a series of his own, TV Land's Happily Divorced.
On the show, he stars alongside Fran Drescher as Drescher's character's gay ex-husband and he's thankful that the character he plays isn't a stereotype.  Though he has played gay characters before (perhaps most memorably as the shih tzu owner Scott in Best in Show), he points out that there's obviously no singular way to play a gay character.  He explains, "I don't believe there are a set of character traits to playing a gay character. It's like being asked to play a Catholic.  I've played gay characters that are over the top, but when you play a character that way those surface qualities wear thin, especially in a long haul.  With a character like this one, you have to go deeper and deeper. If you don't, the character will get flat for the audience and writers." Read more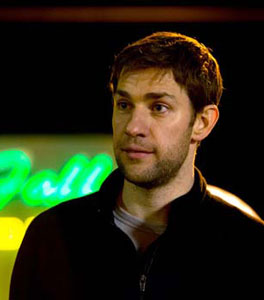 Though it'll be difficult, if not impossible, for John Krasinski to shake off the public perception of him as Jim from The Office (plus he'll have to get used to not mugging for a camera), Krasinski is certainly giving it a try as The Office wraps up its final season.  He not only stars with Matt Damon in the movie Promised Land, but he co-wrote the script with Damon.  He talks about how that project came together with USA Today and also touches on what the end of The Office means to him.
Krasinski explains that the pairing between him and Damon happened after the two met while Krasinski's wife, Emily Blunt, was starring with Damon in The Adjustment Bureau.  He says, "Matt was working on The Adjustment Bureau with Emily. We got to know each other and quickly became good friends. We did a whole lot of double-dating with Matt and (his wife) Lucy and we got along really well. Matt had mentioned that he wanted to direct and asked me if I was working on anything. I told him about this. And we started writing pretty much right away." Read more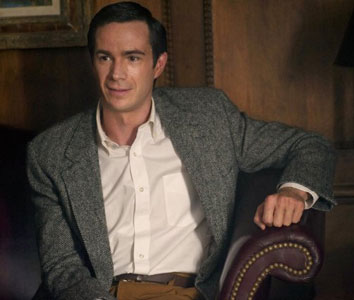 Film history has shown that when an actor portrays a real-life figure that actor doesn't necessarily have to look like the individual he or she is portraying.  Take Anthony Hopkins, for example — Hopkins put on layers of makeup to look like famously rotund Alfred Hitchcock in Hitchcock, but the makeup he wore in 1996′s Nixon didn't make him look anymore like the former U.S. President than he did without it.  But in some cases, an actor looks so much like the person he or she is portraying that it is almost eerie. 
One example is Hopkins' Hitchcock co-star James D'Arcy, who plays Anthony Perkins, the real-life star of Psycho.  Nonetheless, D'Arcy tells Moviefone that while the physical resemblance got him into the door, learning how to play Perkins was another challenge. Read more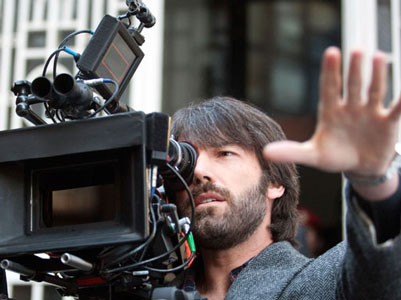 Hollywood is full of hyperbole — and actors are certainly known for being dramatic — but Ben Affleck probably isn't too far off when he says that the worst thing for him now that he's become an acclaimed director is having to fire actors.  He got through his first two films without having to fire anyone from the cast, but in an interview with Yahoo! Movies he reveals that he had to fire an actor while filming his latest film, Argo.
He knows how rough it is on actors from experience, having been an actor for years before deciding to step behind the camera.  He explains, "I've fired a couple of actors. It's the worst thing in the world because I know, as an actor, what it's like.  I was a child actor, and the director threatened to fire me. That traumatized me. I was 13 years old. And I went around in fear of being fired." Read more
Though Paul Rudd is likely gearing up for the release of This is Forty, his latest film with frequent collaborator writer/director Judd Apatow, audiences can see him on stage in New York in Grace.  Rudd plays a born-again businessman who moves to Florida in order to start a chain of gospel-themed hotels.  I thought he was wonderful in the play (you can check out my review here), although the play has driven at least one person to vomiting (although, to be fair, that probably had little to do with the play itself). 
In an interview with The New York Times, Rudd talks about his character and why he continues to appear on stage despite being a comedy movie star.
Since his character in the play is deeply religious but, as a consequence, also very pushy about his beliefs, the character has been described as unlikable — a description that Rudd doesn't necessarily agree with.  He explains, "I've never quite understood the whole thing about 'likable' and 'unlikable.'  I know that sometimes when you read a script or studios are deciding about things, it's like, 'This character is unlikable,' or 'He's unlikable; you've got to make him likable.' I don't quite get what that means. Everybody has moments of likability and unlikablity. I'm more interested in relatability." Read more
I imagine that about six or seven times a day somebody comes up to Wayne Knight and says, "Hello, Newman" in an annoyed voice.  So perhaps he's lucky that in his latest role that face of his that became famous on Seinfeld is hidden behind a long white beard.  That's because Knight is playing Santa Claus in Elf, the holiday musical based on the Will Ferrell movie which is returning to New York after a one-year hiatus. 
Knight might seem like an odd fit for musical theater, and he talks about that to the New York Post along with how he feels about being so associated with Jerry Seinfeld's nemesis.
Being that Elf is a musical, Knight jokes about his singing ability, saying, "It's kind of like natural childbirth — something comes out; we can't guarantee what it looks like. But Santa is not a dulcet-toned character, so it should be OK."  But how about the dancing?  Knight says that part isn't too tough either, saying, "The requirements on me are minimal, and I'm just barely adequate. I just kind of naturally, uh, suck. No. Everybody's going through a tap number that Santa's not part of. I told my wife, 'Geez, I feel bad. I'm not doing enough in this number.' She said, 'You should tell them. They'll let you into that tap number.' I said, 'Honey, we're doing nine shows a week. Shut up.'" Read more