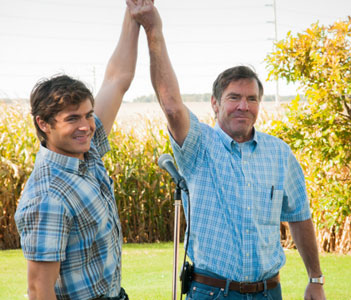 So let me get this straight — Zac Efron, that guy who was in all those High School Musical movies and 17 Again, has spent the last several years starring in indie films?  Okay, I actually knew that already, but it's still pretty surprising considering he probably still had five or so years left of milking teen heartthrob movies but instead chose to do more under the radar projects like Liberal Arts, The Paperboy, and At Any Price.  The latter co-stars Dennis Quaid and premiered at the Tribeca Film Festival.
When asked on the red carpet by the Huffington Post why he has gravitated toward independent films, Efron answered, "I don't know.  I've been doing a lot of interviews with Dennis and his words of wisdom are sort of just fresh in my mind. Dennis says the only role he sort of had for himself in this career is to do as many different types of movies as possible and never stop stretching or trying something new, particularly roles that challenge you. And working with great directors.  That's really all I want to do." Read more
Parks and Recreation star Chris Pratt might be an offbeat choice for any role in a superhero film, let alone the lead role of Peter "Star-Lord" Quill, the leader of Marvel Comics' intergalactic super-team the Guardians of the Galaxy.  But according to director James Gunn, when we see Pratt in the film next summer we're going to forgo any perception we might have of him.
Gunn explains, "Everybody knows Chris Pratt is in the movie, and I saw maybe 80 to 100 guys read for Peter Quill. I was very specific that I wanted it to be somebody really extraordinary. I really had Robert Downey Jr in mind a lot. You had this guy who came in and he inhabited Tony Stark, when you first saw Tony Stark he blew your mind, you couldn't believe what you were seeing. I knew that I needed somebody to blow my mind like that." Read more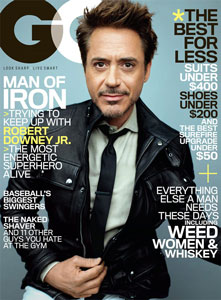 In his in-depth interview with Robert Downey, Jr. for GQ, correspondent Chris Heath ends with asking Downey if he aspires to win an Oscar.  Naturally, the twice-nominated Downey responds with the familiar "it doesn't really matter to me" answer we're used to hearing from actors. 
However, his reasons for that conclusion are a bit different from the norm — he explains he doesn't care much about it because he's convinced he'll eventually win one… and if not, he'll simply get awarded one after a long career of acclaimed performances! 
Check out the humorous exchange below: Read more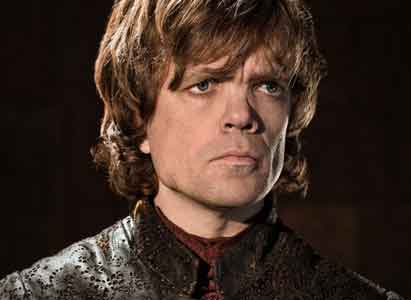 With millions of fans tuning in each week, Game of Thrones is among the most popular television series HBO has ever had.  One of the most compelling characters on the show is Tyrion Lannister, who is portrayed by Peter Dinklage.  Dinklage has since won an Emmy and a Golden Globe for playing the character.  In an interview with  Playboy, Dinklage talked about working on the show and how he has come to terms with how he uses his small stature on screen.
Considering the high body count on Game of Thrones, one would think Dinklage would be somewhat concerned about being killed off at the height of his popularity.  However, Dinklage says he isn't concerned, pointing out, "I don't think Tyrion is going anywhere. He once said that he'd like to die 'in my own bed, at the age of 80, with a belly full of wine and a girl's mouth around my cock.' I like to think that was a premonition. That's how he's going to go. He's a survivor. But you're right; it's amazing how many major characters get killed this season. People who have read all the George R.R. Martin books that the show is based on tell me Tyrion's still alive. We're only on season three and there are five books. Tyrion hasn't been killed yet, so I feel pretty secure." Read more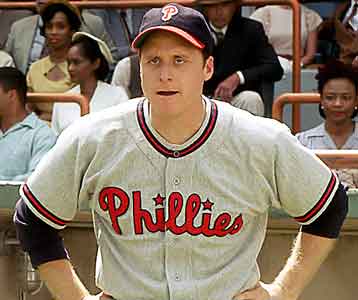 In a movie that deals with racial prejudice like 42, naturally the roles most people would want to play are the characters who overcome racism, like Jackie Robinson (portrayed by Chadwick Boseman) and Branch Rickey (portrayed by Harrison Ford).  But there has to be an actor willing to portray the deeply racist individuals who put up the barriers that the hero has to tear down.  In 42, Alan Tudyk portrays Ben Chapman, the late 1940s manager of the Philadelphia Phillies who strongly opposed Jackie Robinson, the first African-American in the major leagues, on the basis of his race. 
He spoke to Hollywood & Fine about how he managed to pull off a character so despicable by modern standards.
Tudyk admits that delivering the lines made him uncomfortable, and the feeling stuck with him like a bad hangover.  He describes it as, "It was like I got wasted at a bad party. It would leave a stain on your mood, and put you into a bad mood into the next day."  One obstacle he faced in his performance was overcoming his own views with those filled with hate.  He says, "It was hard to get past my own feelings.  I had to get past that actor feeling of being someone sensitive and liberal, who's not used to fighting." Read more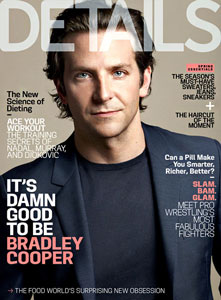 To me, 2012 in film marked a year in which a number of actors revealed to the world that they could really, well, act.  For example, prior to Silver Linings Playbook, Bradley Cooper was best known for his good looks and starring in comedies like The Hangover movies and Wedding Crashers and romantic comedies.  But Cooper proved his chops in Silver Linings Playbook and was even nominated for an Oscar.  He spoke about that experience, surprising people, and surrounding himself with people he can trust to Details magazine.
Cooper spoke at length about his Oscar nomination, saying, "That whole experience was fun and amazing, but I try not to get too carried away with that stuff. And maybe if you start feeling a little too big for your britches, hop on the Internet and take a look at some message boards for five seconds. It's not something I do often, but if you do, it'll take you right back down. Oh, my God. First of all, let's be honest: It's incredibly narcissistic to do that. And masochistic. You want to feel shitty about yourself? Boom—it's easy. To me, this business is the ultimate humbling experience. You're constantly dealing with rejection. My journey has not been people kissing my ass." Read more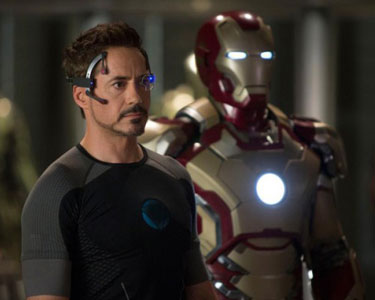 Though now it seems that it would be wrong for anyone else but Robert Downey, Jr. to play Tony Stark, when Iron Man was going through casting Downey was only a few years removed from a very public battle with drug addiction and hadn't been a high profile name in even longer.  He spoke to GQ about how he landed the role despite strong resistance on the part of Marvel Comics and how long he thinks he'll be starring in movies as Marvel's Armored Avenger.
When he heard about the film being in production Downey was convinced that the role should be his, even after Marvel passed on him — in fact, director Jon Favreau recalls that Marvel told him, "Under no circumstances are we prepared to hire him for any price."  On his pursuit of the role Downey confesses, "I don't know why. I do like a bit of Jung, and it was just this kind of numinous thing."  When his persistence was rewarded with the opportunity of a screen test, he went into an extreme preparation process, which he refuses to detail besides immersing himself into the script.  He explains, "The missus says she could've woken me up in the middle of the night and I'd have recited the audition dialogue in double time." Read more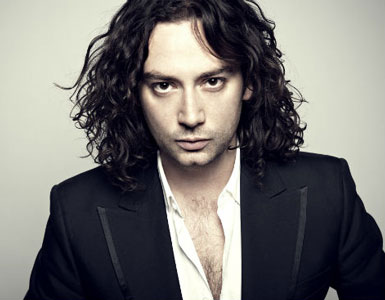 The original 1997-2001 Broadway production of the musical Jekyll & Hyde was certainly not shy about stunt celebrity casting.  Musicians Jack Wagner and Sebastian Bach were two of the lead replacements, though none other than actor/musician/lifeguard legend David Hasselhoff was in the lead role at the end of the production's run. 
For the 2013 Broadway revival, the casting of American Idol alum Constantine Maroulis could be seen as a continuation of this casting tradition, except for the fact that Maroulis has made a name for himself on Broadway since making his name on the long-running reality show. Read more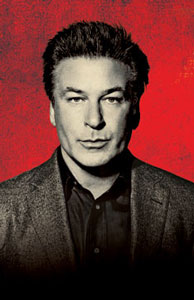 Reviews haven't made it out yet on Broadway's Orphans, the Lyle Kessler play that has unfortunately become most notable for the behind-the-scenes squabbles that led to the ouster of Shia LaBeouf from one of the lead roles, but star Alec Baldwin is still doing all he can to promote it.  He addressed his preference for the stage in an interview with The Hollywood Reporter, what he thinks his career would have been like had he moved to Los Angeles, and, of course, the backstage drama between him and LaBeouf.
Baldwin, who was born and raised on Long Island, has lived most of his life in New York City.  However, despite his success in Manhattan he confesses that he thinks he could have been a bigger success had he relocated to Los Angeles.  He explains, "I probably would have been much smarter if I settled out there. I just think it's easier. You're more available; you see people. There's more surface area for you to connect. My agent once said something funny: 'It's not that people think they want to work with you or don't want to work. The problem is when they don't think of you at all.'" Read more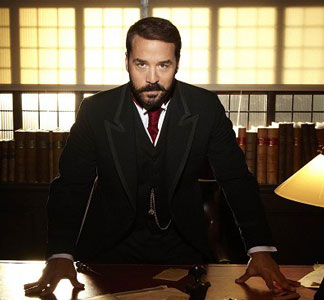 After starring as Hollywood agent Ari Gold on eight seasons of Entourage, Jeremy Piven didn't expect that his next major role would be in another television series.  Yet Piven stars as real-life turn-of-the-twentieth-century department store tycoon Harry Selfridge in Mr. Selfridge on PBS' Masterpiece Classic.  In a conversation with Collider, Piven speaks about how he ended up back on television so soon after his last lengthy run.
Piven is honest about the fact that after Entourage ended he had no plans to return to the small screen.  He says, "I wasn't even thinking about TV, to be honest with you.  They say it's the Golden Age of television, and I don't know if they're saying it tongue-in-cheek, but the stuff they're doing on TV right now with the premises that are so completely original and the writing that is so great, you'd be lucky to find it in TV, film, stage or anywhere." Read more