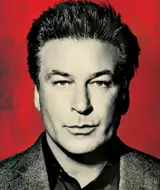 Alec Baldwin is probably the best example of a celebrity I can think of who I think is insanely talented but I certainly wouldn't want to be friends with.  But one thing I will always give Baldwin is that he isn't afraid to speak his mind — even if what comes out isn't always appropriate.
But I can't fault him for going off on Shia LaBeouf's Twitter comment about theater acting, "The theater belongs not to the great but to the brash."  The comment was made in the wake of his bizarre exit from his intended Broadway debut alongside Baldwin in Orphans.  Though in that behind-the-scenes exchange Baldwin wrote LaBeouf an e-mail saying, "I don't have an unkind word to say about you. You have my word," that "word" clearly doesn't apply to what LaBeouf has to say about acting for the theater. Read more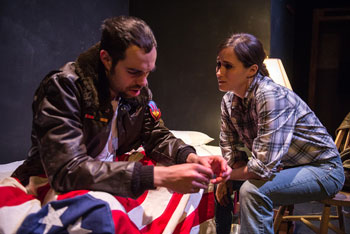 When people I know in theater ask me what growing company I think has its act together (horrible pun not intended), The Seeing Place is always the first that comes to mind.  I've always promoted their work not only because the quality of the performances are among the strongest that I've seen but also because the company presents its work at a price ($12 a ticket) that is lower than anyone else's in town (and this being New York, it's the biggest theater town there is!) I know I'm not the only one who's noticing — I have seen the audiences have grown over the two and a half years I have been reviewing The Seeing Place productions. 
Nonetheless, such consistent quality performances have resulted in high expectations whenever I walk into the Sargent Theatre, The Seeing Place's home for the last few seasons.  For fans of quality indie theatre, this month The Seeing Place is offering two plays: Sam Shepard's A Lie of the Mind and August Strindberg's Miss Julie.  I'm happy to report neither show disappoints, keeping The Seeing Place's winning streak going.
A Lie of the Mind is Shepard's most decorated play and tells the grisly saga of husband and wife Jake (Brandon Walker) and Beth (Erin Cronican).  Jake, who is so prone to anger that the expression "short fuse" doesn't even do him justice, has beaten his wife to the point that she suffers from brain damage.  As both retreat to their families afterward, each has deep paranoia issues directed at their family members after a series of past family betrayals.  Much of the blame can be put on the shoulders of Jake's mother Lorraine (Janice Hall), who is apologetic for Jake's actions and sees her son as blameless, and Beth's parents, Baylor (Alan Altschuler) and Meg (Mary Lahti), with Baylor being so selfish and hard-headed that he longer seems to know what love is and Meg a ball of worry and confusion.  Also adding to the family drama are Jake's brother Frankie (Jason Wilson) and sister Sally (Magan Wiles) and Beth's brother Mike (Philip Lakin). Read more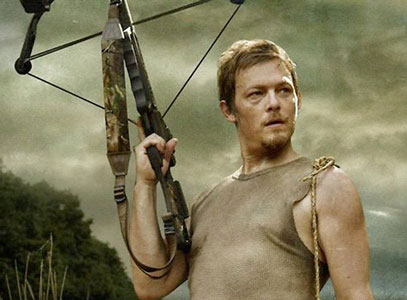 Boondock Saints star Norman Reedus plays Daryl Dixon, one of the many always-expendable human characters on smash zombie hit The Walking Dead.  But according to Reedus in a panel discussion about the show at Paleyfest, in some ways the actors and the writers are just as expendable as the on-screen characters.
Reedus admitted that he's aware that if those in charge don't think an actor is doing his or her best work that actor could just become a meal for a zombie and be gone.  He pointed out, "You see series and they last a long time and sometimes the writing gets lazy or the acting gets lazy. Because we're in a zombie apocalypse and anyone can go at any time, it sort of keeps us fresh and on our toes." Read more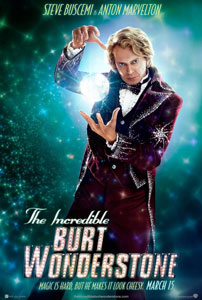 Steve Buscemi is one of my favorite actors, mostly because he's so versatile.  He can be cold and calculating, like in Fargo or as Nucky Thompson in HBO's Boardwalk Empire, and he can be quirky, like in Ghost World or The Big Lebowski.  But I'm looking forward to seeing a more comedic Buscemi — the kind who makes cameos in all of Adam Sandler's movies — as Anton Marvelton, the partner to Steve Carell's titular magician in The Incredible Burt Wonderstone.  Buscemi spoke to Collider about tackling a lead comedic role and his experience with improv.
As for whether he finds it more difficult to shoot a comedy or a drama, Buscemi points out that the rules of shooting a comedy are less strict.  He says, "The preparation is the same. But I'd say on this it's just a bit looser, and there's room for improv. Whereas on, say, Boardwalk, we really stick to the script. Not that we're not sticking to the script on this, there's just more room for improvisation." Read more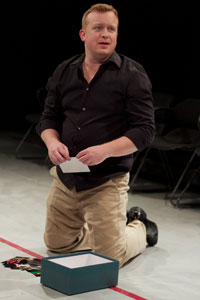 Unless it is during a festival, many indie theatre companies tend to stay away from original work, at least for their first few productions.  Unfortunately the reality is that often it's hard enough to draw audiences with work they are familiar with, so trying to get them to try something new can sometimes be an impossible task.  So the fact that taxdeductible theatre is staging an original play, #hero, as its first full-length play is a major accomplishment in itself.  The fact that it's so intelligently reflective of our media-driven society is another.
It seems counterproductive, but our cynical, social-media driven world likes tearing heroes down even more than celebrating them, so seconds after someone does something considered heroic that person is immediately under a microscope in order to find something negative.  That is the idea behind #hero, in which New York City police officer Norman Burrows (Robert Larkin) becomes a social media sensation after saving the life of a woman who faints on the subway tracks.  He is initially hesitant to be recognized for his good deed, so his wife Grace (Wendy Bagger) arranges an appearance on a national morning talk show with a publicist, Cory (Bryn Boice).  Norman is soon absorbed into pop culture as a celebrity, and the nature of that status changes not only his relationship with Grace but also everything that made him such a hero in the first place causing the gap between his public "Officer Burrows" persona and troubled private self to grow. Read more
Winning an Oscar is a major artistic accomplishment for actors and actresses professionally, but how much does it affect their wallets?  I mean, wouldn't you expect an Oscar winner to demand a higher salary on his or her next film just so the producers can put "Academy Award Winner" above his or her name on the poster?
Well, not always, but especially if you happen to be female.
An honor's thesis by Colgate student Kevin Sweeney looked at the earning power of actors and actresses in the years before and after winning an Oscar.  It isn't surprising that actors on average received an 81% bump in salary after winning an Oscar, since many of them become household names.  And while it isn't surprising that actresses don't receive the same bump — unfortunately, there is an obvious gender bias in Hollywood — what is surprising is that Sweeney's findings discovered that actresses on average receive no financial benefit — in fact, it can be argued that Oscar wins could hurt their careers more than help! Read more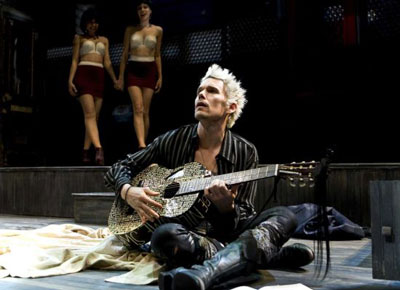 If you think that you haven't seen much of Ethan Hawke on movie screens lately, you'd be right.  However, Hawke's lower profile in film is not a case of him not being offered work, but a case of Hawke's increasing desire to concentrate on his theater work.  He currently stars in Clive at New York's Acorn Theatre alongside Zoe Kazan, who interviewed him for Gotham magazine about his passion for theater and his novels and why he doesn't put much stock in awards.
Hawke points out that for him plays provide much more artistic freedom than movies.  He explains, "It's the closest you can get to real freedom. The problem with movies is everybody wants to make money, and if they don't see an avenue for making a lot of money, they don't want to bother. Doing a crazy expressionistic play like Clive [brings out] the part of me that wishes I were more radical. When I first came to New York, you'd see Patti Smith rocking it out downtown and Eric Bogosian doing his crazy monologues…. There was all this exciting experimentation going on, and I always longed to be a part of that." Read more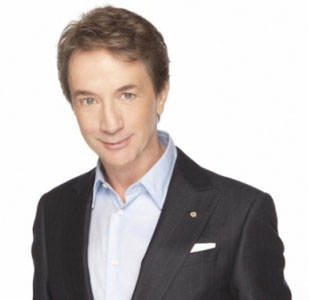 Martin Short's the type of performer who is never too far away from the spotlight, and with good reason: it's clear that the guy just loves to work.  He talks about his recent voiceover roles, guest appearances, theater work, and hosting gigs to the Denver Post and explains how he manages to do it all.
Though he's lent his distinct voice for voiceover work throughout his career, including last year's Frankenweenie and Madagascar 3, Short won't just do any animated project.  He admits, "Voice roles are always easy but, they have to be interesting."
Recently, Short has done a number of guest appearances and guest arcs on established television series.  On why he chooses to do this, he says, "It's fun to do unusual stuff that people wouldn't think of you doing, like Damages, or in the last few years I did arcs on How I Met Your Mother and Weeds." Read more
When you see how buddy-buddy actors like Ben Affleck and George Clooney are (and we can't forget an obligatory Affleck and Matt Damon friendship reference), it's easy to get the impression that everyone in Hollywood hangs out with each other.  You know, like they all have a big pool party at Dustin Hoffman's, cooking $500 hamburgers on the barbeque and such, laughing it up at us little people.
But do you know who's not on the guest list?  Denzel Washington.  Because he reportedly doesn't have, or want, any acting friends.
In an interview with The Guardian, Washington pointed out, "Actually, even within the industry, I don't have any actor friends. My friends are old friends."  When asked to elaborate, he confessed, "Because I don't make friends! Maybe I'm not a butt-kisser, maybe I'm not a schmoozer. I'm not about to go to a party to try to get a job. And then when you have children, the other friends become other parents. We'd coach baseball or basketball. My wife and I were raised right. I don't want movie-star friends. And being African American, there were no big movie stars to hang out with anyway, not when I was starting out, they were just the third guy from the back! For whatever reason, I never befriended any white actors." Read more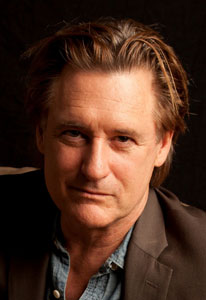 Theater directors: in case of emergency… call Bill Pullman.
Pullman is currently starring in Sharr White's The Other Place at the Samuel J. Friedman Theatre, his first role on Broadway since 2009.  However, though he has always intended to return to Broadway, he wasn't expecting it to be in this show.  That's because Pullman replaced Daniel Stern for more than a month of performances.  Though Stern was in the cast for the play's preview performances and January opening, in late January he had to leave the production for family reasons.  Mandy Greenfield, the artistic producer of the Manhattan Theatre Club, called up Pullman, who was at the time attending the Sundance Film Festival.  Pullman's first show was February 5 and he will remain with the production through its close on March 3.  Pullman had just five days to learn his lines.
In an interview with The Huffington Post, Pullman admits that despite his four-decade acting career the rush to prepare for the role is a new experience.  He says, "I've never done this before.  No process. Just product."  His preparation amounted to watching two performances featuring Stern, learning the blocking in his own apartment, and doing only a single run through the whole show with castmates Laurie Metcalf and Zoe Perry before appearing in the performance scheduled for that night.  To make the situation even more difficult, Pullman was suffering from a cold.  But after that, Pullman says (with a laugh) that we learned from the experience was "That I'm still flexible. And you can overcome all the fear." Read more