San Diego Musical Theatre Presents, 'Rent' Featuring Gwen Stewart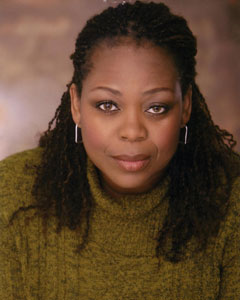 San Diego Musical Theatre is thrilled to present RENT, June 22-July 8 (press opening on June 23) at the Birch North Park Theatre.
Only the fifth musical to ever win both the Pulitzer Prize and the Tony Award for Best Musical, critics have called RENT "the best thing that has happened to the Broadway musical in a long time!"
The musical RENT, inspired by Puccini's La Boheme, is a joyous, breathtaking and often heartbreaking musical that celebrates a community of young artists in downtown New York looking for love and success and struggling to make their mark on the world. RENT captures the heart and spirit of a generation.
THE CAST
SDMT is proud to announce that Gwen Stewart will reprise the role she created in the original Broadway company of RENT, including introducing the solo vocals for the musical's central theme song, "Seasons of Love".
The cast will also feature Dylan Hunter as Mark and Casey O'Farrell as Roger, along with Shaun Tuazon (Angel), Loren Smith (Collins), Desmond Newson (Benny), Katy Harvey (Maureen), Nicole Tillman (Joanne), Ann-Michele Schneider (Mimi), Marisha Castle (Alexi), J.D. Driskill (Gordon), Charles W. Patmon, Jr. (Mr. J), Cordell Mosteller (Paul), Leslie Tammone (Mrs. Cohen) and Tom Vendafreddo (Steve).
TICKET INFORMATION
Single tickets for SDMT's production of RENT are $26.00, $32.00, $42.00 and $52.00. Children 12 and under are half price. There are discounts for Seniors, Military and Students. Equity may purchase up to 2 tickets at half price. Group discounts for parties of 10 or more are available by calling the Administrative Office at 858-560-5740. For individual tick-ets contact the Administrative Office at 858-560-5740 or visit SDMT online at www.sdmt.org.
SCHEDULE/CALENDAR LISTING
RENT show times are Thursday at 7:30 p.m., Friday, Saturday at 8:00 p.m. and Sunday at 2:00 p.m.
LOCATION
The Birch North Park Theatre, 2891 University Avenue, San Diego, CA 92104. There is street parking, a parking struc-ture across the street from the theatre and valet parking available. For information and tickets call the San Diego Musical Theatre Administrative Office at 858-560-5740
http://www.dailyactor.com/wp-content/uploads/2015/10/Bridge-of-Spies-Tom-Hanks-Mark-Rylance.jpg
Tom Hanks on Working with Steven Spielberg and Mark Rylance in 'Bridge of Spies'
"Steven does this incredible thing when he casts you: He empowers you with the scene." - Tom Hanks on Steven Spielberg
http://www.dailyactor.com/actors-on-acting/tom-hanks-working-steven-spielberg-mark-rylance-bridge-of-spies/
http://www.dailyactor.com/wp-content/uploads/2015/09/Tom-Hardy-Legend.jpg
Tom Hardy on Playing Twins in 'Legend,' Being Seen as a Tough Guy, and Working with Philip Seymour Hoffman
Hardy speaks about why he challenged himself to play twins, what he thinks of his tough guy image, and working with the late Philip Seymour Hoffman, who directed him on stage.
http://www.dailyactor.com/actors-on-acting/tom-hardy-playing-twins-legend/
http://www.dailyactor.com/wp-content/uploads/2015/09/Emily-Blunt-Sicario.jpg
Emily Blunt on Action Movie Roles: "I think it's important to show different layers. Nobody is just tough, nobody is just vulnerable"
Emily Blunt touches upon why she has gotten into roles with an action bent and why she thinks there aren't more action movies with female leads
http://www.dailyactor.com/actors-on-acting/emily-blunt-sicario-acting-layers/
http://www.dailyactor.com/wp-content/uploads/2015/09/Jorja-Fox-CSI.jpg
Jorja Fox on Life After 'CSI': "I've always enjoyed not knowing exactly where the road leads"
"I think you kind of have to embrace the unknown if you're an actor." - Jorja Fox
http://www.dailyactor.com/actors-on-acting/jorja-fox-life-after-csi/
http://www.dailyactor.com/wp-content/uploads/2015/09/John-Turturro-Mia-Madre.jpg
John Turturro on the Life of an Actor: "It's a rough business. I wouldn't want my kids to do it"
"I am usually very well prepared. If you're a surgeon, you've got to know what you're going to take out today." - John Turturro
http://www.dailyactor.com/actors-on-acting/john-turturro-life-of-an-actor/