San Diego Musical Theatre Presents, 'Rent' Featuring Gwen Stewart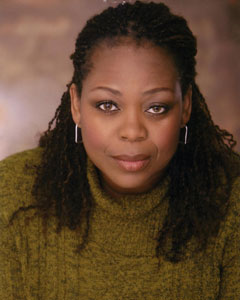 San Diego Musical Theatre is thrilled to present RENT, June 22-July 8 (press opening on June 23) at the Birch North Park Theatre.
Only the fifth musical to ever win both the Pulitzer Prize and the Tony Award for Best Musical, critics have called RENT "the best thing that has happened to the Broadway musical in a long time!"
The musical RENT, inspired by Puccini's La Boheme, is a joyous, breathtaking and often heartbreaking musical that celebrates a community of young artists in downtown New York looking for love and success and struggling to make their mark on the world. RENT captures the heart and spirit of a generation.
THE CAST
SDMT is proud to announce that Gwen Stewart will reprise the role she created in the original Broadway company of RENT, including introducing the solo vocals for the musical's central theme song, "Seasons of Love".
The cast will also feature Dylan Hunter as Mark and Casey O'Farrell as Roger, along with Shaun Tuazon (Angel), Loren Smith (Collins), Desmond Newson (Benny), Katy Harvey (Maureen), Nicole Tillman (Joanne), Ann-Michele Schneider (Mimi), Marisha Castle (Alexi), J.D. Driskill (Gordon), Charles W. Patmon, Jr. (Mr. J), Cordell Mosteller (Paul), Leslie Tammone (Mrs. Cohen) and Tom Vendafreddo (Steve).
TICKET INFORMATION
Single tickets for SDMT's production of RENT are $26.00, $32.00, $42.00 and $52.00. Children 12 and under are half price. There are discounts for Seniors, Military and Students. Equity may purchase up to 2 tickets at half price. Group discounts for parties of 10 or more are available by calling the Administrative Office at 858-560-5740. For individual tick-ets contact the Administrative Office at 858-560-5740 or visit SDMT online at www.sdmt.org.
SCHEDULE/CALENDAR LISTING
RENT show times are Thursday at 7:30 p.m., Friday, Saturday at 8:00 p.m. and Sunday at 2:00 p.m.
LOCATION
The Birch North Park Theatre, 2891 University Avenue, San Diego, CA 92104. There is street parking, a parking struc-ture across the street from the theatre and valet parking available. For information and tickets call the San Diego Musical Theatre Administrative Office at 858-560-5740
http://www.dailyactor.com/wp-content/uploads/2016/05/zachary-levi-she-loves-me.jpg
Zachary Levi on Starring in Broadway's 'She Loves Me': "Honestly, the biggest challenge is just my own brain"
"My whole life, all I've ever wanted to do was be an actor and an entertainer and make people happy and also feel like I belonged" - Zachary Levi
http://www.dailyactor.com/broadway-theater/zachary-levi-broadway-she-loves-me/
http://www.dailyactor.com/wp-content/uploads/2016/05/Ewan-McGregor-Last-Days.jpg
Ewan McGregor Talks Playing Jesus and the Devil in 'Last Days in the Desert'
"I was just trying to play him like any other role, really. Who do I think he was? Who do I want him to be in this story?" - Ewan McGregor
http://www.dailyactor.com/actors-on-acting/ewan-mcgregor-playing-jesus-devil/
http://www.dailyactor.com/wp-content/uploads/2016/05/Rose-Byrne.jpg
Rose Byrne on Her First Audition, Broadway and the Science of Comedy
"I think comedy is very hard. It's very scientific getting the beats of it" - Rose Byrne
http://www.dailyactor.com/actors-on-acting/rose-byrne-first-audition-broadway/
http://www.dailyactor.com/wp-content/uploads/2016/05/Josh-Gad-Angry-Birds.jpg
Josh Gad Talks 'Angry Birds' and Voicing Animated Characters
"Animation is so liberating because you're just left to your own voice and there's nothing else you can fall back on" - Josh Gad
http://www.dailyactor.com/actors-on-acting/josh-gad-angry-birds-animated-characters/
http://www.dailyactor.com/wp-content/uploads/2016/05/Cara-Delevingne-paper-towns.jpg
Cara Delevingne Had to Read a Scene from 'Who's Afraid of Virginia Woolf?' for her 'Suicide Squad' Audition
"More is known about my life than the lives of the characters I play. My plan is to reverse that" - Cara Delevingne
http://www.dailyactor.com/actors-on-acting/cara-delevingne-suicide-squad-audition/