Project Cornlight: Expanding Film and Performing Arts in Iowa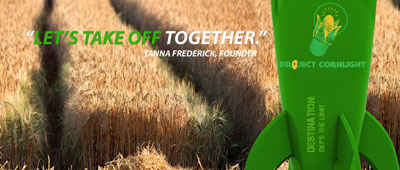 Actress Tanna Frederick's Project Cornlight's mission is to expand the film and performing arts industries in Iowa; to foster Iowa filmmakers, actors and writers; to give Iowans the opportunity to work with and learn from Hollywood professionals, and to stimulate the economy and tourism by growing artistically strong and commercially viable feature films from the Heartland. Project Cornlight will develop professional creative arts projects which utilize Iowa resources for locations, talent, crew, screenings, performances and presentations.
These actions will create Iowa jobs and stimulate economic activity as Project Cornlight encourages new opportunities for Iowa's creative workers. Project Cornlight is Co-Directed by Kimberly and John Busbee, two well known Iowa film industry professionals who also are working respectively as Casting Director/ Producer and Locations Manager/Production Supervisor for THE FARM, the first of the Project Cornlight film initiative to help revitalize the film industry in Iowa.
Directed by Ron Vignone (Say I Do, The Back Nine) and written by Frederick's childhood mentor and friend, Richard Schinnow, THE FARM is about a single mother who returns to her Iowa childhood home when her grandfather becomes ill, and must deal with her abandoned daughter and her past. In addition to Tanna Frederick who will play the leading role of Kathy, THE FARM will have other Hollywood actors with Iowa connections including Tom Bower (Die Hard 2, Crazy Heart, The Killer Inside Me), Joel West (The Smokers, Heroes, CSI: Miami) and Rylie Behr (I Heart Shakey, Nanuq, Impulse), and also will utilize many Iowa-based talent and crew members.
Frederick has made a real difference to Iowa. She graduated with Honors from the University of Iowa and also will be honored there in June with the 2012 Distinguished Alumni Award – Young Alumni.  In addition to being the catalyst for her legacy, Project Cornlight, she is an award-winning actress, director, environmentalist and founder of the Iowa Independent Film Festival in Mason City (www.iowaindie.org).
http://www.dailyactor.com/wp-content/uploads/2015/10/Bridge-of-Spies-Tom-Hanks-Mark-Rylance.jpg
Tom Hanks on Working with Steven Spielberg and Mark Rylance in 'Bridge of Spies'
"Steven does this incredible thing when he casts you: He empowers you with the scene." - Tom Hanks on Steven Spielberg
http://www.dailyactor.com/actors-on-acting/tom-hanks-working-steven-spielberg-mark-rylance-bridge-of-spies/
http://www.dailyactor.com/wp-content/uploads/2015/09/Tom-Hardy-Legend.jpg
Tom Hardy on Playing Twins in 'Legend,' Being Seen as a Tough Guy, and Working with Philip Seymour Hoffman
Hardy speaks about why he challenged himself to play twins, what he thinks of his tough guy image, and working with the late Philip Seymour Hoffman, who directed him on stage.
http://www.dailyactor.com/actors-on-acting/tom-hardy-playing-twins-legend/
http://www.dailyactor.com/wp-content/uploads/2015/09/Emily-Blunt-Sicario.jpg
Emily Blunt on Action Movie Roles: "I think it's important to show different layers. Nobody is just tough, nobody is just vulnerable"
Emily Blunt touches upon why she has gotten into roles with an action bent and why she thinks there aren't more action movies with female leads
http://www.dailyactor.com/actors-on-acting/emily-blunt-sicario-acting-layers/
http://www.dailyactor.com/wp-content/uploads/2015/09/Jorja-Fox-CSI.jpg
Jorja Fox on Life After 'CSI': "I've always enjoyed not knowing exactly where the road leads"
"I think you kind of have to embrace the unknown if you're an actor." - Jorja Fox
http://www.dailyactor.com/actors-on-acting/jorja-fox-life-after-csi/
http://www.dailyactor.com/wp-content/uploads/2015/09/John-Turturro-Mia-Madre.jpg
John Turturro on the Life of an Actor: "It's a rough business. I wouldn't want my kids to do it"
"I am usually very well prepared. If you're a surgeon, you've got to know what you're going to take out today." - John Turturro
http://www.dailyactor.com/actors-on-acting/john-turturro-life-of-an-actor/