NYC Actors: One Day Master Class with Kari Margolis – March 27th!
Don't Miss This One Day Master Class with Award-Winning Theatre Artist Kari Margolis!
Take a theatrical journey to your creative core and merge the skill-sets of Actor, Director and Playwright.  Work intensively with Kari Margolis and Company members in an exciting, challenging yet highly supportive environment.  Learn to create on your feet and connect your voice to your movement.  Kari Margolis is internationally recognized as a leader in Actor training and her work has received six National Endowment for the Arts Fellowships, a NY "Bessie", a Pew/TCG National Artist Fellowship, a Creative Capital National Artist Fellowship and a New York Foundation for the Arts Fellowship among many other prestigious awards.  The Company will present  a work-in-progress presentation after the workshop.
Date: March 27th, 2011
Time: 10am to 4pm with a free theatrical demonstration at 5pm
Where: Actors Movement Studio, 302 West 37th Street, 6th floor
Cost: $100
To register: Email us at margolismethod@mac.com
For more info: www.margolismethod.org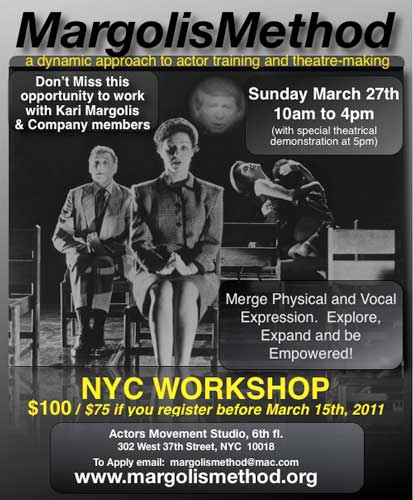 http://www.dailyactor.com/wp-content/uploads/2015/10/Bridge-of-Spies-Tom-Hanks-Mark-Rylance.jpg
Tom Hanks on Working with Steven Spielberg and Mark Rylance in 'Bridge of Spies'
"Steven does this incredible thing when he casts you: He empowers you with the scene." - Tom Hanks on Steven Spielberg
http://www.dailyactor.com/actors-on-acting/tom-hanks-working-steven-spielberg-mark-rylance-bridge-of-spies/
http://www.dailyactor.com/wp-content/uploads/2015/09/Tom-Hardy-Legend.jpg
Tom Hardy on Playing Twins in 'Legend,' Being Seen as a Tough Guy, and Working with Philip Seymour Hoffman
Hardy speaks about why he challenged himself to play twins, what he thinks of his tough guy image, and working with the late Philip Seymour Hoffman, who directed him on stage.
http://www.dailyactor.com/actors-on-acting/tom-hardy-playing-twins-legend/
http://www.dailyactor.com/wp-content/uploads/2015/09/Emily-Blunt-Sicario.jpg
Emily Blunt on Action Movie Roles: "I think it's important to show different layers. Nobody is just tough, nobody is just vulnerable"
Emily Blunt touches upon why she has gotten into roles with an action bent and why she thinks there aren't more action movies with female leads
http://www.dailyactor.com/actors-on-acting/emily-blunt-sicario-acting-layers/
http://www.dailyactor.com/wp-content/uploads/2015/09/Jorja-Fox-CSI.jpg
Jorja Fox on Life After 'CSI': "I've always enjoyed not knowing exactly where the road leads"
"I think you kind of have to embrace the unknown if you're an actor." - Jorja Fox
http://www.dailyactor.com/actors-on-acting/jorja-fox-life-after-csi/
http://www.dailyactor.com/wp-content/uploads/2015/09/John-Turturro-Mia-Madre.jpg
John Turturro on the Life of an Actor: "It's a rough business. I wouldn't want my kids to do it"
"I am usually very well prepared. If you're a surgeon, you've got to know what you're going to take out today." - John Turturro
http://www.dailyactor.com/actors-on-acting/john-turturro-life-of-an-actor/