Audiobook Actress Julia Whelan: "In audiobooks, there is no limitation on what you can play"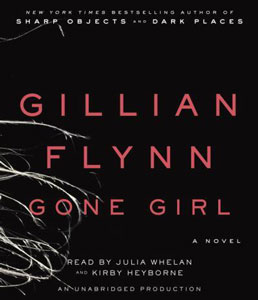 Audiobook actors are often forgotten about when people look at various acting jobs.  But voice actors are once again getting some attention, partly due to the successful adaptation of Gillian Flynn's Gone Girl.
In an interview with USA Today, actress Julia Whelan noted that audiobooks are a unique medium that often provide actors with great written material to work with.
Whelan, who was a series regular on Once and Again, said that she got into the audiobooks industry 'by accident.'  "I went to Middlebury College and one of my best college friend's mothers is a well-respected audiobook director at Brilliance," she said.  "Knowing my acting background, and that I was getting my degree in English and creative writing, she asked me if I would submit a demo.  I knew nothing about the industry, hadn't listened to an audiobook in my entire life.  But, when I returned to LA after graduation, the business I left was very different from the business I returned to.  I hadn't been gone that long, I looked pretty much the same, and I didn't have a sexy reason for having taken time off.  I think it would have been easier to kick start my career had I gone to rehab instead of college."  "So, while finding my way back into acting, I decided to make the audiobook demo," she told the paper. "Shortly thereafter, the audiobooks started snowballing.  After finding this new creative outlet (and enjoying it immensely), I finally poked my head up about a year ago, and gave on-camera acting a try again.  I picked up some great guest spots, did a really fun role in a Hallmark movie called The Confession [airing in January], and am working on some writing projects of my own.  I love acting, but to creatively combine it with doing audiobooks is wonderfully new and exciting.  In audiobooks, there is no limitation on what you can play.  I've read an African American Hoodoo-healer grandfather before…I don't see myself getting to do that on camera anytime soon."
http://www.dailyactor.com/wp-content/uploads/2015/10/Bridge-of-Spies-Tom-Hanks-Mark-Rylance.jpg
Tom Hanks on Working with Steven Spielberg and Mark Rylance in 'Bridge of Spies'
"Steven does this incredible thing when he casts you: He empowers you with the scene." - Tom Hanks on Steven Spielberg
http://www.dailyactor.com/actors-on-acting/tom-hanks-working-steven-spielberg-mark-rylance-bridge-of-spies/
http://www.dailyactor.com/wp-content/uploads/2015/09/Tom-Hardy-Legend.jpg
Tom Hardy on Playing Twins in 'Legend,' Being Seen as a Tough Guy, and Working with Philip Seymour Hoffman
Hardy speaks about why he challenged himself to play twins, what he thinks of his tough guy image, and working with the late Philip Seymour Hoffman, who directed him on stage.
http://www.dailyactor.com/actors-on-acting/tom-hardy-playing-twins-legend/
http://www.dailyactor.com/wp-content/uploads/2015/09/Emily-Blunt-Sicario.jpg
Emily Blunt on Action Movie Roles: "I think it's important to show different layers. Nobody is just tough, nobody is just vulnerable"
Emily Blunt touches upon why she has gotten into roles with an action bent and why she thinks there aren't more action movies with female leads
http://www.dailyactor.com/actors-on-acting/emily-blunt-sicario-acting-layers/
http://www.dailyactor.com/wp-content/uploads/2015/09/Jorja-Fox-CSI.jpg
Jorja Fox on Life After 'CSI': "I've always enjoyed not knowing exactly where the road leads"
"I think you kind of have to embrace the unknown if you're an actor." - Jorja Fox
http://www.dailyactor.com/actors-on-acting/jorja-fox-life-after-csi/
http://www.dailyactor.com/wp-content/uploads/2015/09/John-Turturro-Mia-Madre.jpg
John Turturro on the Life of an Actor: "It's a rough business. I wouldn't want my kids to do it"
"I am usually very well prepared. If you're a surgeon, you've got to know what you're going to take out today." - John Turturro
http://www.dailyactor.com/actors-on-acting/john-turturro-life-of-an-actor/