Website Domain and Hosting
How to get your own personal domain and hosting account
I recommend using BlueHost when you purchase your domain and also for website hosting. I use them for my own personal domains (LanceCarter.net among others). They're inexpensive and have great customer service.

Feel free to look for other hosting options but I've tried out a bunch over the years and these guys are the best. If you do decide to use another company, let me know before you sign with them. If they stink, I'd just want to let you know.
Let's get started!
1. Go to Bluehost and you'll see the screen below. Click onto the 'Sign Up Now Button'.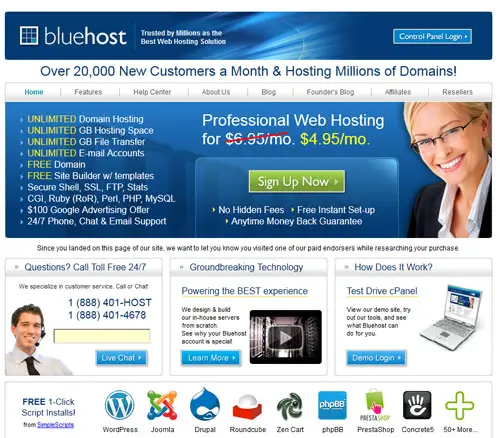 2. Next up, you get to choose your domain name. Hopefully, you'll be able to get your own .com name but if not you could always use .net (like I had to do). Additionally, you'll be shown some alternatives names once you hit 'Next.'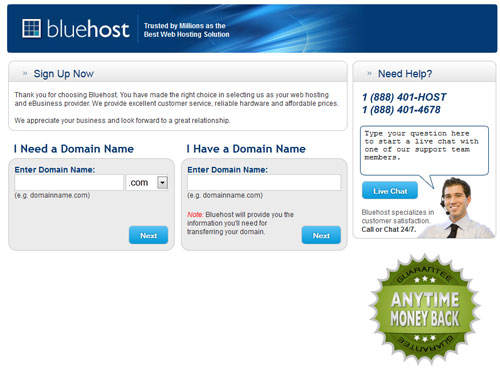 3. Once you choose your domain name, you'll be asked to enter all of the information needed to finalize your purchase.
If you look at the picture below, you'll see a couple of Red X's. The options next to the X's are automatically checked. I don't recommend them so just make sure you un-check them before you hit the 'Next' button.
There are several pricing options to choose from; a 12-month option, a 24-month and a 36-month. The 36-month is always the cheapest but since they charge you once – meaning, whatever option you choose, you'll pay for the full year(s) up front. I always choose the 12-month plan. You don't need the Pro-option.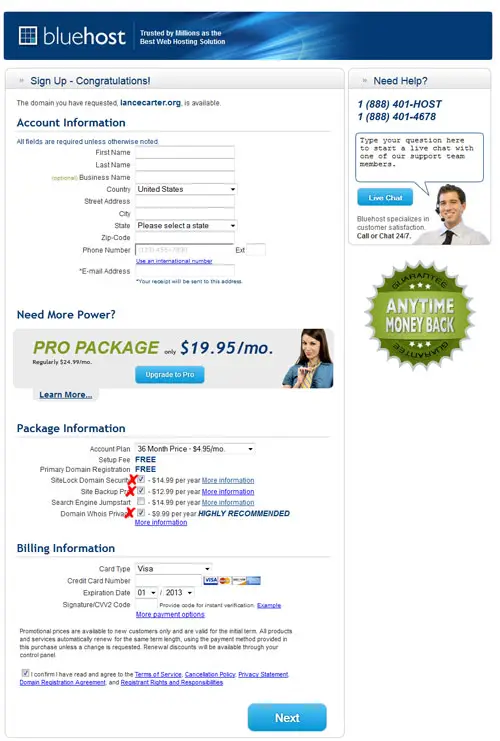 4. Next, you'll be asked to create a username and password.
Pick whatever username you'd like. Since I'll be installing the site onto your new domain, I suggest using a temporary password that you can initially use and send to me. Once everything is up and running, you can change it back or keep it the same.
Once that's done, send me your new username and password and you'll be on your way to your new website!
If you have any questions, ask away!
Latest Videos
http://www.dailyactor.com/wp-content/uploads/2014/09/watch-david-mamet-in-the-1976-sh.jpg
Watch: David Mamet in the 1976 Short Documentary 'The Playwright Directs'
Though David Mamet is best known for his distinctive writing style in his scripts for the stage and screen, he has also directed theater and film. The 1976 short documentary titled The Playwright Directs depicts Mamet directing actors through several scenes at an almost frantic pace, dispensing pearls of wisdom throughout, like his thoughts on […]
http://www.dailyactor.com/2014/09/watch-david-mamet-1976-documentary-the-playwright-directs/
http://www.dailyactor.com/wp-content/uploads/2014/09/audtion-tapes-robin-wright-and-h.jpg
Audition Tapes: Robin Wright and Haley Joel Osment Audition with Tom Hanks for 'Forrest Gump'
Check out Robin Wright auditioning for the role of Jenny from Forest Gump opposite Tom Hanks. Interestingly enough, Hanks doesn't quite have Gump's southern drawl down just yet while the other actors audition with him. In fact, Hanks would base Gump's voice on the voice of Michael Conner Humphreys, who played the young Forrest and […]
http://www.dailyactor.com/2014/09/audtion-tapes-robin-wright-haley-joel-osment-tom-hanks-forrest-gump/
http://www.dailyactor.com/wp-content/uploads/2014/08/bryan-cranston-emmy-award-speech.jpg
Watch: Bryan Cranston's Emmy Award Speech: "I love to act. It is a passion of mine and I will do it until my last breath."
The Emmy Awards weren't the most exciting awards show this year but with Bryan Cranston winning for Outstanding Actor in a Drama for Breaking Bad, we at least got to hear one heck of a fantastic acceptance speech. "I was a kid who always looked for the shortcut," he said. "I did happen to stumble […]
http://www.dailyactor.com/2014/08/watch-bryan-cranston-and-aaron-pauls-emmy-award-speeches/
http://www.dailyactor.com/wp-content/uploads/2014/08/audition-tapes-gerard-butler-aud.jpg
Audition Tapes: Gerard Butler Auditions for 'Dracula 2000′
Check out Gerard Butler auditioning for the role of Dracula in the movie, Dracula 2000. The film, about a group of thieves who break into a chamber expecting to find paintings, but instead find Dracula himself, also starred Christopher Plummer, Jonny Lee Miller and Nathan Fillion. Bulter has some sweet rock star hair, huh?
http://www.dailyactor.com/2014/08/audition-tapes-gerard-butler-dracula-2000/
http://www.dailyactor.com/wp-content/uploads/2014/08/interview-matt-dillon-and-carla.jpg
Interview: Matt Dillon and Carla Gugino Talk 'Wayward Pines'
FOX has a new limited-series that's got a terrific cast and interesting premise. It's called Wayward Pines and stars Matt Dillon, Carla Gugino, Melissa Leo, Toby Jones, Terrance Howard, Juliette Lewis, Tim Griffin and Shannyn Sossamon. The show, whose pilot was directed by M. Night Shyamalan, is about a Secret Service agent (Dillon) goes to […]
http://www.dailyactor.com/2014/08/interview-matt-dillon-carla-gugino-wayward-pines-comic-con/