Actor Website Design
As actors, we all need a website. Yeah, we have an IMDB page and an Actors Access profile but we all need our own space on the web. Something that shows casting directors and agents (even family and friends) what makes us unique and will help promote your career.
As an actor, I know exactly what you need when it comes to creating a website to showcase your career. From a custom design, headshot galleries, demo reels and social media integration, we can make a website that is uniquely you.
Website Examples
Custom Made Websites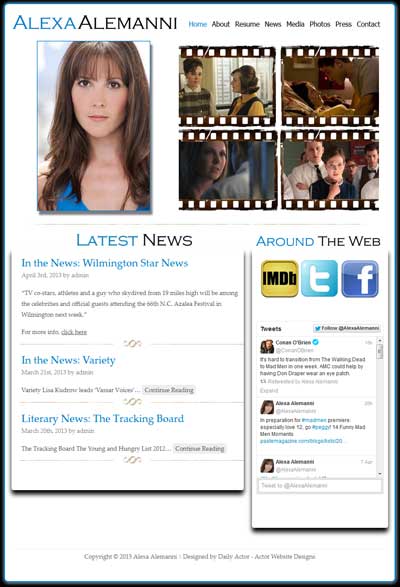 As casting director Heidi Levitt said when I interviewed her:
"I think that [actors] still have to really work hard to distinguish yourself but I think as an actor today, you can utilize all of these different tools and try and get yourself out there. You know somebody sending me a fantastic website, that's really going to be helpful. The problem is most actors still haven't sort of caught up with what they can do with that technology today. It's hard. I understand. A lot of people have websites but they are not good. I would rather see something that's good. Something that shows who you are rather than this glitzy, over fluffed up picture and then a website that looks really cheesy."
Each site we create will be custom designed for you and only you. Additionally, each website order will get you featured on Daily Actor! And, you'll also get a free set (or sets depending which design you purchase) of our Actor Mailing Labels.
Custom Website Design Pricing
As an actor, I also know how little money we tend to have so I've tried to price my websites so it won't kill you and your bank account. The pricing below is for our custom made actor websites.
$325!

5 page site (Home, Demo, Resume, Headshots Gallery, Contact)
Also included: I'll also help and guide you into getting your domain name, cheap site hosting and showing you how to add updates to your actor website.
If you need more pages and something more added, let us know and we can work on the price. 
Some things we won't do:
No Flash: Why? You won't be able to see it on iPad's and most mobile devices.
Music: Why? Casting Directors and Agents want to see your site. Most want to see it quickly and have it easily assessable. Imagine a casting director opening your site in a quite office, they pull up your site and your favorite song blasts through their speakers. They'll hit the exit faster than you can imagine.

Even if you don't choose our designs, I suggest you stay away from companies that you have to pay a monthly (non-hosting) fee. Those sites, you don't own anything. No graphics or designs. Which means if you want to move to another company, you have to start from scratch.
If you're interested in talking about a new actors website (or even if you want to update the one you have now), get in touch with the contact form below!
http://www.dailyactor.com/wp-content/uploads/2016/08/imperium_daniele_radcliffe.jpg
Daniel Radcliffe on Playing a Neo-Nazi in 'Imperium': "It's still just horrible to say some of this stuff"
Radcliffe reveals how he played such a layered character and what it felt like to say his character's hate-filled dialogue.
http://www.dailyactor.com/actors-on-acting/daniel-radcliffe-playing-a-neo-nazi-imperium/
http://www.dailyactor.com/wp-content/uploads/2016/08/John-Cho-Star-Trek-Beyond.jpg
How John Cho Took A Stand for Diversity Early in His Career
"When one does speak one's mind, one might be surprised at how receptive people are." - Actor John Cho
http://www.dailyactor.com/actors-on-acting/john-cho-took-a-stand-for-diversity/
http://www.dailyactor.com/wp-content/uploads/2016/08/simon-helberg-florence-foster-jenkins.jpg
Simon Helberg on His 'Florence Foster Jenkins' Role: "I'm an actor and I want to stretch different muscles"
Helberg spoke about portraying his character in the film and whether or not he feels typecast by his Big Bang Theory role.
http://www.dailyactor.com/actors-on-acting/simon-helberg-florence-foster-jenkins-role/
http://www.dailyactor.com/wp-content/uploads/2016/08/Will-Chase-Something-Rotten.jpg
The Role That Got Away: Will Chase on Returning to 'Something Rotten!'
"I know that I am a poor man's fill-in-the-blank. And I know that there are poor man's Will Chases out there. That's just the nature of the business" - Will Chase
http://www.dailyactor.com/actors-on-acting/will-chase-something-rotten-role-that-got-away/
http://www.dailyactor.com/wp-content/uploads/2016/08/Julia-Stiles-Jason-Bourne.jpg
Julia Stiles on the Jason Bourne Series and Growing as an Actress: "There's always room for improvement"
"I like a director that encourages me to be playful. I don't really like being restricted or controlled by a director." - Julia Stiles
http://www.dailyactor.com/actors-on-acting/julia-stiles-growing-as-an-actress/