Anthony Mackie on Playing The Falcon in 'Captain America: The Winter Soldier': "I feel like to be in a Marvel franchise can only help me in my career and help me as an actor"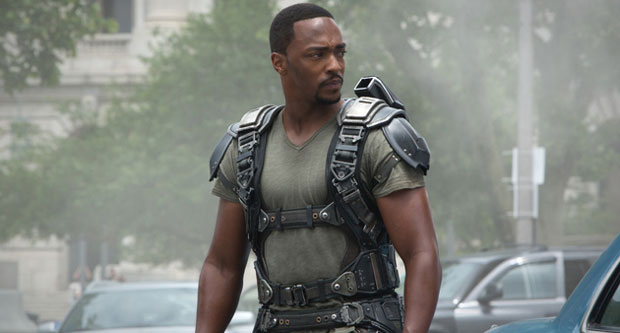 I don't think many superhero movie fans will be disappointed when they pack theaters to see Captain America: The Winter Soldier this weekend. Part of that is because the movie features the debut Captain America's sidekick of sorts, Sam Wilson AKA The Falcon, played by Anthony Mackie. Mackie's Falcon is a great addition to the ever-growing Marvel Cinematic Universe, and based on his interview with New York magazine it's probably fair to say that he's just as excited about joining the film series as any fan in the movie audience.
Mackie reveals the one of the reasons he ended up as the Falcon is because of his persistence — he desperately wanted to be part of the Marvel Cinematic Universe, no matter how secretive the cast process is. He explains, "I had been contacting Marvel for a few years, asking about Black Panther and trying to see if there was any way I could be part of the Marvel Universe in any capacity. I enjoy their movies, respect the kind of films they make, and I thought it would be a good fit for me as well as them. I would say about five years after our initial contact, they invited me to L.A. to have lunch with [directors] Joe and Anthony Russo and one of the producers on Captain America, and we had a fifteen-minute conversation where they told me absolutely nothing about the movie they were making. They couldn't tell me about the character, or when or where they were shooting, but they wanted to know, 'If we had a movie, would you be interested?' And I was like, 'Hell yeah!' So a month later, I got an official offer to be in a Marvel movie."
Part of the deal involved signing on for several movies, which is standard in Marvel contracts these days. He says, "I signed up for as many movies as I could. I feel like to be in a Marvel franchise can only help me in my career and help me as an actor, so I was willing to go as far as they would let me, in whatever capacity they wanted to retain me. I signed up for, like, 50 movies. [Laughs.]"
Naturally, being a superhero character named the Falcon meant that Mackie was going to have to fly. While the Falcon doesn't have superpowers, he does have a wing-like flight harness that allows him to soar. Of course, Mackie admits that the flight apparatus wasn't the easiest thing to manage, pointing out that the downside was "The pain of the wires, and also the landing. You'd never realize how difficult it is to land and stop from flying until you actually do it! You show up and they tell you, 'Okay, you need to fly and land this way,' and I'm like, 'Dude, there's nothing in the human body that knows organically how to fly. It's not gonna work out that way.' But it's a lot of fun, man. Once you're under control and you know what you're doing, there's absolutely nothing like it."
http://www.dailyactor.com/wp-content/uploads/2016/04/julia-louis-dreyfus-veep.jpg
Julia Louis-Dreyfus: "Opportunity for women in television has increased. It's because the landscape has widened"
"I did not come out of SNL as any kind of name. I didn't do anything particularly great when I was there. I didn't. It's fine. But I learned a tremendous amount."
http://www.dailyactor.com/tv/julia-louis-dreyfus/
http://www.dailyactor.com/wp-content/uploads/2016/04/Tituss-Burgess-Unbreakable-Kimmy-Schmidt.jpg
Tituss Burgess on How He Landed His 'Unbreakable Kimmy Schmidt' Role
Burgess reveals how his role on 30 Rock led to 'Kimmy Schmidt' and whether or not he'd consider returning to Broadway.
http://www.dailyactor.com/tv/tituss-burgess-unbreakable-kimmy-schmidt-role/
http://www.dailyactor.com/wp-content/uploads/2016/04/Christine-Baranski-The-Good-Wife.jpg
Christine Baranski on the End of 'The Good Wife' and Going Back to Theatre
The final episode of The Good Wife airs on May 8, and it's been several weeks since series star Christine Baranski shot the final episode with her co-stars. She spoke to The Hollywood Reporter about the end of the series she has spent the last seven years working on and what she plans to do […]
http://www.dailyactor.com/tv/christine-baranski-the-good-wife-theatre/
http://www.dailyactor.com/wp-content/uploads/2016/04/jake-gyllenhaal-demolition.jpg
Jake Gyllenhaal on 'Demolition', Working with Chris Cooper and Directors Who Want Nothing to Do With Him
"I think storytelling is the most important part of movie-making over performance." - Jake Gyllenhaal
http://www.dailyactor.com/film/jake-gyllenhaal-demolition-chris-cooper/
http://www.dailyactor.com/wp-content/uploads/2016/04/don-cheadle-miles-davis.jpg
Don Cheadle: "Be scared. Be on the edge of your creativity"
"Be willing to fall flat on your face and be in an unknown place. If you're doing that, you're probably growing" - Don Cheadle
http://www.dailyactor.com/film/don-cheadle-scared-creativity/